Home / Opinion / Guest Columnists
Donald Trump: "A Clear and Present Danger"
Norman Sherman
Jun. 27, 2022 7:00 am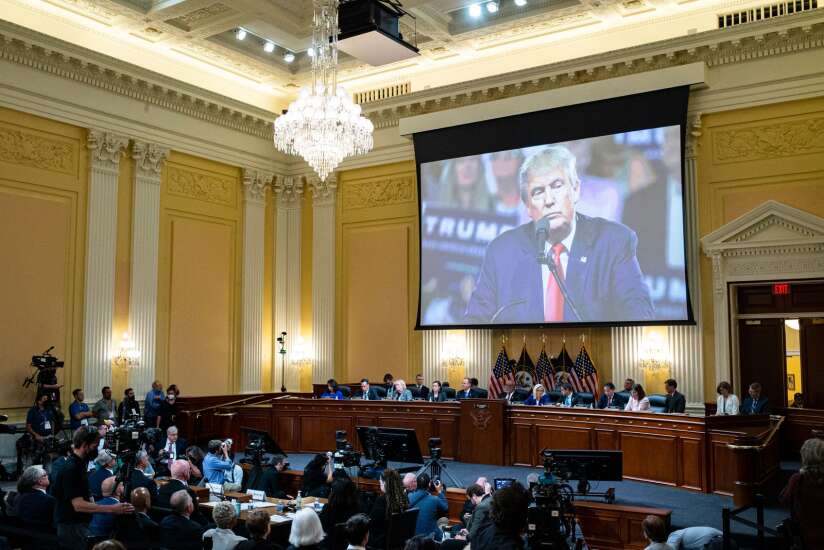 Federal Judge J. Michael Luttig is a conservative who worked in Ronald Reagan's administration and was appointed by President George H.W. Bush. He said, after testifying at the Jan. 6 hearings, "The former president (Trump) and his party are today a clear and present danger for American democracy."
For what it's worth, I agree with the judge. I think the country is coming undone, at least politically, for now. And for the first time in my long life, I worry about the Republican Party which is being infiltrated, if not taken over, by the far-right bigots who are crawling out from under the rocks of the middle-ages. We need a democratic Republican Party where decent people like Liz Chaney and Mitt Romney and a few, I hope, in Linn County, stand up and don't cave to the know nothings. It won't be easy but it is imperative.
How do you convince someone who still believes there was widespread voter fraud in 2020 that there was none? Facts won't do it. Possibly 30 percent of American voters still parrot the fiction begun by Donald Trump before a vote was counted. Their paranoia has run beyond amok. They can damage, if not destroy, basic democratic procedures as they rip the historic Republican Party apart
The recent primary elections demonstrate a creeping destruction of the party. The battles between rational and irrational are within the Republican Party, but will have consequences for all of us, as dire and threatening as the judge says.
More than 100 Republican candidates who embrace the fiction that the election was stolen from Donald Trump won their primaries. A five-term incumbent rational congressman lost. The losers, like him, were the traditional Republicans, suffering from honesty, reality, and truth. The fringe winners in various states, are running for governor, attorney general, secretary of state, among other powerful offices.
In Nevada, James Merchant, one of the organizers of a Trump-inspired "America First" agenda would have sent Trump supporters to the Electoral College and says, several years before the 2024 election, that he would do it again. He wants to change voting machines that really do work well. He would also ban early voting and mail in ballots. He says with pride that he ran for secretary of state as a leader of QAnon, home of conspiracy theories, and a fountain of hate, who are anti-Semitic and anti-gay among other fixations.
In Michigan, two Trumpkins won the nominations for secretary of state and attorney general. Their main qualification, maybe their only one, was that they took the lead in lying about the election. The same routine and results happened in Pennsylvania, where two similarly qualified people won the governor and secretary of state primaries.
In a recent poll, 24 percent of respondents said Trump had no responsibility for the riots, not much changed since March. Forty percent said he should not be criminally charged. They would not understand a "clear and present danger" under any circumstance.
Norman Sherman of Coralville has worked extensively in politics, including as Vice President Hubert Humphrey's press secretary.