Home / Opinion / Guest Columnists
Abortion rights are human rights
Alice Dahle
Aug. 15, 2022 8:00 am, Updated: Aug. 15, 2022 11:12 am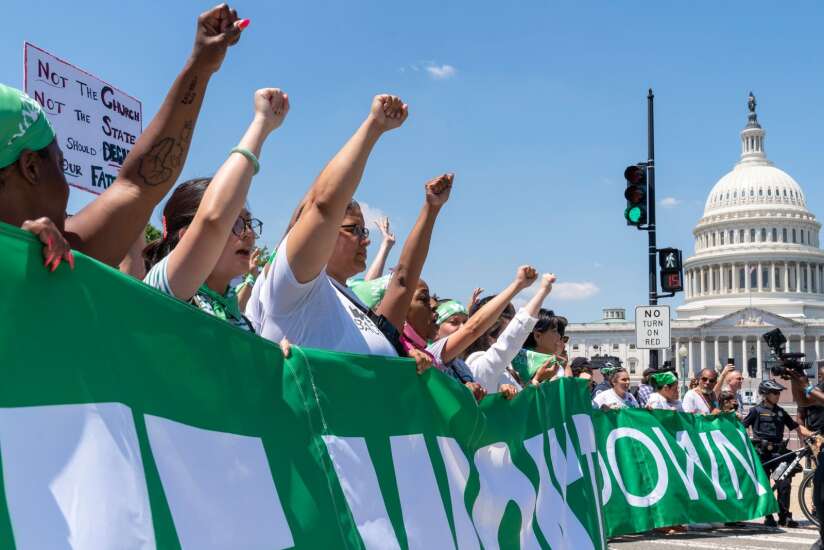 Americans have long considered our country a model of freedom and human rights for countries around the world. But for at least half of the population, with the recent overturning of Roe v. Wade by the Supreme Court, that is no longer true. At a time when countries as diverse as Argentina, Chile, Colombia, Ireland, Mexico, South Korea and Thailand have either decriminalized abortion or loosened restrictions on access to it, the United States is out of step and moving in the wrong direction.
On the basis of a literal, "originalist" interpretation of the U.S. Constitution, the Supreme Court has ruled that because abortion is not mentioned in the document, the right to access the procedure cannot be protected at the federal level. Using the same logic, "women" are not mentioned in the U.S. Constitution, either. Does that mean that the rights of American women are not federally protected and can be determined by individual states?
As a State party to the International Covenant on Civil and Political Rights, the U.S. has a binding obligation under international human rights law to protect the rights of women to life, health, equality, non-discrimination, privacy, freedom from torture and cruel and inhuman treatment, and freedom from gender-based violence. In overturning the nearly 50-year precedent of women's rights to make autonomous decisions about their own bodies, reproductive choices and futures, the Court has violated the legal commitment to protect the right of women in the U.S. to enjoy the full spectrum of their human rights.
Human rights are universal. They belong equally to all of us. If access to a full range of reproductive health care is left to each state to determine, women and others who can become pregnant will not enjoy the same right to freely make well-informed decisions that will affect the entire future of their personal and family lives. Instead, these rights will be constrained by the geographic and political environment of the state where they live. Restrictions on access to reproductive health care will most significantly limit the options of those who are already disadvantaged, including Black, brown and Indigenous women, migrant women, those living with disabilities and victims of sexual violence and sex trafficking. We cannot allow this to happen.
Fortunately, there are a number of steps we can take to reclaim and defend our rights to sexual and reproductive autonomy.
• We can pass the Equal Rights Amendment (ERA) to put women unambiguously into the U.S. Constitution. This would prevent a strict interpretation from excluding women from protection of their rights under the law. It would also provide uniform protection for women living anywhere in the United States without local restrictions in their states of residence.
• The United States should ratify the U.N. Convention on the Elimination of All Forms of Discrimination Against Women (CEDAW), the only international treaty that sets an international standard for, and comprehensively protects, women's human rights, including sexual and reproductive health rights. The U.S. signed this treaty in 1980, but is now one of only seven countries in the world that has not yet ratified it.
• Congress should codify the right to safe and legal abortion services at the federal level. As a first step, Congress should pass the Abortion is Health Care Everywhere Act of 2021. It is currently in the House of Representatives as H.R. 1670 and in the Senate as S. 4641.
• We must vote for legislators, both at the state and federal levels, who will protect the rights and dignity of women, girls and others who can become pregnant.
• We can learn from the consequences of restrictive laws and bans on access to abortion in countries around the world. When abortion is banned, restricted or criminalized, women who suffer miscarriages or stillbirths spend decades in prison, doctors and other medical personnel are afraid to help with obstetric emergencies for fear or prosecution, and women die without medical help or as a result of unsafe abortions.
Banning or restricting access to abortion does not end abortions; it only makes abortion unsafe. Reproductive rights, including the right to access abortion, are grounded in internationally recognized human rights. We must reclaim and defend these rights, for women, girls and those who can become pregnant both here in the U.S. and abroad. If we allow the loss of dignity, bodily autonomy and the right to make one's own personal decisions in this country, authoritarian governments around the world will be emboldened to impose control over the lives and bodies of people living under their jurisdictions. It's time for the U.S. to again take the lead as a globally recognized defender of human rights.
Alice Dahle lives in Cedar Rapids.
Opinion content represents the viewpoint of the author or The Gazette editorial board. You can join the conversation by submitting a letter to the editor or guest column or by suggesting a topic for an editorial to editorial@thegazette.com