Home / News / Government & Politics
Why GOP-led Iowa doesn't support free market for casinos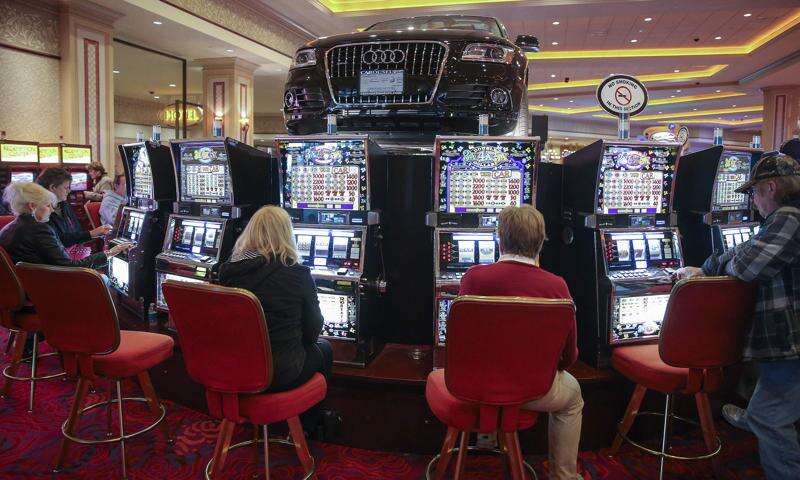 CEDAR RAPIDS - Much of American industry is based on a free market where competition spurs better products and lower prices and determines which businesses thrive or fail.
Why, some wonder, in the increasingly red state of Iowa where Republicans control the governorship, Senate and House - and limited government is a GOP hallmark - is one of the top industries controlled by the state?
Licenses for gambling casinos, like three proposed in Cedar Rapids that will learn their fates this week, are not allowed if they have too much of a negative effect on the bottom line of casinos that were here first.
'It's not the American way," said Ralph Russell, a Cedar Rapids City Council member who wants a casino in the city.
'Why are we going to pick this industry, pick very few people who are basically printing money, to protect? It makes no sense to me," he said. 'I ran an engineering business and no one protected my company because it was the oldest one in town and it was here first."
Sometimes at odds, the desires to protect Iowa's existing casinos and generate new revenue for the state will be at the center of a decision this week about granting a license for a downtown casino in Cedar Rapids. The Iowa Racing and Gaming Commission will meet at 8:30 a.m. Thursday in Dubuque to vote on whether to grant a license to any of the three applications or none at all.
On the table are the $40 million Wild Rose Cedar Rapids proposed for next to the Skogman Building on First Avenue SE, and two choices from the Cedar Rapids Development Group-Peninsula Pacific: the $105 million Cedar Crossing Central to be attached to the DoubleTree Hotel on First Avenue NE, and the $165 million Cedar Crossing on the River proposed for vacant land at First Avenue and First Street SW.
The proposals could mean $23 to $46 million in new revenue for the state. But they also could cannibalize at least 20.5 percent, or $17 million, of annual gaming revenue of the Riverside Casino & Golf Resort, the closest one to Cedar Rapids.
The free market vs. controlled market debate is a particularly sore subject in Cedar Rapids. The gaming commission rejected a bid similar to Cedar Crossing on the River in 2014 by a 4-1 vote, saying it would 'cannibalize" too much revenue from Riverside which is about 45 minutes away.
Mississippi and Nevada are among states that have loose restrictions on granting licenses, but that is unusual in the casino industry in the United States and abroad, analysts said.
'Only a handful of states allow anything close to a free-market approach," said David G. Schwartz, director of the Center for Gambling Research at the University of Nevada-Las Vegas. 'Most other states, and most international jurisdictions, favor granting a limited number of licenses, usually after some sort of bidding process."
While Las Vegas has made the model successful, Mississippi has seen numerous closures including Harrah's Tunica, Splash, Treasure Bay and Bally's Wild Wild West, which in turn led to layoffs and rural and coastal blight, said Andrew M. Klebanow, senior partner of the Global Market Advisors economic research firm.
'In my opinion, states need to limit the number of licensees," he said in an email. 'That creates stability in the marketplace."
States have taken a range of approaches to licensing, but they are generally controlled, according to Klebanow.
Illinois limited the number of licenses to 10, although it has allowed gambling in taverns to the detriment of state casinos.
Indiana issued gambling licenses to two race tracks near Indianapolis because the tracks agreed to pay $250 million apiece, which helped fill a state budget hole. The two race tracks defaulted on their debts and now the state legislature has taken a 'more prudent approach, protecting the industry and the jobs they created," Klebanow said.
The Missouri casino industry rapidly grew with limited restrictions after casino gambling was legalized in 1994 - only to see some fail. Protecting existing casinos is now a top consideration there and Missouri has seen no new casinos in 10 years.
'Gaming operators and government both need stability in revenues and the laissez-faire approach doesn't provide for market stability," Klebanow said.
In Iowa, state code grants latitude to the five-member, governor-appointed gaming commission to award licenses. The commission oversees the 19 state-licensed casinos.
'If you look at Iowa law, it really is quite vague," said Jeff Lamberti, a Republican commission member from Ankeny. 'It says only the commission shall determine how many and where."
The commission leans on its bylaws and consistency with precedent set over 27 years of regulating casinos when deciding whether to grant a license.
Iowa legalized para-mutuel wagering - a system where bets are pooled and divided among the winners after the 'house" take - on dog and horse racing in 1983, and on excursion riverboat gambling in 1989.
The Iowa casino industry reshaped in 2004 when the Legislature allowed 'excursion gambling boats" to be located on man-made lakes or within 1,000 feet of the high water mark of a river. This opened the door for licenses for the Riverside Casino & Golf Resort, Diamond Jo Worth County, Isle of Capri Waterloo and Wild Rose Emmetsburg.
The law loosened again to allow casinos to be stationary, land-based structures in 2007.
Since 2005, the commission has granted six license applications and denied 10.
As state law softened to allow casinos virtually anywhere, the commission developed its own requirements raising the bar for applications. Applicants were expected to provide amenities beyond gambling such as hotels, spas, golf courses and restaurants, Lamberti said. And, granted licenses cost $5 to $20 million depending on the size of the community.
Given the heavy financial commitment - more than $100 million in private investment in many cases - the commission has prioritized protecting the existing investment both for the operators as well as the state, which was increasingly depending on gambling tax revenues in the budget, Lamberti said.
By 2009, the commission had amended its bylaws to include criteria for a new license. They say the commission will consider the 'impact on existing operators' adjusted gross revenue versus existing operators' ratio of adjusted gross revenue to investment."
Lamberti said this approach has worked well to avoid disruptions in the market. After years of this model being followed, in his view, the Legislature would need to act to take a different approach. He said he has not heard any great clamoring to do so.
'The market in Iowa has been very stable and that benefits the state," he said. 'We've had slow and steady growth and that means the Legislature and governor can rely on what the industry is going to produce on the tax side year to year."
Iowa's casinos paid $289 million in state taxes and $7.23 million each in city and county taxes, according to commission data.
'It's not so much about protecting the casinos as it is protecting the budget," said Rick Bertrand, a Republican state senator from Sioux City. 'That's big government 101. Our budget is addicted to gaming money, same as liquor."
Bertrand said it is in the state's interest to keep the casino industry stable.
The Iowa Supreme Court weighed in dismissing a case in March that tested whether the commission should consider existing casinos when granting a license.
The court ruled that not only is the commission empowered to do so, but the state code supports it.
'In order to insure the continued economic development of our state, the Legislature and the commission deem it important to make sure an existing gambling facility remains viable when the commission issues a new license," the ruling stated. 'A closed gambling facility, together with a loss of jobs, has an adverse effect on economic development in our state."
Dave Swenson, an Iowa State University economist, said any new interior casino - one not on the borders - simply shuffles spending from other casinos and other businesses.
For casinos in Iowa to work, they need to be 'regulated heavily by the state because the industry is prone to misbehavior, and they have to have a monopoly territory to operate in to be profitable," he said.
Ernest P. Goss, a professor in the Heider College of Business at Creighton University in Omaha, agreed with a need to control licenses. A factor he points out is allowing casinos to pop up more freely could have societal costs.
'A very open market approach, I favor for most endeavors, but not for casinos," Goss said. 'The problem is the negatives that come out of casinos. Rapids expansion could lead to more problems, problem gambling. The negative spillover cost would be greater with more casinos."
l Comments: (319) 339-3177; brian.morelli@thegazette.com