Home / News / Government & Politics
Rod Blum calls ethics violation charge a 'crusade of destruction'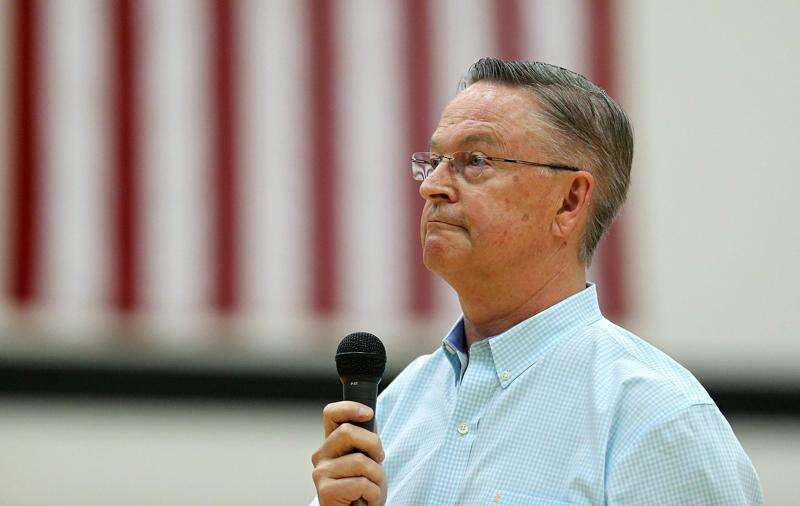 CEDAR RAPIDS - Iowa U.S. Rep. Rod Blum is fighting back against what he's calling a Democratic-orchestrated political 'assassination attempt" involving a congressional oversight agency's inquiry into an alleged ethics violation.
According to Roll Call, a newspaper that covers Capitol Hill in Washington, D.C., the House Ethics Committee has taken up an inquiry into whether Blum failed to disclose his involvement in Tin Moon, a Dubuque firm that claims it can bury derogatory information about businesses in online search results. The Office of Congressional Ethics referred the case in mid-July. The committee has 45 days to act on referrals. However, there is a 60-day blackout period around the Nov. 6 election so the next publicly available information will be on or about Dec. 17.
Blum, a Dubuque Republican seeking a third term in the House, called the inquiry an attempt by his Democratic challenger, State Rep. Abby Finkenauer, House Minority Leader Nancy Pelosi and what he called the 'radical left" who have 'realized they can't compete in the arena of issues and ideas."
'That is why they have waged a crusade of personal destruction on me and other principled leaders working to drain the swamp in Washington," Blum said in a statement released by his office Tuesday afternoon. 'This is the swamp fighting back."
Finkenauer's campaign dismissed that with campaign manager Kane Miller saying 1st District voters 'deserve more than answers, they deserve better."
'Hiding your involvement in a company that covers up health safety violations and features your government staff in false testimonials is absolutely worthy of investigation," he said.
And the Democratic Congressional Campaign Committee called Blum's conduct 'emblematic of everything wrong with a Republican-controlled government."
'Rod Blum promised Iowans that he would drain the swamp, now he's caught swimming in it," spokesperson Rachel Irwin said.
Earlier this year, the Associated Press reported that Blum violated House ethics rules by failing to disclose his ownership role in Tin Moon and that a member of his staff gave a false testimonial to promote the company's services.
Blum called the alleged violation a 'clerical error."
'Once this minor error was brought to my attention, I immediately self-reported to the Ethics Committee and apologized," he said. 'Even the House Committee on Ethics states that administrative oversights on financial disclosures are not uncommon, and between 30 and 50 percent of all reports reviewed by the committee contain errors."
The Office of Congressional Ethics is an independent, nonpartisan entity that reviews allegations of misconduct against members, officers and employees of the House. It refers matters to the House Committee on Ethics when its board believes it is appropriate.
Blum, a Dubuque native who built a software company there, already is considered vulnerable. Although he outpolled both then-GOP nominee Donald Trump and popular Iowa Sen. Chuck Grassley in the 2016 election, his race is considered a tossup by political handicappers.
'What a beautiful assassination attempt," Blum said when the stories about Tin Moon first surfaced, and sought to distance himself from the company.
'I don't work for them. I don't run it," he told Linn County Republicans.
However, the 'complicit media" is taking cues from the Democratic Party 'to deliver an election scandal headline."
It's ironic, Blum said, that Finkenauer 'who was found guilty of her own ethics violations in the state of Iowa, is being afforded a platform by her party to maliciously accuse me on the same front."
In 2015, Abby was hired as state director for Make It Work, a national nonprofit that advocates for economic security policies such as equal pay, affordable child care, paid family leave and earned sick days. However, there was no formal complaint or investigation into Finkenauer's apparent failure to revise her disclosure within a 30-day window. The House chief clerk called her failure to file a timely update a violation of Iowa House rules.
Finkenauer's campaign called Blum's allegation a 'false and discredited right-wing attack."
Blum believes voters will see through the attack on him.
'Clearly these accusations are a result of the left's diminishing relevance to the average American family," he said.
An ethics committee staffer would not comment on the record about the referral from the Office of Congressional Ethics, the committee's process or what possible courses of action are available to the committee and full House.
Based on previous cases, the complaint could be dismissed or continued for review. The committee could direct a representative to correct disclosure reports, order repayment if appropriate, issues a letter of reproval or refer the matter to the full House for a fine, reprimand or censure.
l Comments: (319) 398-8375; james.lynch@thegazette.com