Home / News / Government & Politics
Reynolds, Gregg introduce themselves to Iowa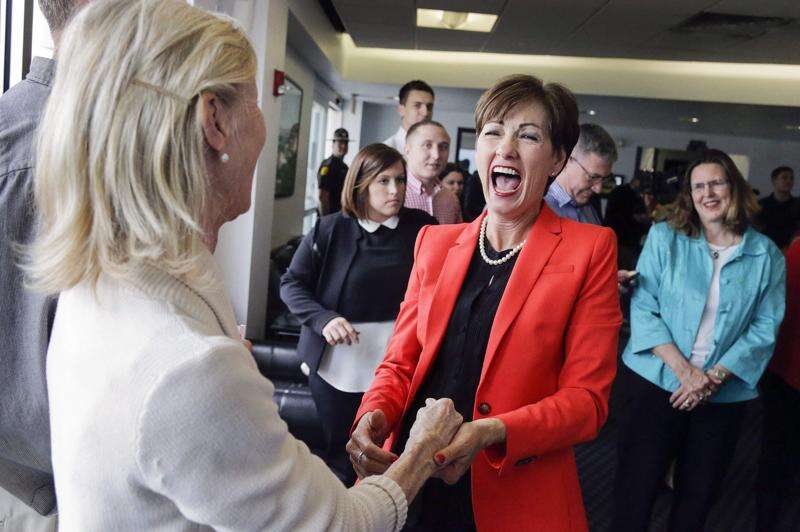 CEDAR RAPIDS — It's been quite a couple of days, 'let me tell you,' Gov. Kim Reynolds told a cheering crowd that had come out to greet her Friday at the Eastern Iowa Airport in Cedar Rapids.
Three days into her tenure as governor, Reynolds was on a fly-around introducing herself and Acting Lt. Gov. Adam Gregg to the state.
'I'm excited about the opportunities,' Reynolds said with her trademark enthusiasm. 'There's so much more that we can do and I know that working together we are going to accomplish great things.'
Just as her mentor, former Gov. Terry Branstad, who Wednesday was sworn in as ambassador to China, made her a partner in carrying out his agenda, Reynolds said she would rely on Gregg, who she described as a 'problem-solver and out-of-the-box thinker.'
'It takes a great team,' Reynolds said, adding that she has seen Gregg's passion and enthusiasm when he was Branstad's legislative liaison.
She saw his abilities in 2013 when Democrats controlled the Senate and Republicans controlled the House. Branstad told Gregg he wanted to sign legislation reforming commercial property taxes, education and Medicaid.
'I'll be darned if he didn't get that done,' she said. 'That showed us, first of all, what a hard worker he was, and that he could build a coalition and work across party lines.'
She plans to continue that approach in an effort to achieve her four priorities of improving the business environment, creating an innovative energy policy, education Iowa's youth and training Iowans for the jobs of tomorrow.
'I won't stop until every Iowan has an opportunity to succeed,' she said.
That would be a change, according to Iowa Democratic Party Chairman Derek Eadon.
'Reynolds has a clear history of prioritizing her own partisan agenda before the needs of working families in Iowa,' he said. 'As she begins campaigning across the state with Acting Lt. Gov. Adam Gregg, we hope she changes her priorities, because her record of supporting disastrous budgets has built a worse Iowa.'
It was left to Gregg, who described himself as an 'ordinary Iowa guy,' to address the history-making aspect of Reynolds' move from lieutenant governor to governor.
It's an 'honor and a privilege to get to stand side-by-side with our first woman governor,' Gregg said. 'Think of the inspiration she provides to young women and girls who can look at the beautiful golden dome of our Capitol and think that even the biggest job under that dome is no longer off limits to them.'
The 70-plus audience members were Republican first, but they were excited to be welcoming Iowa's first female governor, especially because she's one of theirs.
'We're really proud,' said Kim Reem, immediate past president of the Iowa Federation of Republican Women and a vice president of the national federation. Reynolds is a former Iowa federation board member.
'As Republicans, we're proud that in a time when we're told so often that the Republican Party is not the party for women, the first female governor of Iowa is a Republican,' Reem said. 'We keep being told about the Republican 'war on women,' but the evidence seems to prove otherwise.'
Reynolds and Gregg kicked off their 'Building a Better Iowa' tour in her hometown of Osceola before starting Friday in Gregg's hometown of Hawarden. In addition to the Cedar Rapids stop, they visited Mason City and Davenport.
l Comments: (319) 398-8375; james.lynch@thegazette.com