Home / News / Government & Politics
National populist group endorses Cathy Glasson for Iowa governor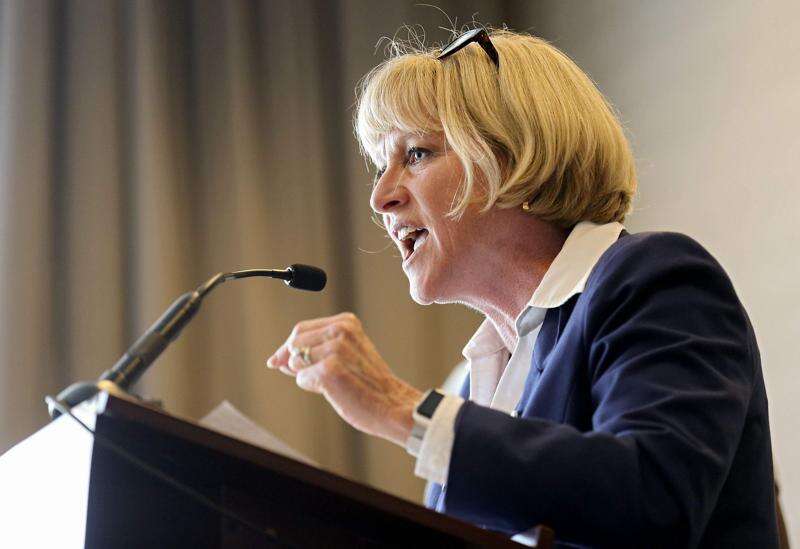 CEDAR RAPIDS - A day after formally entering the race for the Democratic nomination for governor, Coralville nurse and union president Cathy Glasson has been endorsed by the Progressive Change Campaign Committee.
Glasson is an 'authentic, gut-level economic populist who is instinctively on the side of working people," Progressive Change Campaign Committee co-founder Stephanie Taylor said in the endorsement.
The Progressive Change Campaign Committee describes itself as the 'Elizabeth Warren wing of American politics and advocates for populist priorities like expanding Social Security, debt-free college, Wall Street reform and universal health care.
Glasson 'is one of the top bold progressives running for governor this cycle," Taylor said. 'With her history as a nurse and an advocate for workers, Cathy will bring bold progressive change to Iowa with a $15 minimum wage, expanding union rights and Medicare for all."
The endorsement follows Glasson's participation in an hourlong conference call with Progressive Change Campaign Committee members Sunday night during which she fielded questions about her agenda.
The Progressive Change Campaign Committee plans to email its million members, including more than 7,600 in Iowa, asking them to help fund Glasson's campaign. Since its founding in 2009, the Progressive Change Campaign Committee has raised more than $25 million for progressive candidates and committees. It raised $1.17 million from 70,000-plus small-dollar donations for Elizabeth Warren's 2012 Senate run.
Glasson is not a stranger to the Progressive Change Campaign Committee. She attended its national candidate training earlier this year and joined Taylor on a panel at Netroots Nation 2017 about the ongoing opioid addiction crisis.
Glasson, 58, one of seven candidates for the 2018 Democratic gubernatorial nomination, is the president of Service Employees International Union Local 199. She's a registered nurse in the intensive care unit at University of Iowa Hospitals and Clinics where she led unionizing efforts 18 years ago. She lives in Coralville with her husband, Matt, a labor educator.
l Comments: (319) 398-8375; james.lynch@thegazette.com