Home / News / Government & Politics
Murals popping up throughout Cedar Rapids
Jun. 15, 2016 10:26 pm, Updated: Jun. 16, 2016 11:29 am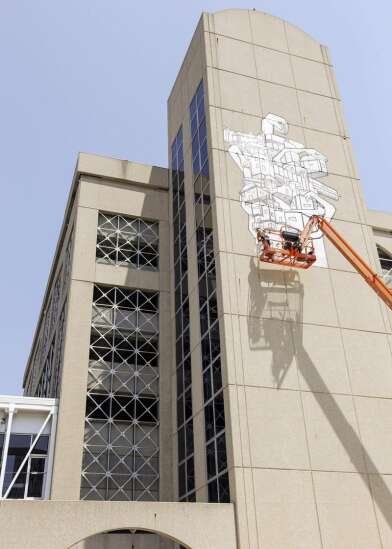 CEDAR RAPIDS — You might say Cedar Rapids is becoming mural city.
This week alone, three new murals have popped up around town — one each at the National Czech & Slovak Museum & Library, Czech-Slovak Protective Society Hall and Fourth Avenue SE Parkade.
On Saturday, work is scheduled to begin on a fourth new mural, this one designed to be completed by any area residents interested in lending a hand.
The mural, following 'The City of Five Seasons' theme, is to be intalled on the Armstrong Development Co. building at 222 3rd Ave. SE.
The project is being coordinated by the Cedar Rapids Metro Economic Alliance and Murals & More, a grassroots organization working to tell the story of Cedar Rapids by way of a public art trail through the city.
Those interested in lending a hand are asked to stop by Greene Square, across from the Cedar Rapids Museum of Art, 410 3rd Ave. SE, from 7:30 a.m. to noon June 18, July 16, Aug. 6 and Aug. 20 during the Downtown Farmers' Market. Volunteers are to be given certain colors and general directions, but have some personal choice in what they paint on the mural panels.
The completed mural is to be unveiled in September.
Aaron Loan, co-chairman of Murals & More, said murals are a great way to brighten up a community.
'People are seeing them now as a great expression of culture and it really enhances the aesthetics of a building or the general area,' he said. 'It really tells a story of who we are as a people.'
Making blank walls better
Sean Ulmer, executive director of the Cedar Rapids Museum of Art, said the benefit of a mural – like all public art – is that it engages people in a unique way.
'The art is in the environment; you encounter it as part of your everyday life,' he said. 'It says, 'You're in a place that has exciting, engaging and intellectual things to do.'
'That's vital to the overall success of any city.'
It's something Cedar Rapids officials take seriously, so much so the city has a Visual Arts Commission that oversees all public art in the community.
Any piece of art going in a public space must be approved by the commission, which has members appointed by the mayor. Usually, the commission approves the art unless it foresees the piece needing significant maintenance or sparking too much public controversy, said Bill Stamats, chairman of the commission.
While it's not required the commission approve art in private spaces, its members are still asked to give opinions to such groups working on projects, Stamats said.
'Anyone wishing to do a mural on private property should contact the Building Services Department,' added Emily Muhlbach, development services communications coordinator in the city manager's office.
Cedar Rapids City Councilwoman Ann Poe said murals on private property are encouraged.
'It's another way visual artists can display their talent,' she said.
Beyond that, Jennifer Pickar, director of communications and marketing at Go Cedar Rapids, said murals provide a one-of-a-kind interaction mechanism to help promote the city.
'I love that murals provide a backdrop for pictures for people to share on social media,' she said.
Stamats said he'd like to see more murals around town for one simple reason:
'You can take big blank walls and make them better,' he said.
From past to present
Ulmer, of the Cedar Rapids Museum of Art, said mural art became very popular in the 1930s as part of President Franklin D. Roosevelt's Works Progress Administration. Legendary Cedar Rapids artist Grant Wood helped lead several of these public art projects, he said.
Of course, one of Cedar Rapids most well-known murals came out of that time period.
In 1935, Francis Robert White painted a mural in the city's federal building, now home to City Hall. The mural was meant to carry out the theme of parallel progress of law and culture.
But Judge Henry Gaven, among other officials, objected to some of the content in the mural, including a depiction of a lynching. As a result, the mural was covered up in 1944.
In 2011, when City Council claimed the old federal courtroom as its new space for meetings, the mural was restored with the last portion unveiled in 2015.
Mel Andringa, co-director of Legion Arts, a nonprofit focusing on contemporary art and sponsor of the new mural on the Czech-Slovak Protective Society Hall, said he is glad the City Hall mural was restored because it shows a style of art that is contradictory to Grant Wood.
'This mural showed social issues when Wood was doing what was socially acceptable,' Andringa said.
Proponents of murals say the artwork is beneficial not only because it can convey a powerful message, but also because it paints a picture of a moment in time.
That's the idea behind Eliezer Sotillo's new mural on the Fourth Avenue SE Parkade. The Iowa City artist said his goal is to tell the story of Cedar Rapids following the 2008 flood.
Lily Allen-Duenas, co-chairwoman of the artist selection committee for Murals & More, said murals provide a positive way for the community to celebrate art.
'Murals provide a really neat canvas, and the fact that they dwell in public allows for a lot more public interaction,' she said.
It's also a way for area residents to leave their permanent mark, said Loan, who encourages folks to help out with the upcoming community mural project.
'For years to come, people can look up and say, 'I helped paint that,'' he said.
Murals in progress
Name: ReanimateArtist: Eliezer Sotillo
Location: Fourth Avenue SE Parkade
Name: TBDArtists: Megan Creasey and members of Achieving Maximum Potential
Location: National Czech & Slovak Museum & Library
Name: Current the Pulse of LifeArtists: Tom Torluemke, Bill Pozzo, Linda Dorman & Neil Gainer
Location: Czech-Slovak Protective Society Hall