Home / News / Government & Politics
Moving Iowa City's Buddha: 110 tons of karma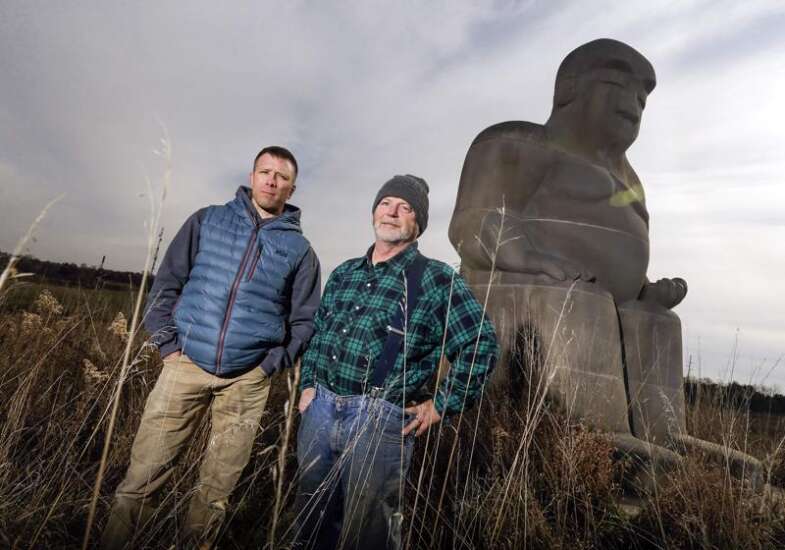 IOWA CITY - 'I wanted to make something big."
So Doug Paul did.
Sitting on a hill on the east side of Iowa City off Scott Boulevard, looking west over Harvest Preserve - which Paul, 66, founded in 2001 - the statue he made is more than 20 feet tall and over 110 tons. Carving alongside stonemason JB Barnhouse over the course of a year and completed in 2015, Paul named the statue of a rotund and bald man simply 'Man on a Bench."
''Man on a Bench' can be anything you want it to be," Paul said. 'It's up to each viewer to determine what it is and what it means. ... For some, it's Buddha. For some, it's uncle Charlie."
Now, thanks to a land swap with ACT, 'Man on a Bench' means something Paul likely didn't anticipate during its creation: a big move.
Sometime in the next 18 months, Paul will need to move the statue off the land he no longer owns on the east side of Scott Boulevard across the street to his property.
'I will move the statue to Harvest Preserve," he said. 'I say that not knowing how it can be done, but trusting that it can be done. I just don't know how. I've been thinking about it for a year and haven't come up with a method."
Paul said an exchange of 170 acres with ACT was completed at the end of October. The swap gave Paul another parcel of land directly west of the 100-acre Harvest Preserve on the south side of Scott Boulevard and ACT a stretch of land that goes from its campus along the north and east side of Scott Boulevard.
Ed Colby, senior director of media relations for ACT, said the company considers the deal a private matter and declined to comment on ACT's plans for the land.
Paul is partnering with local developer Joe Clark to develop the land west of Harvest Preserve. Called Tamarack Ridge, the 36.58 acre plot will be divided into 60 lots for single-family homes.
The development has been met with pushback from residents who did not want Tamarack Trail extended north to Scott Boulevard for the subdivision. Although a protest petition was filed in response to the rezoning, the Iowa City Council approved the preliminary plat in September.
'I, personally, am not a developer so the land is a terrible investment for me," Paul said of his various acquisitions over the years. 'I get attached to the land and then I never sell it. ... But the development of that land will feed money into the endowment for Harvest Preserve. Harvest Preserve will benefit from the development."
Paul said he can't say how much money Tamarack Ridge will feed to Harvest Preserve, but he's hopeful the endowment will provide 100 percent of operating costs, which currently are about $100,000 a year.
Harvest Preserve - a collection of forest, prairie, trails and public art supported by membership fees - has a part-time executive director. Paul is a volunteer and does not collect a salary.
'My intention is to build an endowment to ensure that Harvest Preserve has maintenance money and a couple of staff," he said. 'When I step aside, we'll have to hire maintenance (and) a ranger."
But before any of that happens, Paul has a statue to move.
He said he designed a model of the statue out of clay over the course of a year, but the statue itself is made of 11 blocks of Indiana limestone. Paul carved the statue with Barnhouse, who opened Country Stonemasons in North Liberty in 2003. Barnhouse is a graduate of the Building Crafts College in London. He and Paul have been working together on projects at Harvest Preserve since 2004.
'We're just kind of cut from the same cloth," Barnhouse said. 'We just naturally gravitated toward each other."
Barnhouse said he and Paul put a grid on the individual blocks and removed the unnecessary stone starting with miniature jackhammers before working down to smaller tools, including hammers and chisels.
Once the blocks were carved, the statue was assembled piece by piece from the bottom up until it was completed. Barnhouse said he and Paul spent 10 hours a day for more than a year working on the sculpture.
'It was a once-in-a-lifetime experience," Barnhouse said. 'You have to say that loosely because with Doug you never know."
Paul said the statue was never intended to be taken apart again, but Barnhouse figures that's how it will be moved and his company will be the one to do it.
Using a 'decent-sized crane," Barnhouse said he and his crew will take it apart, move the pieces across the street and then reassemble the statue so it's looking east.
'We know what we're doing," he said. 'It won't be that bad."
Paul doesn't use the word 'legacy" when he talks about the land deal, the statue and the future of Harvest Preserve, but when asked he acknowledges that yes, this is about his legacy and maintaining the land he loves.
'My intention here is simply to take this piece of land and preserve it without houses and rooftops and parking lots, to retire it from being a commodity," he said. 'I have the abstracts on this property and it's been sold and resold for a couple hundred years. It's time to stop."
Comments: (319) 339-3155; lee.hermiston@thegazette.com