Home / News / Government & Politics
Iowa U.S. Rep. Ashley Hinson targets Democratic 'spending spigot' during Cedar Rapids town hall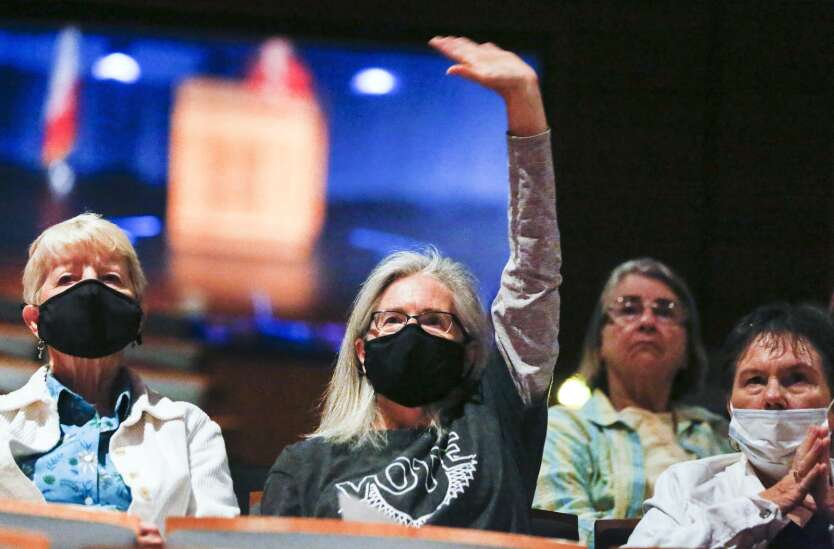 CEDAR RAPIDS — Rep. Ashley Hinson's priorities in her first eight months representing Iowa's 1st District have been "standing up for taxpayers, standing up for rural America and standing up for safety and security," she said Wednesday.
As a member of the House Appropriations and Budget committees, Hinson told about 60 people at her Cedar Rapids town hall meeting she's working to turn off the Democratic "spending spigot."
Although the Marion Republican has supported pandemic relief measures, she said "knowing where your money is going is absolutely crucial to the transparency that I think our government needs."
For example, Hinson said, $700 million in a coronavirus relief package went to prisoners such as Dylann Roof, who killed nine members of a Black South Carolina church congregations, and Larry Nassar, a coach convicted of sexual abuse of Olympic gymnasts.
Hinson also took about a dozen questions from her audience at Kirkwood Community College, ranging from immigration to taxes, government spending, prescription drug prices, workforce, masks and voting rights.
However, it was a question not asked that upset Ann Treanor of Cedar Rapids. She called Hinson a "Trumpion" because, among other things, she voted against the special commission to investigate the Jan. 6 attack on the "hallowed ground" of the Capitol by "savages."
Previously, Hinson said she opposed the commission because it might "interfere with ongoing law enforcement investigations" by the FBI and U.S. Department of Justice, which she wants to see move forward.
In response to a question about lowering prescription drug prices, Hinson said she favors House Resolution 19, which would cap out-of-pocket costs to give Medicare recipients more predictability for Part D, increase access to alternative treatments and increase competition.
Angela Weiland of Cedar Rapids, who raised the issue, called the bill a Republican attempt to "reinvent the wheel on prescription drugs." She prefers House Resolution 3, which, unlike the GOP-backed HR 19, has won House approval.
Addressing concerns about cybersecurity attacks, such as the one that shut down Colonial Pipeline, the largest fuel pipeline in the United States, and led to gasoline shortages, Hinson said a case can be made that there is an "inherent public interest" in protecting that infrastructure.
Federal law enforcement is tracking the hackers in Cuba, the Eastern Bloc, China and Russia who "are targeting not only our government, but they're targeting our industry as well."
As she's making her third trip in eight months through the 20 counties of the 1st District, Hinson is hearing about workforce shortages. She said she has supported help for those unable to work because of COVID-19 but said now there's a need to get the economy up and running again.
Child care has been an issue for many families, Hinson said. It's too soon to tell if people will return to the workforce now that schools are back in session. With vaccines available and employers making accommodations to improve workplace safety, "we do need to get people back to work," Hinson said.
Mask mandates aren't needed in schools, she said in answer to another question. Nothing prevents parents from choosing to have their children wear masks to school.
"Nobody cares about the health and safety of kids more than me," Hinson said, referring to her two sons who she said, she put on the school bus before the town hall.
Comments: (319) 398-8375; james.lynch@thegazette.com