Home / News / Government & Politics
Iowa Senate passes bill against 'revenge porn'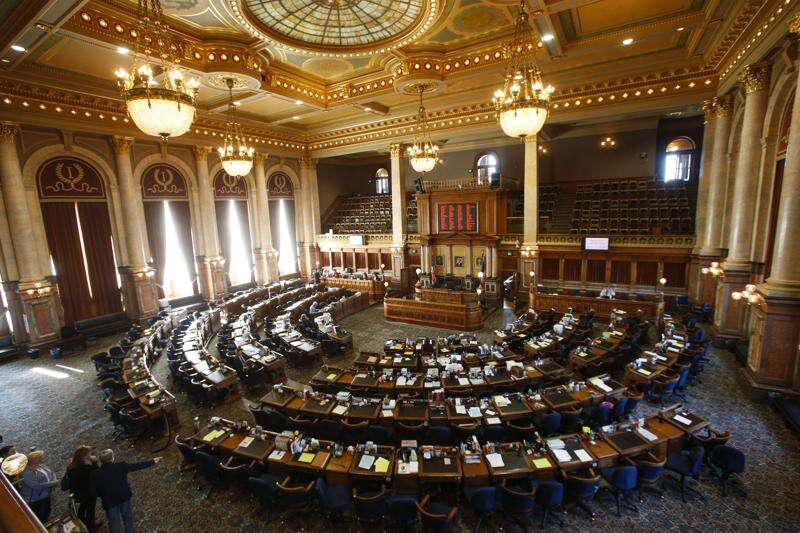 DES MOINES - Iowans thinking about posting 'revenge porn" of their exes online will want to think twice now that the Iowa Senate has agreed to enhanced the state's criminal harassment statute to protect people from such embarrassing disclosures.
Senators voted 48-1 Tuesday to approve a House-passed bill that seeks to address situations where someone has harassed a former partner by posting racy images after a breakup.
House File 526 would make it a crime to post a sexually graphic photo or video online or to send either to someone else by text or email without consent of the person pictured. Backers of the bill said a law is needed to classify 'revenge porn" as criminal harassment.
'The law needs to be keeping up with technology," said Sen. Julian Garrett, R-Indianola, floor manager of the bill that returns to the House after senators approved amendments dealing with juveniles who may run afoul of the statute.
'As I understand it," he said, 'there is no specific law right now covering a situation where the victim consented to the filming in the first place and then the film was distributed later on without the consent of the victim, and that's what we're trying to correct with this bill."
Sen. Liz Mathis, D-Cedar Rapids, cited federal cases and law dealing with immunity for 'revenge porn" websites that are used as a 'conduit" for content posted by third parties, and wondered if the bill offered on the Senate floor was 'challenge proof."
Sen. Rich Taylor, D-Mount Pleasant, voted against the bill, saying he thought it 'needs a lot more work" and could lead to unintended consequences - such as in a college setting where one person would share a photo that 'could go viral" and result in multiple people in trouble.
BATHROOM CAMERAS
Legislation that would immediately ban governments in Iowa from installing video or audio monitoring devices in public bathrooms, locker rooms or showers in locations such as libraries, schools or other government offices passed the Iowa Senate by a 49-0 vote Tuesday.
Senate File 499 was drafted in response to a situation at the Iowa City Public Library where video cameras were installed in the library's public restrooms as a theft deterrent. That action has been challenged by the American Civil Liberties Union of Iowa, and lawmakers agreed the monitoring devices raise a privacy concern.
'I believe that a person has an expectation of a bit of privacy when they're in a public restroom or a facility," said Sen. Matt McCoy, D-Des Moines. 'I believe this bill will actually ensure that individuals' expectation of privacy is maintained in public facilities."
Iowa City Public Library Director Susan Craig has said the bathroom cameras, which do not record inside stalls, are a safety feature. She said the cameras have helped police in theft and assault cases.
Sen. Mark Lofgren, R-Muscatine, the floor manager, amended the bill to exempt hospitals that use cameras to monitor and protect patients in the course of treatments. The bill now goes to the House.
RENTAL OCCUPANCY
A bill is on its way to Gov. Terry Branstad's desk to bar cities from enforcing regulations on the occupancy of residential rental property based on family or nonfamily relationships of the occupants. The Senate approved it 43-6.
Sen. Tom Shipley, R-Nodaway, said House File 134 would protect private property rights as well as residents using rental housing, but Sen. Herman Quirmbach, D-Ames, worried it would limit cities' ability to regulate density and crowding, especially in college towns with landlords 'packing" in tenants.
Quirmbach tried unsuccessfully to amend the bill to allow cities that already have housing regulations to be exempt, but Shipley argued that would undermine the intent of the bill.
Following the Senate action, Rita Bettis, ACLU of Iowa legal director, applauded the passage.
'We supported this bill because we believe that city government should not be in the position of defining 'family' for anyone," Bettis said. 'Cities that want the benefits they feel they can get from these ordinances in college neighborhoods can do so with other, non-discriminatory ordinances that, for example, regulate parking and noise."
l Comments: (515) 243-7220; rod.boshart@thegazette.com.