Home / News / Government & Politics
Iowa Senate passes 'back the blue' bills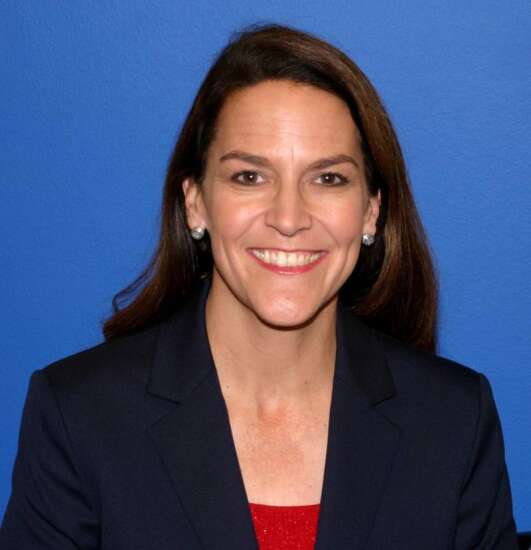 DES MOINES - Majority GOP senators passed 'back-the-blue" bills Wednesday to toughen protest-related penalties in the wake of last summer's racial injustice unrest and impose financial sanctions against local governments that take action to 'defund" law enforcement.
Senate File 534 - legislation containing enhanced sentences for criminal mischief, disorderly conduct, harassment, rioting and unlawful assembly - was passed 31-17 party-line vote.
Senate President Jake Chapman, R-Adel, ruled a Democratic amendment - seeking to add a ban on racial profiling - was out of order procedurally, as the bill was drafted.
Also, Senate File 479 passed on a 41-7 vote with 10 Democrats joining 31 Republicans in supporting the measure while seven Democrats were opposed. Under the bill, local government entities would be ineligible to receive state funds if their elected officials reduce the budget of their law enforcement agency unless their total budget is reduced by an equal or larger amount, or the city or county provide 'sufficient justification" to the state Department of Management, which would set rules for the new arrangement.
'The answer to police misconduct is not to defund and eliminate police. It's to invest and change the conduct through continued training," said Sen. Chris Cournoyer, R-LeClaire. 'We need law enforcement to keep us safe. We need to appreciate them and ensure that they have the resources and support that they need."
Minority Democrats agreed that law enforcement is vital to public safety, but with public safety responsibilities come accountability.
Caucus leader Sen. Zach Wahls, D-Coralville, said no law enforcement groups registered in support of the GOP bills that he said were more intended to 'score political points" than foster reasonable public policy.
Provisions
Along with increasing penalties for rioting, unlawful assembly, harassment, assault, disorderly conduct and criminal mischief and with enhancing some to felonies - changes opponents said were aimed at last year's protests in the wake of George Floyd's choking death in Minneapolis - Republicans created a new aggravated misdemeanor of interfering with public disorder control.
Other provisions sought to enhance the rights of police officers who suffer an injury in the line of duty by allowing them to recover damages against the individuals who caused the injury, create an assault offense for pointing a laser with intent to cause harm and provide civil liability protection for a driver who inadvertently injures someone blocking a highway without a permit.
'Obey the law'
Sen. Julian Garrett, R-Indianola, said the bill's provisions were aimed at people committing criminal acts by damaging and defacing public property and looting private businesses while still protecting First Amendment rights to free speech, assembly and protest.
'We need people to obey the law," noted Garrett, saying the tougher penalties are intended to 'make people think twice about breaking the law."
Sen. Kevin Kinney, D-Oxford, tried unsuccessfully to amend the bill to lessen some of the penalties with what he called 'common sense" as a retired law enforcement officer.
Sen. Tony Bisignano, D-Des Moines, told Republicans what Kinney was offering was reasonable, adding 'what you're suggesting is extreme, it's radical."
Traffic cameras
During the debate on SF 479, Democrats offered an amendment taking a swipe at GOP support for a separate bill seeking to ban traffic enforcement cameras by requiring the Legislature to cover any lost money due to action that eliminated revenue for law enforcement purposes.
'Put your budget where your mouth is, or this is pretty hollow," said Sen. Nate Boulton, D-Des Moines, before the amendment was defeated 31-17 on a party-line vote.
During debate, Democrats challenged Republicans to name one Iowa community that's thinking of defunding its police, calling the bill a 'symbolic gesture."
Cedar Rapids
In Cedar Rapids, the proposed police department budget calls for a boost of $842,982 to $43.4 million in fiscal 2022.
The increased spending would provide $25,000 for the new citizens' police review board, $30,000 for the first year of a three-year traffic stop analysis and $50,000 for a partnership with the nonprofit Leaders, Believers and Achievers Foundation to connect at-risk youth with the Cedar Rapids community.
It also includes $187,000 for the addition of two officers and $21,000 to equip them.
Iowa City
Iowa City officials are proposing to increase the police department's budget from $3.6 million this fiscal year to $3.9 million in fiscal 2022.
The support services budget calls for creation of a full-time civilian supervisor and a half-time community outreach assistant to work with police.
Comments: (515) 243-7220; rod.boshart@thegazette.com
Marissa Payne and Lee Hermiston of The Gazette contributed.