Home / News / Government & Politics
Iowa power co-op plans state's biggest solar project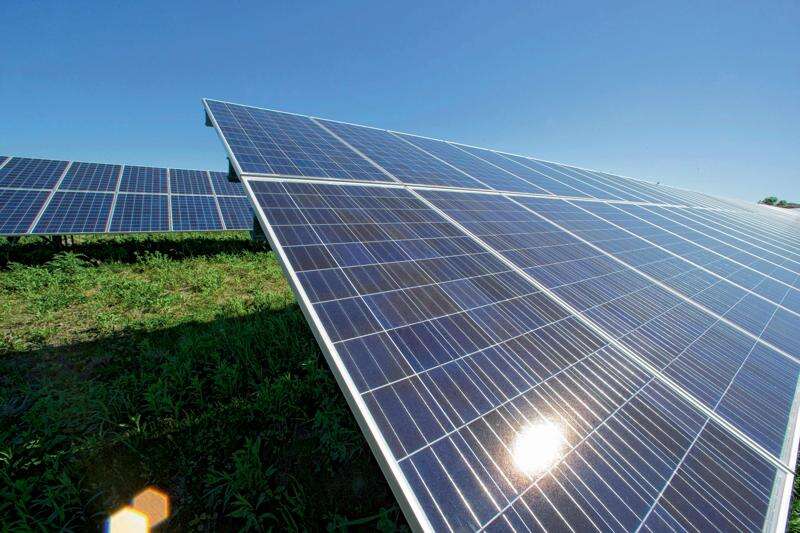 An Iowa electric cooperative and Idaho-based solar energy company have announced joint plans to build the state's largest solar project.
Boise-based Clénera will build and operate Wapello Solar, a 100-megawatt solar facility in Louisa County, according to a December news release.
Energy provider Central Iowa Power Cooperative, which has offices in Des Moines, Cedar Rapids, Creston and Wilton, will purchase the energy for 25 years.
Central Iowa Power's announcement comes on the heels of the Iowa Utilities Board's December approval of plans to close Iowa's only nuclear power plant in 2020. Duane Arnold Energy Center's current power purchase agreement between owner NextEra Energy Resources and primary energy purchaser Alliant Energy was originally set to run through 2025.
Energy from Wapello Solar should help offset power from the Palo nuclear plant - Central Iowa Power is a partial owner of the plant and receives 20 percent of Duane Arnold's generating capacity.
'This is a milestone project as we look to strike a meaningful balance with energy cost, reliability and stewardship for our members. Energy produced by the sun provides an excellent complement to wind energy. Energy from Wapello Solar will be produced during our daily and seasonal peak demand times. This is an innovative way for us to offer reliability and efficiency to CIPCO's energy portfolio," Central Iowa Power CEO and Executive Vice President Bill Cherrier said in the release.
Wapello Solar will cover about 800 acres and is planned to be complete in December 2020. Central Iowa Power Cooperative member Iowa Light and Power serves the area.
Clénera co-founder and CEO Jason Ellsworth said solar continues to become a cheaper, more environmentally friendly alternative to fossil fuels.
'Together with our suppliers and technology partners we've dramatically reduced costs and now see interest in projects extending to places that before now did not expect to see competitive prices from solar projects," Ellsworth said in the release. 'Today's solar technology allows us to be better stewards of our natural resources and at the same time create jobs and low-cost energy to power the hopes and dreams of generations to come."
Central Iowa Power, which serves more than 300,000 customers in 58 counties, earlier this year announced a 60-megawatt project in Creston to repower the Summit Lake Generation Station. The 70-year-old steam plant will be demolished and replaced by natural-gas fired reciprocating engines by late 2022.
Central Iowa Power's Heartland Divide Wind Energy Center - a 103.5 megawatt wind project - is expected to come online by the end of the year.
l Comments: (319) 398-8309; mitchell.schmidt@thegazette.com