Home / News / Government & Politics
Iowa legislative leaders 'ready to roll' to weekend adjournment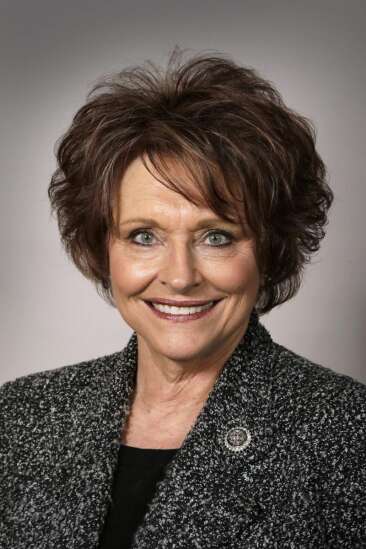 DES MOINES - Although lawmakers spent more time in committee meetings and behind closed doors than on the House and Senate floors Thursday, leaders clung to an expected weekend adjournment.
'I believe we may be able to get out of here on Saturday but that still remains to be seen," said Senate President Charles Schneider, R-West Des Moines.
'Saturday can be a long day, but that is my hope," said House Speaker Linda Upmeyer, R-Clear Lake, an apparent acknowledgment that unlike a calendar day, a legislative day can span more than 24 hours.
Last year, for example, the Legislature started an adjournment march on Saturday that went through the night before ending on Sunday.
'I think we've got a good path. The bills are moving, the budgets are moving, the tax bill is all but ready to file," Upmeyer said, cautioning that 'sometimes things get bumpy, but we're ready to move forward and complete our work and adjourn. I think things are ready to roll."
HUMAN SERVICES
There were a few bumps as appropriations committees in both chambers signed off on the $1.8 billion health and human services budget.
Democrats liked some parts of Senate File 2418, but Sen. Amanda Ragan, D-Mason City, called it 'inadequate."
'It's $15 million less than fiscal 2017," she said. 'We're talking about the most-vulnerable Iowans, and there are many people out there who are counting on this."
The $60 million increase from the current budget 'absolutely looks good," said Rep. Lisa Heddens of Ames, the ranking Democrat on the HHS Appropriations Subcommittee. 'But you have to take into consideration what reductions were done last year. We're not making progress, but we're not taking huge steps backward. There's certainly much more than we can do."
A flashpoint in the 120-page budget bill was what Heddens called the 'continued assault on women" because it would prevent Planned Parenthood from receiving state funding to provide family planning services.
If the GOP is serious about reducing abortions - their argument for passage earlier this week of legislation prohibiting most abortions after the sixth week of pregnancy - then they should be supporting Planned Parenthood's scientifically based sex education, 'which is not a word to say to some of your party," she said.
'We are taking an entity out because of their name, Planned Parenthood," she said.
Committee Chairman Dave Heaton, R-Mount Pleasant, said his party doesn't want to give funds to an entity that provides abortions.
Heddens pointed out that his bill funded UnityPoint hospitals in Muscatine and Waterloo. Although some UnityPoint facilities perform abortions, those facilities do not, Heaton said.
In response to Democratic questioning, Heaton spoke of the challenge of getting the House, Senate and governor's office to agree on legislation. He also noted that budget bills are subject to line-item veto, 'so you better have agreement."
MEDICAID
Sen. Joe Bolkcom, D-Iowa City, said he was disappointed Jerry Foxhoven, director of the Department of Human Services, didn't make good on his plan to have the new managed care organization rates by now.
'I guarantee you that the MCOs are hungry for more revenues," Bolkcom said.
Sen. Mark Costello, R-Imogene, co-chair of the House-Senate HHS budget subcommittee, acknowledged that legislators likely would have to pass a supplemental appropriations next session to fill the gap beyond the $55 million Medicaid increase in the fiscal 2019 budget plan - a move Democrats noted will get the underfunded GOP budget through the upcoming election cycle.
'We're basing our budgets on the most current information we have," Upmeyer responded.
'Obviously, there are contract negotiations going on, and we can't predict that." she said. 'We're just basing it on the numbers that we can predict. We'll deal with that, depending on what the contract outcome is, probably when we get back. We've got the resources to get us well into the next session."
BUDGET & POLICY
In her 16 years as a legislator, Heddens said, she could not recall another budget bill that contained as much policy as House File 2501.
Democrats liked some of the policy.
Rep. John Forbes, D-Des Moines, who has been part of an investigation of practices employed by pharmacy benefits managers, thanked Heaton for included language addressing the issue.
Democrats also expressed concern that GOP plans to cut taxes would reduce funding available for human services.
Heaton said he shared their concern but was confident legislation the Appropriations and Ways and Means committee chairs are working on will provide the needed resources.
'They understand it's not just saying people pay less in taxes but delivering services," he said. 'I'm very confident (they) will make sure the tax bill will give us the resources we need."
Although there seemed to be widespread agreement among lawmakers that they were ready to go home, the degree of enthusiasm was higher for some.
'I'm looking forward to Saturday," said Rep. Guy Vander Linden, R-Oskaloosa, who is retiring this year. 'Really looking forward to Saturday."
l Comments: (319) 398-8375; james.lynch@thegazette.com