Home / News / Government & Politics
Iowa House, Senate set up fight over boarding school regulation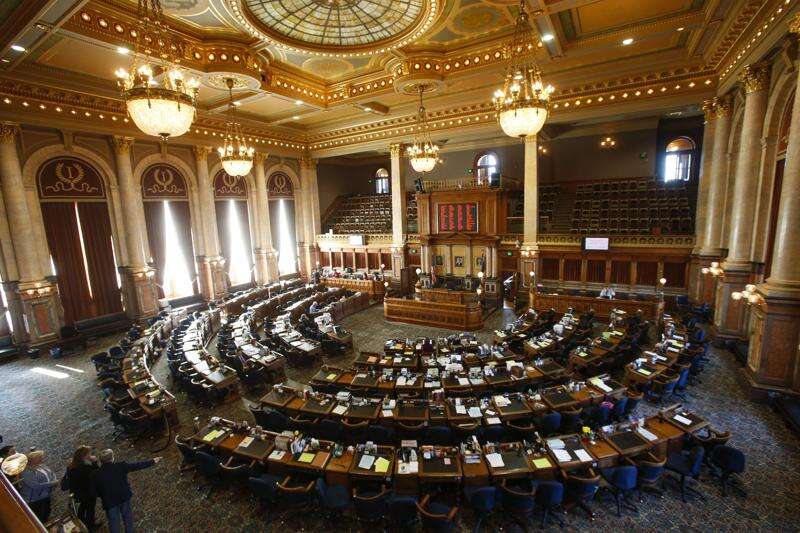 DES MOINES - The Iowa House checked off a few more budget bills during another day of stop-and-go action Wednesday.
After taking an overnight break, the Iowa House finished work on a $1.8 billion health and human services budget Wednesday morning, then spent much of the day in committee meetings, caucuses and negotiations before approving a handful of 'bouncing bills" the Senate sent back with amendments.
Among them was House File 2273, an elections bill that added language relating to tracking absentee ballots by the bar code on the envelope; HF 2392, the career and technical education bill; and the ag and natural resources budget.
However, Republicans rejected changes the Democratic Senate majority made in Senate File 2304, a proposal to regulate private boarding schools. Approved earlier by the House 74-24, the bill is a response to abuse alleged at Midwest Academy near Keokuk.
House Minority Leader Mark Smith, D-Marshalltown, said the Senate amendment added protections for students at private boarding schools by requiring background checks for employees of institutions operated by 'bona fide religious organizations."
The tougher language is not about 'approving the Sunday school curriculum," he said. That was a reference to objections Rep. Bobby Kaufmann, R-Wilton, raised in the earlier debate.
Kaufmann argued that the Senate changes would not give the Department of Education the authority to seek prosecution of schools that falsely claimed accreditation or allow the fire marshal to inspect and close facilities that posed a danger.
He asked the House to reject the Senate amendment and send the bill to conference committee to resolve the differences.
Kaufmann got his wish, 59-39.
Human services
House members started the day by picking up where they left off Tuesday night debating HF 2460, the health and human services budget, which minority Democrats argued doesn't reflect their priorities or those of Iowans and doesn't include adequate oversight of the transition to private Medicaid management.
Floor manager Rep. Dave Heaton, R-Mount Pleasant, conceded the 56-42 party-line vote reflected the divided sentiments of the House, but 'at the end, there will be people in this room who will be much happier."
House passage is 'just the beginning" of completing the far-reaching health and human services budget, which, he said, is expected to be sorted out by a House-Senate conference committee.
Much of the angst was over the transition to private Medicaid management, which began April 1 despite warnings from Democratic lawmakers that Iowans who depend on the program would face cancellation of services, changes in health care providers, and bureaucratic hurdles and delays.