Home / News / Government & Politics
Huckabee charms small crowd at Iowa City's Hamburg Inn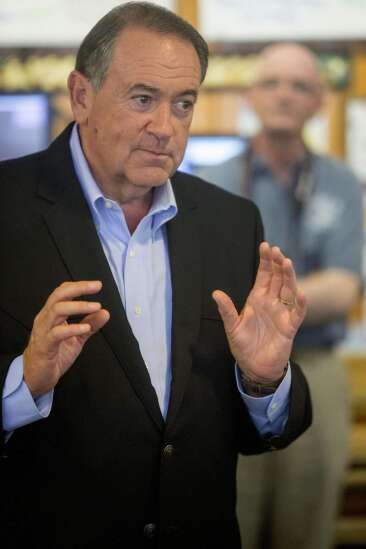 IOWA CITY - Former Arkansas Gov. Mike Huckabee charmed a small crowd at the Hamburg Inn Friday as the first 2016 presidential candidate to visit the diner that has served as a frequent political pit stop.
Huckabee, who won Iowa's Republican caucus in 2008, said he's not running again to build his resume or get more lucrative speaking gigs. He quit a job as a Fox News commentator after six years to launch a bid for the presidency.
'I've got five grandkids," he said Friday. 'I worry about their future, their America."
Huckabee, considered a long shot for the Republican nomination, said he he's different from the other 15 major Republican candidates because he's gone up against the 'Clinton political machine" in Arkansas. He pointed to his strong faith and support of the military as other reasons Iowans should support him in the Iowa caucuses.
Huckabee called a recent nuclear disarmament deal with Iran a 'misguided disaster" and said U.S. service members should be allowed to carry guns at recruiting and training centers, such as Tennessee facilities where four Marines were killed in a shooting rampage Thursday.
'We can't continue to let the best-trained people in our country be sitting ducks for madmen and terrorists," he said.
Huckabee took a half-dozen questions, including two on climate change. Adrian Mason, 25, a Michigan native and volunteer with League of Conservation Voters, asked whether Huckabee supports the U.S. Environmental Protection Agency's Clean Power plan, which seeks to cut carbon pollution from the power sector by 30 percent from 2005 levels.
'No, because that's an arbitrary goal that some politicians decided," Huckabee said.
Rather, Huckabee would like to see the U.S. tap into the 'several hundred years of energy under our feet" and become the world's top energy producer and exporter. This type of change could slash gas prices from $4 per gallon to $1 per gallon, Huckabee said, helping the economy for the poorest Americans.
As Huckabee talked, servers delivered burgers and refilled glasses, seemingly unphased by the cameras and people standing in the aisles. The Hamburg has a long tradition of political visitors, including former presidents Ronald Reagan and Bill Clinton. Server Alison Lordeman took out her cellphone to get a snap with Huckabee before she told him about one of the restaurant's signature menu items, a slab of pie blended into a thick shake.
Huckabee ordered a peach pie shake for the road.
The Iowa City stop was the third of four meet-and-greets planned for Eastern Iowa Friday. Huckabee hit Anamosa and West Liberty before Iowa City and was scheduled to go on to Grinnell. Today he will visit the Newton Pizza Ranch at 4:30 p.m. before speaking at the Family Leadership Summit in Ames on Saturday, where he's one of ten major Republican presidential candidates confirmed to attend.