Home / News / Government & Politics
How political connections and a Tennessee politician helped Cedar Rapids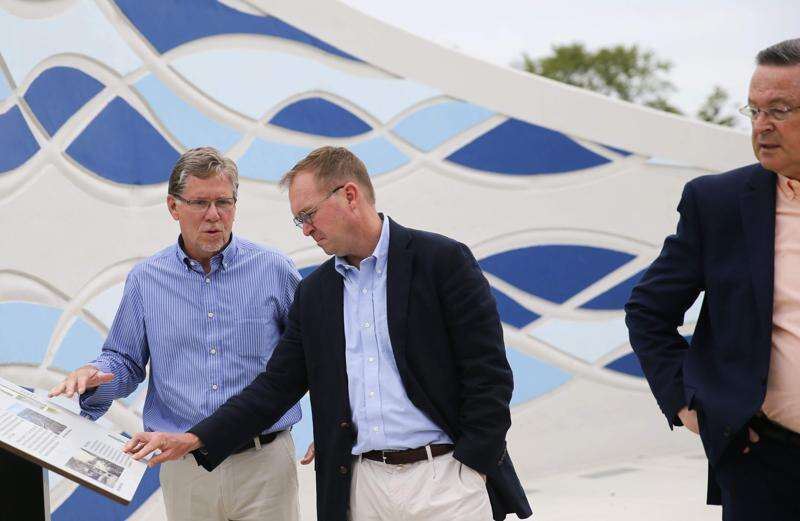 CEDAR RAPIDS - Seven years after the 2008 flood caused $5.4 billion in damages and losses to Cedar Rapids, city officials said they were being told federal aid for building a flood control system to prevent another catastrophe like that was a lost cause.
Despite the gloomy warnings, city officials, federal representatives and a lobbyist well-versed in the byzantine bureaucracy were working behind the scenes, laying out a strategy that along with some outside influences ultimately helped unlock $117 million in federal aid - $76 million as a grant and $41 million as an optional low-cost loan - that's accelerating progress on a system to better protect the city from a sometimes rebellious river.
'We never gave up," Cedar Rapids City Manager Jeff Pomeranz said. 'After the flood, we had a lot of ups and downs and I personally was involved in a number of discussions with federal officials that we were not going to get flood protection. That wasn't our senator or congressman. That was the Corps of Engineers and the administration at that time."
How the aid finally came through last July involves many disconnected pieces - including Hurricane Irma, the midterm elections, political connections and a retiring senator from Tennessee - and offers an example of how a community successfully navigated the federal government to get relief.
While Congress twice authorized Cedar Rapids to get federal money to help build its flood system along the Cedar River, the odds of it actually coming through were stacked against the city.
An Army Corps of Engineers' benefit-cost ratio to deal with a backlog of funding disaster recovery projects favored coastal cities with higher property values.
Hiring former Nebraska Sen. David Karnes as the city's federal lobbyist in May 2014 was a key decision in breaking through the system, Pomeranz said. The firm has been paid $121,006, according to city records.
Karnes had been an insider in Washington since being appointed in 1987 to fill the term of Nebraska Sen. Edward Zorinsky, who died in office. Karnes continued in different roles after leaving office two years later and eventually led a government affairs team for Omaha-based Kutak Rock, a law firm with offices in 18 states.
When Pomeranz was city manager in West Des Moines, before being hired in Cedar Rapids, Karnes impressed him while helping with an interchange project. As Cedar Rapids struggled to make headway on flood protection, Pomeranz turned to Karnes again.
'As our delegation was working on some revised language and developing relationships and making sure the administration knew about the great need, Sen. Karnes had this approach that he talked about," Pomeranz said. 'He wanted to make sure that if ever there was a chance for some additional dollars, that Cedar Rapids was able to take advantage of those dollars."
Karnes, speaking from Omaha, said he wanted to make sure people knew the city's story.
He learned that now-former Cedar Rapids Mayor Ron Corbett had a connection to Lamar Alexander, a Republican senator from Tennessee since 2003 and chairman of the Energy and Water Development Appropriations Subcommittee, which has jurisdiction over the Army Corps.
When Alexander ran for president in 1996, Corbett campaigned for him during the caucuses and remembered him positively, Karnes said.
Sometimes old political connections can help with efforts later, Corbett said last week.
'For 10 years we just kept on chirping in people's ears. We didn't know if it would work at the time," Corbett said. 'Lobbyists are not just about twisting arms, but offering up solutions. Karnes working in the Senate had an understanding of the system and how it works."
In addition to straightforward lobbying for more money for Army Corps projects, Cedar Rapids looked for other avenues, too.
And that's where Alexander came in.
Karnes worked to set up a meeting in March 2015. 'Any time you can get an audience like that it is always an opportunity to make a request," Karnes said.
They shared Cedar Rapids' story and the work that had been done since the flood.
The 2008 flood was the fifth largest Federal Emergency Management Agency declaration in history at the time. It impacted 14 percent of the city, thousands of homes, city buildings and businesses. Yet the city had not sat idle after the flood awaiting federal aid.
Cedar Rapids spent millions of dollars to better protect itself, including building the McGrath Amphitheatre, which doubles as an entertainment venue and levee. The Sinclair levee, which has a bike trail and hosted a music festival last summer, protects the NewBo District.
The city lobbied the state for a financing plan to help Iowa cities recover from flooding. Through the growth reinvestment initiative, communities could keep a portion of new sales tax revenue. For Cedar Rapids, that's estimated to be worth $267 million over 20 years.
Plus, the city successfully fought back the second-worst flood in its history in 2016, just eight years after the worst flood. The episode gained national attention, helping raise awareness of the city's story.
Corbett, Pomeranz, current Mayor Brad Hart and other staff members have traveled to Washington repeatedly to make the case. Corbett and Pomeranz testified before Congress and Hart and Pomeranz met with President Donald Trump and his aides.
The city invested $40,000 in at least eight trips to Washington since 2010 and $450 on materials telling the story to lawmakers, according to city information.
'Of all the cities I represent, they've done one of the best jobs making their case," Karnes said.
Alexander and his staff were 'taken by the story of Cedar Rapids," Karnes said - but at that time, there still was no money available.
Karnes kept in touch.
In 2017, the nation was socked with one natural disaster after the next - Hurricanes Harvey, Irma and Maria - prompting calls for an emergency supplemental appropriation for disaster relief, which Congress passed in February 2018.
As the bill was being crafted, Karnes said he reminded committee staff of Alexander's interest in the Cedar Rapids project. It helped.
The bill included language setting aside $4 billion of the $14 billion overall appropriation for non-coastal areas, he said. The bill also waived the strict benefit-cost ratio rules this one time.
'It described Cedar Rapids, but did not mention Cedar Rapids because that would have been an earmark," Karnes said.
On another front, Sen. Joni Ernst, a Republican from Red Oak and a combat veteran who'd served in the Iowa Army National Guard, had maneuvered onto the Environment and Public Works Committee, which has jurisdiction over Army Corps civil works projects. She was on the ground in Cedar Rapids during the 2008 flood. It left an impact she carried to Washington, she said.
At hearings and in private, she described the issues surrounding the Cedar Rapids project with Army Corps top brass, Lt. Gen. Todd T. Semonite and Secretary R.D. James. They had a natural connection, given her military service.
When the emergency supplemental bill passed and the Cedar Rapids project was recommended by the Army Corps-Rock Island District, Ernst said she pressed Semonite and James on its importance to include in the funding plan.
'Because R.D. James and Lt. Gen. Semonite were aware of the issues, they were able to move Cedar Rapids up to the forefront," Ernst said. 'Key decision-makers at the Corps were well-aware of the project and its importance to Iowa."
The resulting federal money for Cedar Rapids is earmarked for the east side of the Cedar River, but the overall system on the east and west side is estimated to cost $750 million over 20 years. Funding sources have been identified for more than 80 percent of it.
'Most of the communities and counties I work with never would have had the dogged determination of the leadership of Cedar Rapids," Karnes said. 'When you are pursuing funding from the federal government, it is really a marathon and not a sprint. The folks in leadership understood that."
In the end, many pieces came together, Pomeranz said.
Former Rep. Rod Blum, a Republican from Dubuque, had a relationship with Mick Mulvaney, Trump's interim chief of staff who headed the Office of Budget and Management. Blum also was in a competitive re-election campaign - which he later lost - and was able to tout the aid for Cedar Rapids as an accomplishment.
Trump had prioritized infrastructure and Iowa's top Republicans - Gov. Kim Reynolds, Ernst, Sen. Chuck Grassley and Blum - have been supporters of his.
None of that hurt Cedar Rapids' cause, Pomeranz said.
Relationships were forged at the state, local and federal level. The community helped keep the need in the spotlight. The federal delegation continued to advocate, and the project remained a priority through changes in City Council members, mayors and city staff, Pomeranz said.
'It was the work the city had done," Pomeranz said, 'what had been done with the state money, our lobbyists, our senators, our congressmen and all their connections, the natural disasters, the disaster that occurred in 2016 and then the disasters that occurred just recently with Irma and in Puerto Rico, I think all that came together and again, it went from 'you're not going to get funded' to 'we're going to make a commitment of 118 million.'"
' Comments: (319) 398-8310; brian.morelli@thegazette.com