Home / News / Government & Politics
Fact Checker: Tax ad attacking Axne gets scary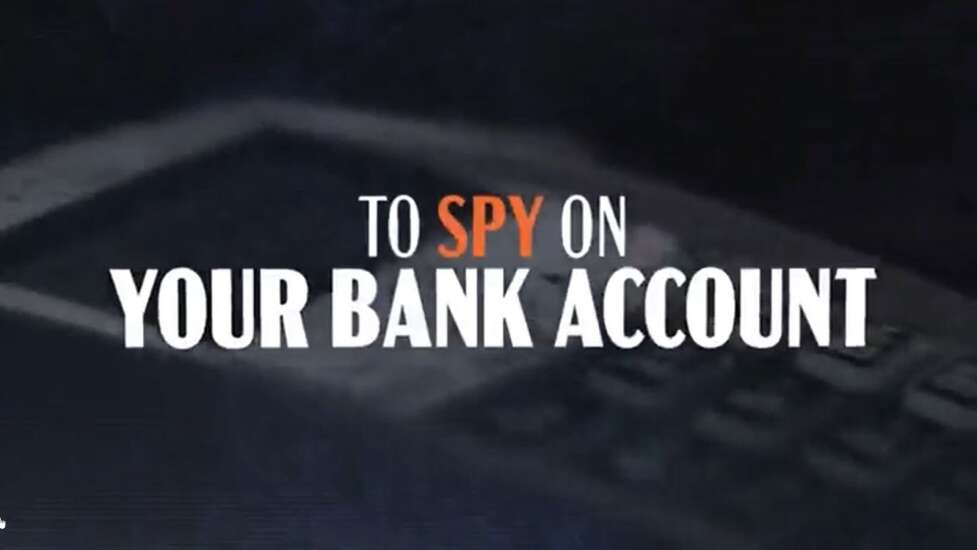 Just before Halloween, the National Republican Congressional Committee released an ad saying "What's scarier than Halloween? Democrats spending billions to hire an army of IRS agents to spy on your bank account."
The 20-second ad, which the Iowa GOP tweeted Oct. 27, goes on to say "Cindy Axne, Nancy Pelosi and Joe Biden's plan would give the federal government new authority to monitor your spending."
It finishes by asking Iowans to "tell Cindy Axne to stop spying on your bank account," referring to the West Des Moines Democrat leading Iowa's 3rd Congressional District.
Analysis
The ad shows a headline from an Oct. 4 Wall Street Journal opinion piece that says "The IRS wants to look at your bank account" with the citation to that piece, but no other sourcing appears in the ad. The Fact Checker wrote to the NRCC to see where it got the information, but had not heard back.
* The NRCC did write back after this story published, sharing the link to a vote Axne took Oct. 21. More on that below.
The Journal piece refers to a proposal by the U.S. Treasury Department to track more Americans' bank accounts to limit tax evasion. Treasury estimates tax evasion among the top 1 percent of taxpayers exceeds $160 billion a year.
The new tax compliance proposal also seeks to make taxes fairer.
People who get their income from a third-party source, such as an employer, have near-perfect tax compliance because the payer of the income also reports it to the government, Treasury said. Taxpayers who accrue income in other ways, such as through interest on investments or rent, have lower compliance rates because there's no third party that reports income to the IRS.
We're going to break the NRCC ad into three claims.
Claim 1: "Democrats spending billions to hire an army of IRS agents …"
The tax compliance plan introduced earlier this year calls for increasing the IRS budget by $80 billion so the agency can hire more staff to answer taxpayers' questions and enforce the laws, according to a May 19 U.S. Treasury report.
These proposed hires come after years of reduced staffing at the tax agency. ProPublica reported in a 2018 piece called "How the IRS was gutted" the agency had 9,510 auditors in 2017, down a third from 2010.
"The last time the IRS had fewer than 10,000 revenue agents was 1953, when the economy was a seventh of its current size," ProPublica reported.
Grade: We give the NRCC an B on this claim. While mostly true, the group doesn't mention the "army" of agents comes after years of downsizing.
Claim 2: " … to spy on your bank account."
This is the scariest claim in the ad because no one likes to think of the government spying on our spending.
Banks already are required to report some information on accounts to the IRS. The tax compliance proposal would add two new data points: How much money went into the account over the course of the year, and how much came out.
Originally, the threshold for inflow/outflow reporting was $600, but after push back from Congress, that was raised to more than $10,000 in transfers in a given year. Wage and salary deposits would not count toward the threshold, Treasury notes on an Oct. 19 fact sheet.
The IRS wouldn''t see individual transactions, so it would not "know when Iowans are stocking up on groceries or paying rent," as the Iowa GOP said in its tweet.
Why does the IRS want this information? "Imagine a taxpayer who reports $10,000 of income; but has $10 million of flows in and out of their bank account," Treasury said. "Having this summary information will help flag for the IRS when high-income people underreport their income."
The IRS says audit rates will not increase for taxpayers who make less than $400,000 a year. The median annual income for Iowa households was $61,691 in 2019 and just under 5 percent of Iowa households earn $200,000 or more, the highest income bracket the U.S. Census tracks.
Grade: The NRCC gets a C for this claim. Yes, the tax compliance plan would involve more information going to the federal government. But the threshold of transfers is pretty high and specific transactions are not reported.
Claim 3: Axne supports a plan that "would give the federal government new authority to monitor your spending."
Axne spoke out against the tax compliance plan when the threshold for transfer monitoring was $600.
"While I certainly think we need to be looking at ways to crack down on wealthy tax dodgers, I oppose implementing something that would so obviously scoop up the routine transactions, like paychecks, of millions of middle-class families and create massive amounts of red tape for our small community banks and lenders," she told the Hill Oct. 7.
Just a side note here to reiterate the tax compliance plan is supposed to exclude paycheck transactions, contrary to part of what Axne said.
Axne voted Oct. 21 with 218 other Democrats and two Republicans to block consideration of House Resolution 5586, which would have prohibited the Treasury Department from requiring a financial institution to report a transfer into or out of a bank account.
In mid-October, Democrats raised the threshold to $10,000 and indicated the tax compliance plan would be included in Build Back Better, a $1.75 trillion social spending and climate bill being negotiated in Congress.
Axne released a statement Oct. 27 saying she asked for the tax plan to be removed from the legislation.
The bill, as of last week, does not require banks to provide new information to the IRS about account transfers. The bill does include more funding for the IRS, but says it should not be used to increase taxes on anyone with taxable income under $400,000.
Grade: Axne has said she does not support additional account monitoring -- at least the way Treasury initially proposed and not as part of Build Back Better. She has voted to preserve that option, but it's not accurate to say it's her plan to "give the federal government more authority to monitor your spending."
Also, the final line of the ad saying "tell Cindy Axne to stop spying on your bank account" implies this is already happening, which it isn't.
The NRCC gets an F on this claim.
Conclusion
The NRCC ad asks "What's scarier than Halloween?" This ad, that's what.
It's not only wrong about Axne's support for the account monitoring aspects of the tax compliance plan, but it's misleading about what the plan actually would do. The IRS wants to gather more information about large bank account transfers because that's a way to flag people who might be trying to avoid taxes. Averaging the grades of a B, C and an F, this ad gets a D overall.
Criteria
The Fact Checker team checks statements made by an Iowa political candidate/officeholder or a national candidate/officeholder about Iowa, or in ads that appear in our market.
Claims must be independently verifiable. We give statements grades from A to F based on accuracy and context.
If you spot a claim you think needs checking, email us at factchecker@thegazette.com.
Members of the Fact Checker team are Erin Jordan, Michaela Ramm and Marissa Payne. This Fact Checker was researched and written by Erin Jordan.