Home / News / Government & Politics
Death penalty bill dying in Iowa House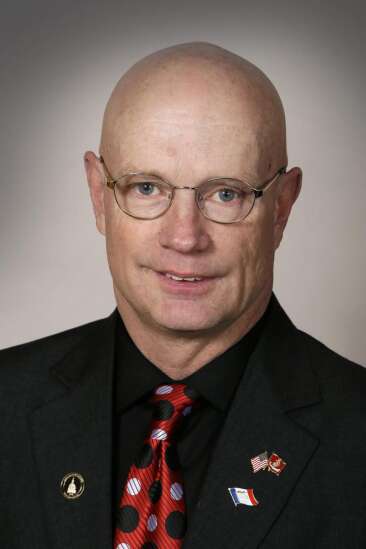 DES MOINES - Legislation to reinstate the death penalty for first-degree murder appears to have been dealt a fatal blow, with a key lawmaker expressing 'grave reservations as to its practical and fair application."
That wasn't the conclusion Rep. Steven Holt, R-Denison, expected as he researched House Study Bill 569 that would make the death penalty available for first-degree murder committed by a person 18 or older if it is determined the defendant was not mentally ill or intellectually disabled at the time the crime was committed.
Holt concluded a subcommittee hearing on the bill Thursday morning by saying that although he believes the death penalty is 'absolutely morally OK, based on my faith," he doubts it is a deterrent to crime and is convinced defendants 'of lesser means" are more likely to face the death penalty than others.
The bill may have been dead even before Holt came to his conclusion.
House Public Safety Committee Chairman Clel Baudler, R-Greenfield, doesn't plan to bring it up for discussion because 'I don't have the votes in my caucus, (and) I don't expect to get any Democratic votes for that bill."
In 45 minutes of public comment, Holt's subcommittee heard a variety of arguments for and against the measure.
'Justice is not infallible," said John Wolfe, the father of Rep. Mary Wolfe, D-Clinton, and two other daughters who were murdered in Pittsburgh. For him, sending his daughters' killer sent to prison ended what would have dragged on if prosecutors had sought the death penalty.
House subcommittee member Rep. Marti Anderson, D-Des Moines, agreed that the possibility of a mistake should preclude use of the death penalty. An inmate can be released if his conviction is overturned, but the state 'can't release a person from the grave."
Likewise, Rep. Greg Heartsill, R-Chariton, said 'government has the power of the sword ... but can't resurrect someone from the dead."
However, he supported the bill because it gives the state leverage in negotiating plea bargains with defendants.
Several pastors spoke - some for, others in opposition.
Although 'God forbids personal revenge," the Rev. John Shaull said his 10,000-member Baptist Convention of Iowa supports the 'fair and equitable" use of the death penalty.
The Rev. Terry Amman, a former prison chaplain, suggested capital punishment is a deterrent only if performed in public, 'and I don't think the public can stomach that."
The cost of capital cases was a factor for many speakers. Karen Person of the League of Women Voters cited a Nebraska study that found the death penalty costs states an average of $23.3 million more per year than alternative sentences.
Attorney General Tom Miller submitted a statement that Iowa has a 'de facto" death penalty because a life sentence 'truly means life without the possibility of parole."
And Ivan Webber, an attorney who has defended defendants in first-degree murder cases, sought to sway the panel with poetry: 'Killing is clearly wrong, upon this scripture and law agree/So why we'd return to state-sponsored killing is hard to see."
THE SENATE BILL
Despite the House development, Senate Judiciary Committee Chairman Brad Zaun, R-Urbandale, plans to proceed with discussion of Senate Study Bill 3134.
'Our bill is completely different," he said. It would make the death penalty available in the case of a murder of a peace officer, the rape and murder of a child and terrorism.
Sen. Jerry Behn, R-Boone, a longtime supporter of capital punishment, looks forward to a hearing on a death penalty bill.
'My frustration has always been that we could never get a subcommittee on it," he said. 'Now we're at least going to have a subcommittee. Hopefully, we can actually have the debate on the Senate floor."
That will be an uphill climb, Zaun said, 'but we are going to explore it in subcommittee and, if the votes are there, in committee."
Then it will be up to Senate Majority Leader Bill Dix, R-Shell Rock, whether it gets to the Senate floor.
If the Senate sends a death penalty bill to the House, Baudler, who personally supports capital punishment, said his committee will look at it.
In explaining his support for capital punishment, Baudler referenced the case of 10-year-old Jetseta Gage of Cedar Rapids, who was raped and killed in Johnson County by a convicted sex offender in 2005.
'I think that perp does not have the right to live," Baudler said. 'The last thing that little girl saw was that after she was kidnapped was that ugly son-of-a-bitch raping her before he killed her. He doesn't have a right to breathe anymore."