Home / News / Government & Politics
Countdown to Caucus: Expanded background checks, criminal justice reform popular proposals in Democratic field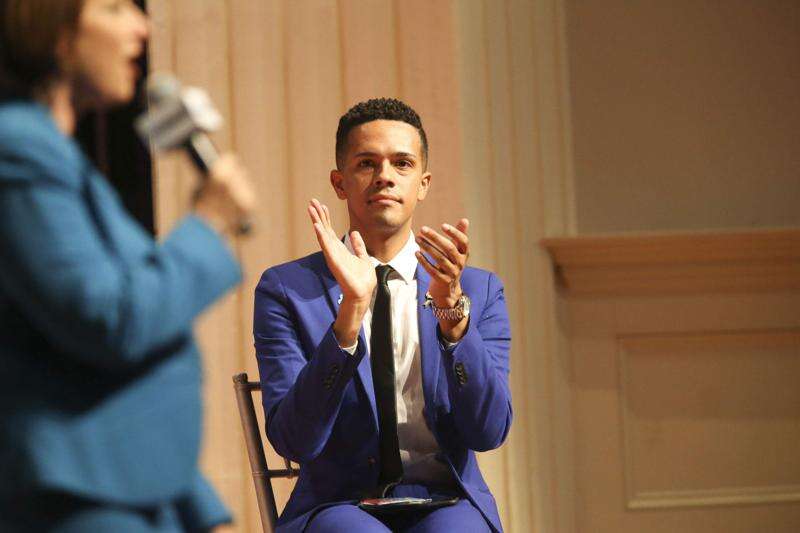 Three mass shootings within a week of each other ­- at a festival in California, a Walmart in Texas, and a bar in Ohio - thrust gun control laws into the Democratic presidential primary in late July and early August.
The Democratic candidates also have spent a lot of time on the campaign trail talking about various proposals for criminal justice reform.
Four people were killed in California, 22 in Texas and 10 in Ohio in those shootings, and dozens more were injured. The shootings sparked renewed calls for a ban on military-style assault weapons and magazines that are able to hold a large number of bullets, policies that most of the Democratic candidates support.
There also is near unity in the field on expanding the use of background checks and banning gun ownership for people who have been convicted of domestic abuse or hate crimes.
Some candidates, like Joe Biden, support a government buyback program for assault weapons. The former vice president has proposed current assault weapon owners would have two options: to sell those guns back to or have them registered with the federal government.
Biden and Elizabeth Warren are among candidates proposing to make gun manufacturers liable for gun violence.
Criminal justice reform has become a popular issue for voters - of both major political parties - as communities attempt to deal with prison over-crowding and laws and sentences that appear to disproportionately impact minorities.
A common proposal for criminal justice reform is a ban on for-profit prisons. Bernie Sanders and Elizabeth Warren, for example, have proposed such a ban.
Many of the candidates support the legalization of marijuana for recreational use. Biden, for one, proposes leaving that decision to the states.
But Biden joins the majority of candidates who propose decriminalizing marijuana possession and expunging all past convictions.
Many candidates, including Sanders, Warren and Biden, have proposed ending cash bail as a means to create more financial fairness in the court system.
Joe Biden
' Ban the manufacture and sale of assault weapons and high-capacity magazines.
' Repeal the Protection of Lawful Commerce in Arms Act, which protects gun manufacturers from being held civilly liable.
' Regulate the possession of existing assault weapons under the National Firearms Act.
' Restrict the number of firearms an individual may purchase per month to one and end the online sale of firearms and ammunition.
' Stop incarcerating people for drug offenses alone.
' Decriminalize the use of marijuana and automatically expunge prior cannabis use convictions.
' Get rid of for-profit prisons.
' Eliminate racial, gender and income-based disparities in the justice system.
' Create a $20 billion competitive grant program to spur states to shift from incarceration to prevention.
' Eliminate mandatory minimum prison sentences.
Pete Buttigieg
' Legalize marijuana and expunge past convictions for it.
' Eliminate incarceration for drug possession and reduce drug offense sentences retroactively.
' Eliminate mandatory minimum sentences.
' Abolish private federal prisons.
' End the 'for-profit bail industry."
' Establish 'National Review Board" to start a federal database documenting police use of force.
' Expand background checks to apply to all sales of guns and ammunition.
' Create a permit-to-purchase licensing system for guns and ammunition.
' Pass a federal law requiring gun owners to notify authorities when their guns go missing.
' Re-ban the sale of assault weapons and magazines holding more than 10 rounds of ammo.
' Domestic abuse perpetrators to turn over firearms they own.
Amy Klobuchar
' Ban bump stocks, high-capacity ammunition feeding devices and assault weapons.
' Close the gun show background check loophole.
' Put universal background checks in place.
' Direct the Centers for Disease Control and Prevention to study gun violence as a public health issue.
' Direct the Department of Homeland Security to resume its work tracking right-wing extremism, including white nationalism, and make lynching a federal hate crime.
Bernie Sanders
' Expand background checks and end the gun show background check loophole.
' Ban the sale and distribution of assault weapons.
' Prohibit high-capacity ammunition magazines
' Ban 3D printing of firearms and bump stocks.
' Legalize marijuana and expunge past convictions.
' Ban for-profit prisons and detention centers.
' End cash bail.
' End solitary confinement.
' Make prison and jail communications, re-entry, diversion and treatment programs free.
' Cut the national prison population in half, abolish the death penalty and end mandatory minimum sentences.
' Ban the prosecution of those under the age of 18 in adult courts.
' Ban the imprisonment of youth for misdemeanor offenses.
Elizabeth Warren
' Legalize marijuana and erase past convictions for it.
' End cash bail.
' Create a federal standard for the use of force by police.
' Separate law enforcement from immigration enforcement.
' Reduce mandatory minimums and raise the age of criminal liability to 18.
' Eliminate the death penalty and private prisons.
' Non-violent offenders with a clean record would have a federal expungement option.
' With executive action, require background checks on 'the vast majority of private sales" of guns.
' Create a federal licensing system for purchases of guns or ammo.
' Firearm purchases will be capped to prevent bulk buys, and launch a 'real" one-week waiting period.