Home / News / Government & Politics
Cedar Rapids to Iowa City bus service to start in October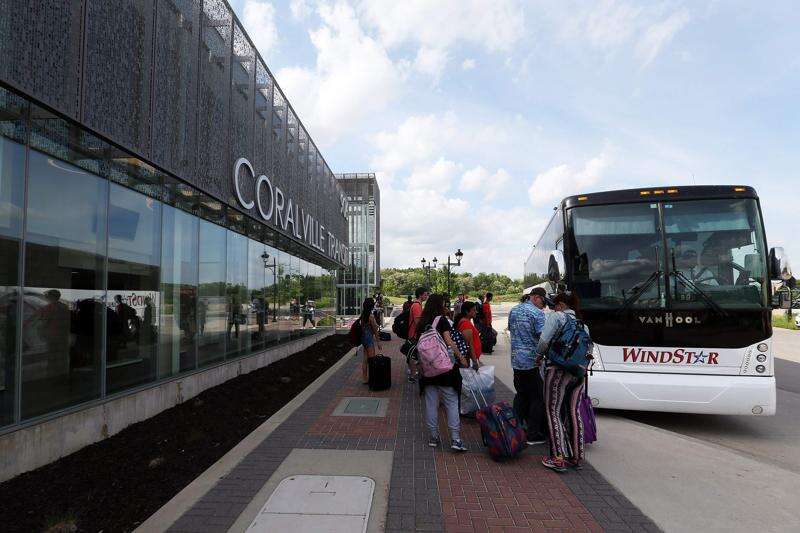 CEDAR RAPIDS - Commuters tired of corridor traffic - and those dreading the impending reconstruction of the Interstate 80/Interstate 380 interchange - soon could hop on a bus and skip the drive altogether.
Anticipating major traffic disruptions during the five-year $300 million interchange project, officials with East Central Iowa Council of Governments and the Iowa Department of Transportation say the weekday bus service, which begins in October, should help reduce the number of vehicles on the road.
'With a project of that magnitude, there's no avoiding it. It's not going to take away all congestions by any means, but it will at least be an alternative for people to consider," said Brock Grenis, transit administrator and planner with ECICOG.
The bus service will launch at 5:20 a.m. Oct. 1 at the downtown Cedar Rapids Ground Transportation Center and head south to Kirkwood Community College in Cedar Rapids. From there, the bus will continue on - stopping at Coralville's Iowa River Landing and University of Iowa Hospitals and Clinics - until it reaches Iowa City's Court Street Transportation Center.
The total trip has been estimated at about 50 minutes one-way, and a daily ridership of about 500 passengers is anticipated, Grenis said.
Buses will depart every 30 minutes until about 10 a.m., when the service shifts to a one-hour headway between buses. At 3:20 p.m., buses return to a 30-minute headway until the final bus arrives back in Cedar Rapids at 8:20 p.m., Grenis said.
Grenis said Windstar Lines Inc., based in Carroll, Iowa, will handle operations and provide drivers and five buses - which will be fully accessible and have restrooms, Wi-Fi and charging outlets - for the service. Four buses will be used daily, with one kept for backup, Grenis added.
Pat Greteman, vice president of Windstar Lines Inc., said that while the buses are comparable to the ones Windstar passengers might ride en route to Chicago or Des Moines, this commuter offering is unique.
'This is something we haven't done before," Greteman said. 'It's different, but it's a nice supplement."
Grenis said an official name for the bus service and a website, including route, cost and service information, should be available in about a month.
Cathy Cutler, transportation planner with the Iowa Department of Transportation District 6 office in Cedar Rapids, said the program will be covered by state funds, with the service estimated to cost about $1.5 million annually from 2019-2025.
The service is set to start about one year before major traffic changes are felt on the I-80/I-380 interchange. If ridership is low, the service can be terminated early, Cutler said.
'We're agreeing to do this as long as the bus is successful," Cutler said. 'We wanted to make sure we had an out in the contract. It just doesn't make sense to run a bus that is empty or with one or two people on it."
In 2014, the Iowa DOT conducted an Iowa Commuter Transportation Study to evaluate the need for additional transportation options in Johnson and Linn counties for the more than 7,500 daily commuters between the Iowa City and Cedar Rapids metropolitan areas.
In that study, about 70 percent of the nearly 1,000 respondents said they were receptive to using bus or other ridesharing services.
Last year, ECICOG launched van pool service CorridorRides, which also spawned from that 2014 study.
CorridorRides commuter options, as well as carpool and ridesharing options, can be found at iowarideshare.org.
l Comments: (319) 398-8309; mitchell.schmidt@thegazette.com