Home / News / Government & Politics
Cedar Rapids seeks solution to sewer surges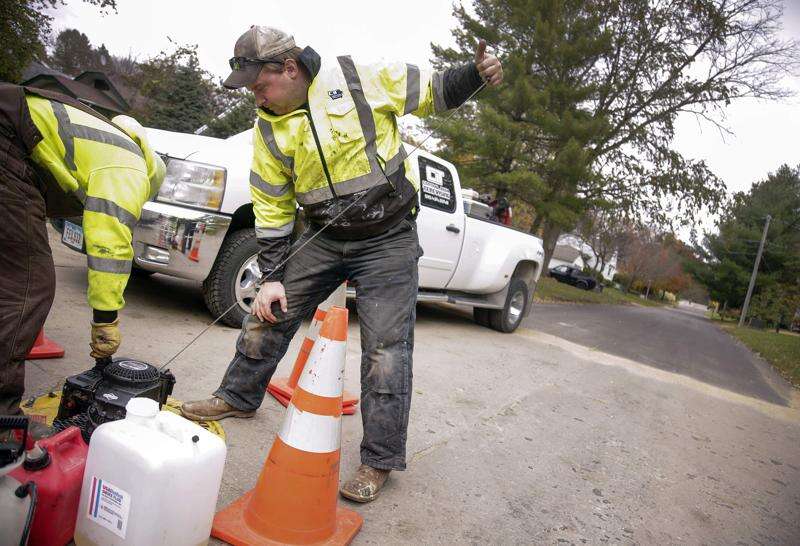 CEDAR RAPIDS - Every few years, when rain falls the heaviest, residents along Grande Avenue and Blake Boulevard SE deal with sewage backing up and flooding their basements.
It's disruptive. It's destructive. It's frustrating, and it has prompted some to leave the area.
'It's a pretty serious problem, especially when you are looking at resale value," said Justin Wasson, vice president of the Wellington Heights Neighborhood Association.
Cedar Rapids has begun a pilot program to disconnect cross connections between sump pumps and gutters and the underground sanitary sewer system in 600 homes in Wellington Heights and Vernon Heights, which officials say should ease basement flooding.
Sanitary sewer issues exist throughout the city, but are more pronounced in this area, particularly with a high number of cross connections. These direct connections violate city code; water instead should pour into lawns where it can be absorbed into the ground.
Cross connections are just one piece of the puzzle in dealing with a beleaguered sanitary sewer system, which a 2016 study estimates has a $224 million backlog of needs. Cedar Rapids has reported an average 1.2 sanitary sewer overflows per month, which include basement backups or seepage from manhole covers, since July 2014. The city is required to report these to the Iowa Department of Natural Resources.
Other cities, including Waterloo and Dubuque, have been forced to address similar challenges in their systems.
The longer term plan in Cedar Rapids involves expanding the pilot program citywide and tackling a wider and more costly variety of problems, including fixing deteriorated private service laterals - the pipes that run from houses to the mainlines. Stormwater seeps in through the cracks, further overwhelming the system.
The sanitary sewer system is intended to collect wastewater and not stormwater. Yet heavy rains infiltrate and overwhelm the sanitary sewer system, causing flooding in basements and overworking the wastewater plant.
During one storm on April 15, when Wellington Heights neighbors found soggy basements, the flow surged from a status quo of about .3 million gallons per day at 8 p.m. to 1.6 million gallons per day at 11 p.m. The system capacity is 1.1 million.
Absent stormwater, plenty of capacity exists to handle the city's wastewater needs, said Dave Wallace, the city's sanitary sewer engineer.
'The flow meter data shows a real rapid spike," Wallace said. 'That means more stormwater is getting into the sewer."
The spike tells officials how problematic stormwater entering the system is. The city monitors capacity through 60 flow meters around the city.
City staff knows broadly what the problems are. But in the case of cross-connections and eroded private service laterals, it's not always clear where they are, which is why the city is exploring home-by-home inspections and potentially examination of the service laterals by camera.
For the past 16 years, the city has lined or replaced an average of 0.7 percent of sanitary sewer pipes annually, but that is below a target of 1 to 2 percent a year identified in a 2006 work plan.
Work before 2008 appeared to reduce flows to the wastewater plant, but they have increased since 2008, likely due to the historic flood damaging pipes, according to the 2016 master plan.
Aside from helping homeowners, city officials also hope to reduce capacity issues in order to forestall major fixes such as expanding the wastewater treatment plant or replacing 8-inch underground pipes with something larger.
'We really hope to prolong updates," Wallace said.
When heavy rain occurs, the pipes aren't large enough to handle the extra water. With nowhere to go, sewage and water backs up in basements. The Water Pollution Control Facility, 7525 Bertram Rd SE, ends up treating more water than it should.
The city estimates a third of the annual volume treated at the wastewater plant comes from extraneous inflow and infiltration. A 2014 analysis found eliminating 2.5 billion gallons of extraneous infiltration and inflow - just 13 percent of the annual total - would save $85,000 a year of pumping costs and $140,000 a year of disinfection costs.
As part of the pilot project, crews are conducting smoke tests to detect gaps in the system and doing door-to-door home inspections for cross connections - sump pumps inside and gutters outside. Later, contractors will work with homeowners to perform the disconnections.
The inspection approach has its challenges. For one, homeowners must consent.
Sandy Pumphrey, the city flood mitigation engineer, said residents mostly have been cooperative in allowing inspectors in their homes.
For the 600 homes in the pilot program, the city will bear the cost, which ordinarily could cost a homeowner up to $1,500, according to city estimates. The total pilot project is expected to cost less than $400,000.
Members of the City Council infrastructure committee have been leery about having the city, and ultimately the taxpayers, absorb a substantial portion of repair costs. They also were concerned over having the city finance the pilot project because of the precedent it could set.
Pumphrey eased their concerns by explaining the pilot program would be valuable to test whether the method works and is worthy of expanding to the 45,000 homes citywide.
The changes as a result should have an immediate positive impact for homes susceptible to basement backups in this area, Pumphrey said.
'If you can do a whole neighborhood at once, you start to solve the problem in that neighborhood," Pumphrey said.
City staff is considering expanding the cross connection project citywide in a neighborhood-by-neighborhood approach, focusing first on areas with a high concentration of homes built in the 1950s and 1960s. That is the era when cross connections were most common.
City staff will need to ensure the plans match priorities of the City Council, which will include at least four new members, including a new mayor, in January. Same goes for efforts to expand the program to include the private service laterals.
There are approximately 500 miles of private service laterals, about 40 percent of the sanitary sewer system in Cedar Rapids.
Typically, repairing these pipes is the responsibility of the homeowner. And it is not cheap.
A common problem is Orangeburg pipes, a fiber conduit style popular in the 1950s and 1960s. They were designed to last only 50 years and many are now failing, said Doug Miller, operations manager at Benjamin Franklin Plumbing of Cedar Rapids, which has a steady stream of private service lateral work.
He estimates replacing private service laterals could cost $4,000 to $12,000 per home.
But something has to give, he said.
'If think about how much money they spend treating this water at the sewer plant that doesn't need to be treated, it's wasting the tax dollars," Miller said.
The 2016 sanitary sewer master plan offers two options for addressing defective service laterals.
One, the city could institute a point-of-sale inspection requirement and correct deficiencies when homes are sold. But this is a shotgun approach that wouldn't end flooding woes anytime soon, Pumphrey said.
Another option would be to have a required citywide service lateral inspection program that's triggered by high infiltration and inflow areas, evidence of improper sewer connection, repairs, root removal, issuance of a building permit or a public improvement project.
Again, Pumphrey said the city hasn't decided what approach to take.
l Comments: (319) 339-3177; brian.morelli@thegazette.com