Home / News / Government & Politics
Cedar Rapids bike share: Here's what you need to know to ride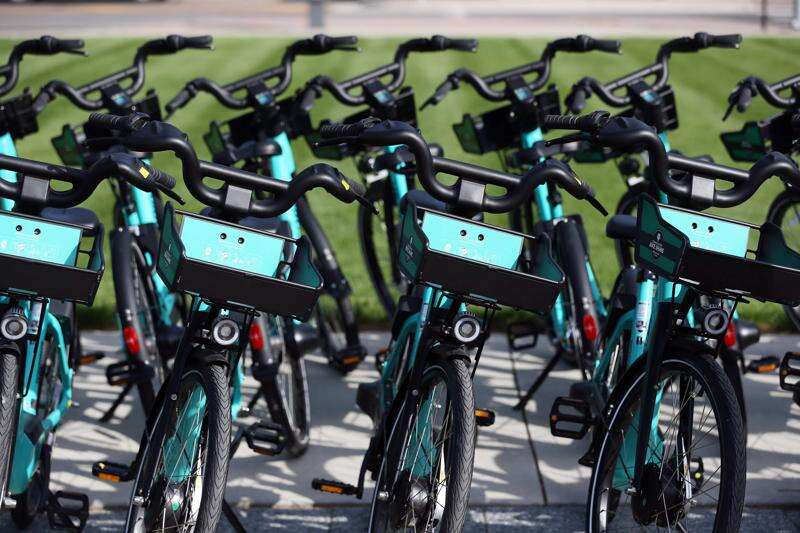 Cedar Rapids launched a bike share program this week. Here's what you need to know about the program:
How do I use the bike share?
Download the free VeoRide app on your smartphone (iPhone or Android). The app will locate available bikes. Scan the QR code on the bike or enter the bike ID in the app, pay for it through the app. This unlocks the bike. Then ride.
Where can I find the bike racks?
The racks are in downtown, New Bohemia, Czech Village, Kingston Village and the MedQuarter.
What does it cost?
$1 to unlock a bike or scooter, and 15 cents per each minute of use. Low-income discounts are also available. For launch week, May 13 to 17, users can us the promo code '5seasons" for a free ride.
How many bikes are there?
The bike share launched on Monday with 45 electric assists bikes and 22 bike stations. The program is expected to expand to 150 bikes and 90 stations in June. Mount Trashmore is expected to get eight to 20 fat-tire bikes. Around 30 electric-assist scooters are expected to be added as a trial from August to October.
Is there an age restriction?
Users of e-bikes or e-scooters must be at least 18 years old or have permission from a parent or legal guardian. The minimum age requirement is 13 years old.
How fast do the bikes go?
The electric-assist bikes can reach speeds of 18 mph. The electric-assist scooter doesn't exceed 15 mph.
Where can I ride?
Bikes are not allowed on sidewalks in the downtown area and instead must be driven on streets or bike lanes.
Where do I park when I am done?
Users are encouraged to 'park responsibly" in the provided bike racks. Slide the lock on the e-bike closed or hit the 'end ride" button on the scooter to finish the ride and stop the fare. Payment is completed through the app. While encouraged to park in bike racks, the bikes can be parked anywhere within a geofenced area, as noted on the smartphone app. If bikes are not returned within the geofenced area, the ride will not end and the fare continues.
Is there place to report issues?
Call 855-836-2256 or email hello@VeoRide.com.