Home / News / Government & Politics
Bret Michaels to headline rally for Cedar Crossing Casino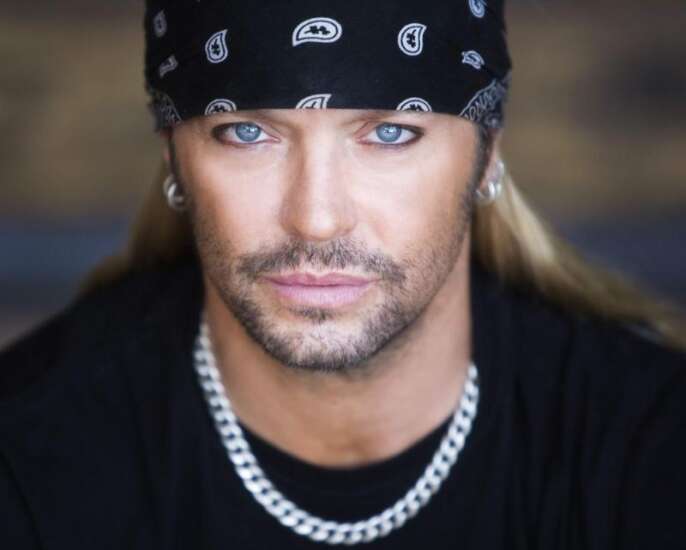 CEDAR RAPIDS - Former Poison frontman Bret Michaels is slated to headline a rally and concert for Cedar Crossing, a casino proposed for downtown Cedar Rapids, days before state gambling regulators visit for a public hearing about three proposals next month.
Backers of Cedar Crossing - Peninsula Pacific Partnership, a Los Angeles-based casino developer, and Cedar Crossing Development Group, a coalition of local investors - are putting the event on Sept. 15 at the U.S. Cellular Center to showcase what it would be like to have an urban casino in Cedar Rapids, they said.
'We want to provide the Cedar Rapids community with a low-priced option for quality entertainment and to showcase a preview of the shows Cedar Crossing can bring to the city," Brent Stevens, the head of Peninsula Pacific, said in a statement. 'Our proposal is much more than a casino. We want to anchor economic development in downtown and make Cedar Rapids an entertainment destination that a wide variety of acts will put on their tour schedules."
Cedar Crossing investors noted the U.S. Cellular Center hosted 58 acts last year, while Hard Rock Hotel and Casino in the smaller Sioux City market, which is co-owned by Peninsula Pacific, has booked 455 acts in the past two and a half years.
The event will start at 6 p.m. with a free community cocktail hour, presentation and comments from key investors. The concert will begin afterward and will open with local band Slap 'n' Tickle followed by Michaels, who most recently performed in Cedar Rapids at the McGrath Amphitheatre in June 2016.
The Iowa Racing and Gaming Commission has a meeting scheduled Sept. 26 at the Cedar Rapids Convention Center, which is connected to the arena, to hear public comments about three applications for a gambling license in Cedar Rapids. A final decision on granting a license is expected until November.
The two separate Cedar Crossing applications include Cedar Crossing on the River - a $187.3 million complex with restaurants and a convention hall on the west bank of the Cedar River - and the $117.7 million Cedar Crossing Central, which would be built as a skydeck connected to the DoubleTree Hotel and arena on one side and a new parking ramp on the other. The city would finance the parking elements of the project through tax breaks.
Wild Rose Entertainment is pitching a third application, Wild Rose Cedar Rapids, as a 'boutique casino." It would be on the skywalk level of a new structure adjacent to the Skogman building on First Avenue E.
The five-member gambling commission rejected a plan similar to Cedar Crossing on the River by a 4-1 vote in 2014, citing over-saturation of the market. The commissioners remain the same, and market conditions have changed little, according to state figures.
The concert is part of Michaels' 'The Party Starts Now" tour. Michaels, who was lead singer of the 1980s rock band Poison and later had a reality show, is known for hits such as 'Nothin' But a Good Time," 'Talk Dirty To Me," and 'Every Rose Has Its Thorn."
Tickets will be available through Ticketmaster or the U.S. Cellular Center box office for $20.
l Comments: (319) 339-3177; brian.morelli@thegazette.com