Home / News / Government & Politics
Attorney: Cedar Rapids won battle but lost war over traffic cameras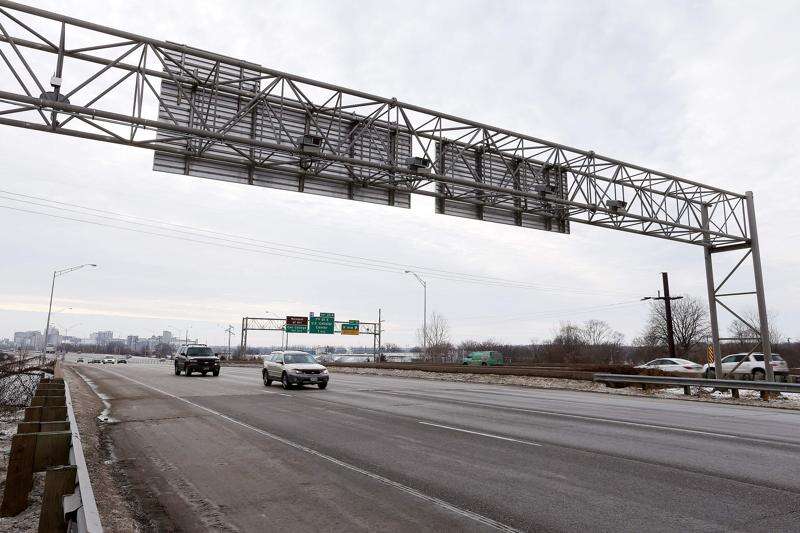 CEDAR RAPIDS - The city of Cedar Rapids may have prevailed in Iowa Supreme Court ruling on Friday finding motorists' rights had not been violated by Cedar Rapids' automated traffic cameras, but the city lost the larger battle, said Jim Larew, the Iowa City lawyer behind the case and several others.
'The city of Cedar Rapids may have appeared to have won a battle, but, in fact, they have lost a larger war," he wrote in an email to The Gazette. 'A war it has been waging against hundreds to thousands of vehicle owners who have failed or refused to pay millions of dollars of fines that the city has wrongfully alleged are due and owing."
One of Larew's few victories among several traffic camera cases he's filed over the years was exposing a flaw in which thousands of people who ignored Cedar Rapids tickets were found guilty by default and assessed fines without a municipal infraction process in place.
Iowa Code requires municipal infraction proceedings, in which the motorist faces a judge before liability can be assessed, the court wrote in its Friday ruling in the class action case of Myron Dennis Behm et al. vs. the city of Cedar Rapids and it traffic camera vendor, GATSO USA.
Cedar Rapids' ordinance sidesteps the municipal infraction requirement, but that version of the ordinance was not in effect at the time Behm and his peers were ticketed.
Cedar Rapids officials declined to comment, citing ongoing automated traffic enforcement, or ATE, litigation.
In a decade of ATE, the city has 'rarely - almost never - invoked this minimally required municipal infraction process before ostensibly imposing liability and initiating collection and seizure efforts," Larew said.
Larew said Friday's ruling presents two significant problems for the traffic camera program in Cedar Rapids.
First, thousands of enforcement tickets issued when Cedar Rapids did not have a municipal infraction process in place are invalid, he said.
'We believe that the city may not threaten to collect, or wrongfully seize taxpayer money under its ATE ordinance when it has failed, first, to follow municipal infraction processes consistent with Iowa Code section 602.6101," he said.
Second, going forward, the volume of municipal infraction cases the Cedar Rapids cameras will generate will be costly to process, he said.
'Going forward, (city officials) will have potentially significant push back from citizens who learned of the expense," Larew said. 'Citizens will determine whether we should invest in these types of resources on a system that has questionable safety benefits."
Larew plans to continue to advocate for vehicle owners who believe Cedar Rapids is treating them in a way not compliant with the law, he said. He did not indicate whether he would refile the case or pursue other legal remedies.
A separate class action involving radio personality Simon Conway as the lead plaintiff against the city of Cedar Rapids and its collection agency, Municipal Collections of America, challenges the municipal infraction processes, as well as late fees and statute of limitations for collecting fines.
In the most recent full year the cameras were ticketing, fiscal year 2016, 154,323 tickets were issued and 45 percent, about 69,000, went unpaid, according to state records.
Cedar Rapids has been turning those over to a collection agency, and many of those still unpaid were sent to the state's offset program in 2018, which withholds income tax returns to cover debts.
Cedar Rapids traffic cameras on Interstate 380 have been off since April 2017, while three in town - speed and red light camera locations - remain active, except the westbound bound facing cameras at First Avenue and 10th Street E.
The other locations are at Williams Boulevard and 16th Street SW and First Avenue and L Street.
Crashes have been up slightly with the cameras off, but injury crashes are down slightly, according to city and state data.
Cedar Rapids police have called to resume traffic cameras on I-380, but the plan has not yet come to City Council for approval.
City code would be amended to establish a municipal infraction process and a staff member would be hired to handle municipal infractions using revenue from the traffic cameras.
The change could lead to a barrage of cases that overwhelms the court, but the court officials would figure out a way to accommodate it, officials with the Linn County District Court have said.
l Comments: (319) 398-8310; brian.morelli@thegazette.com