Home / News / Government & Politics
A 'bright spot in City Hall': City clerk to retire after 30 years serving Cedar Rapids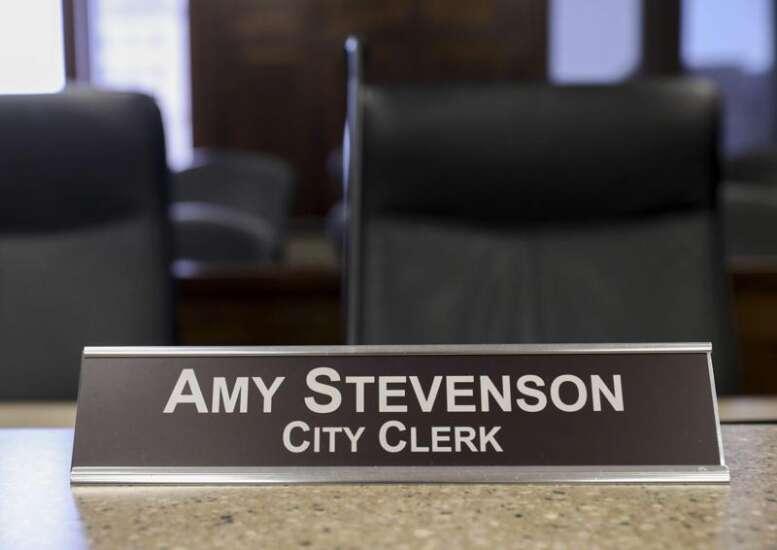 CEDAR RAPIDS — When Amy Stevenson arrived at City Hall in 1990 for her first day as a license clerk, she came early and recalls being greeted with a locked office at the Veterans Memorial Building, which housed city government operations at the time.
She went across the hall and found Sandi Fowler, who worked in the public safety commissioner's office at the time and had also started working for the city that year. The two new employees connected. Stevenson quickly got into her work with the public and addressing licensing issues, and she never left.
'I have to say, I did not envision that I would be there the rest of my career,' said Stevenson, 55.
Yet that day marked the beginning of a career spanning three decades for the city clerk, who will retire March 31 after having a front-row seat to Cedar Rapids' evolution over 31 years. She has seen City Hall face it all in that time — the introduction of new technology, a change in the city's form of government and recovery from one disaster after another.
Stevenson is retiring now because she had a major lung surgery and a cancer scare in 2012, which she said changed her outlook on life and prompted her to retire once eligible.
Her office is responsible for a range of tasks: preparing City Council agendas and packets; processing resolutions, ordinances and the corresponding contracts and agreements; processing licenses and permits; coordinating appointments of members to city boards and commissions; and archiving and retrieving records.
All those documents that come to the City Clerk's Office tell the story of Cedar Rapids — both its history and its plans for the future.
'It was very eye-opening, but I realized I really enjoyed helping the citizens out, whether it be issuing a license or working on an agenda item or bringing computers into the office,' Stevenson said. 'It just seemed like a good fit for me, and I truly enjoyed seeing the work that we do make a difference in the community.'
'Behind the scenes' of city changes
A native of Bellevue, Stevenson grew up in a family of six with 'wonderful' parents on a farm. She moved to Cedar Rapids to go to college, starting out at Kirkwood where she earned a word processing degree. Her first jobs after graduating were with Cedarapids Inc. as an engineering records clerk and then with Shuttleworth & Ingersoll law firm as a word processor.
Her 'true career' began in 1990 in the City Clerk's Office, where she worked her way to the top position. After being license clerk, she was promoted to office coordinator. Then the council in 2006 appointed her as the deputy city clerk and, in 2010, as city clerk.
In that time, she also earned a bachelor of business administration degree in management from Mount Mercy University in 1999, along with certifications to be a municipal clerk.
She's left a special mark on City Hall in her storied career.
Stevenson said she helped with the transition from typewriters to desktops years ago. She coordinated with information technology staff to implement a document management system to store and search all city records, and her office in 2017 worked with the department to allow public access to those records.
And her office implemented agenda management software to streamline the processing of resolutions, ordinances and other documents from a council meeting and to apply the mayor's electronic signature.
Fowler, now deputy city manager, said the two used to laugh when they were in their 20s, feeling 'pretty technology savvy' relative to City Hall co-workers who had typewriters. The clerk's office still had big bound books where people could flip open the hardcover and see what documents came in.
The tasks of the City Clerk's Office may seem 'so process-oriented, so bureaucratic,' Fowler said, but Stevenson's office has maintained records in normal times and in crisis, through numerous flood events — including 2008, which resulted in City Hall's move to the former U.S. Federal Building — as well as the derecho and the pandemic.
Thanks to Stevenson and her team, Fowler said the city has preserved records on hundreds of agreements and millions of dollars spent to rebuild Cedar Rapids after these devastating events.
'Her office has over these decades really kept pace and improved technologically to respond to what the citizens demand,' Fowler said. 'They expect to be able to pull up those documents and read them, and we have many people who want to make sure and hold the government accountable who want to look at those.'
While managing that change in document management, Stevenson was 'right at the center' of the change in city government, Fowler said. It used to be managed by full-time commissioners, who were policymakers and administrators, until residents in 2005 voted to adopt a home rule charter. This changed the city's elected officials to part-time council members and a part-time mayor, who select a full-time city manager to oversee the staff who implement policy the council sets.
'From a clerk standpoint,' Fowler said the question that was core to this transition 'was how do you make sure that they are informed in a timely way about information without being here full time?'
This changed how Stevenson's office conducted business, the retiring city clerk said.
'We used to see them every day and now with a part-time council, we had to figure out ways to distribute documents and information electronically ...' Stevenson said. 'It took some adjusting, but I feel the change was positive, and this form of government provides, I think, a more efficient way of operating.'
In addition to managing these large transformations, Stevenson said she is also proud of her work helping make two particular code changes. One was for mobile food vendors to regulate the operations of food trucks, carts and stands in the city. The other was a massage therapy business licensing ordinance, which requires businesses that offer massage services to be licensed through the city in addition to the required state license. That helped shut down businesses that were operating illegally.
It's 'pretty cool' to be part of all that, Stevenson said, but it's the City Council, city directors and the rest of the city team whose work impresses her most.
'They just blow me away with how they handle anything that comes our way, and they just want to do what's best for the city,' Stevenson said. 'And I just see what goes on behind the scenes and what the public sees also. It's just amazing.'
'A bright spot in City Hall'
Because of COVID-19, Stevenson will part from City Hall without the usual company of her colleagues about a year after the city switched to largely virtual operations to curb the virus' spread.
'It would have been better to be able to spend this last year in the office with her,' Fowler said. ' … Amy has always been a bright spot in City Hall, and she will be missed. She's always had a smile on her face. You always know you're going to have a great interaction with her.'
City Attorney Jim Flitz, who's worked for the city since the 1980s, said Stevenson is smart, dedicated and ready to drop anything to help people accomplish things they need to get done in 'an incredibly friendly, helpful manner.'
And he likes to tease her about her many questions: 'I'll be walking to the office sometimes and she'll say, 'Hey, Mr. Attorney, I've got questions.' And so I stop and she would start asking questions and I had to be right on, because if I was waffling or unsure she would detect that and call me on it, and she's got a real sharp mind.'
He said he will miss her at City Hall, but she will leave behind a high-performing office.
'She can be tough as nails when she needs to be. She's an old Iowa farm girl ...' Flitz said. 'And when she's working on a project and it's important to the office and important to the organization, she'll just doggedly pursue the solution to that problem or whatever matter that she's working on.'
Stevenson looks forward to having more time to spend with her sons, Chase, 25, and Connor, 22, as well as her husband Bob.
But as her retirement date approaches, she's finding it harder to leave. She said she was even choked up when she delivered her retirement news to Mayor Brad Hart.
'That shows how much she's given to the city and to this job,' Hart said. 'When you kind of live and breathe it, you're excited to have some reward of being able to retire and do other things. I still think it's kind of bittersweet because she's loved her job, and I think she knows she's good at it.'
She suspects March won't mark her last visit to the hub of Cedar Rapids government: 'Virtual hugs just aren't the same, so I do think I'm going to have to make an appearance in City Hall just to say a proper goodbye.'
Comments: (319) 398-8494; marissa.payne@thegazette.com