Home / News / Government & Politics
1st District residents only allowed in Blum town halls
By Christinia Crippes, Waterloo-Cedar Falls Courier
May. 2, 2017 8:41 pm, Updated: May. 3, 2017 1:19 pm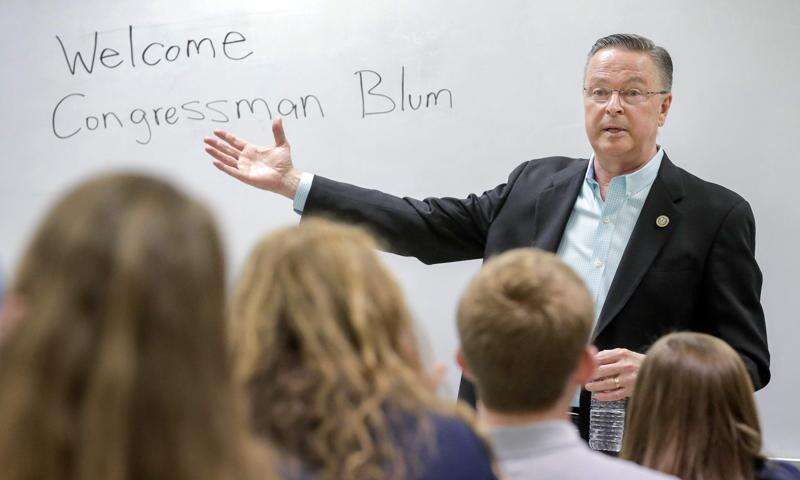 U.S. Rep. Rod Blum, a Republican in his second term representing Eastern Iowa's 1st District, announced details Tuesday of four public town hall meetings he plans to hold next week, including one in Cedar Rapids.
But those who attend will be required to present an ID showing they live within the 20-county district, his office said.
The schedule is:
' 7 p.m. Monday at Dubuque Senior High School's Nora Gym, 1800 Clarke Dr.,
' 7 p.m. Tuesday at Kirkwood Community College Johnson Hall Gym, 6301 Kirkwood Blvd. SW, Cedar Rapids,
' 7 p.m. May 10 at Cedar Falls High School Gym, 1015 Division St.
' Noon May 11 at Marshalltown Community College Babe Harder Gym, 3700 S. Center St.
Doors will open at 6 p.m. for the evening events and 11 a.m. for the earlier event.
The town halls are free, but the events require an RSVP and attendees must present a valid ID proving they live in the district.
People can RSVP online through Blum's congressional website, at blum.house.gov/about/events. Those without access to internet can call Blum's Washington office at (202) 225-2911.
Left-leaning activists had been calling on the Dubuque businessman to hold a town hall since just shortly after he was first sworn in for a second term. He has said he intended to hold them and announced last month he planned to hold four next week, but didn't give details.
Blum previously pointed out that some of the delay in getting the events scheduled is because Congress has been 'pretty busy" during its first few months of the new session.
Despite criticizing attendees as activists who want to 'show up and yell" at their congressman, Blum said he has heeded their requests to hold meetings that will be accessible to the public, rather than just being held at business hours.
Democratic activists and members of activist group Indivisible Northeast Iowa most recently held a meeting at Blum's office Friday calling on him to release his schedule for the town hall events. It noted there have been two recesses already this year where Blum has not held one.