Home / Podcasts / Gazette Daily News
Gazette Daily News Podcast, May 25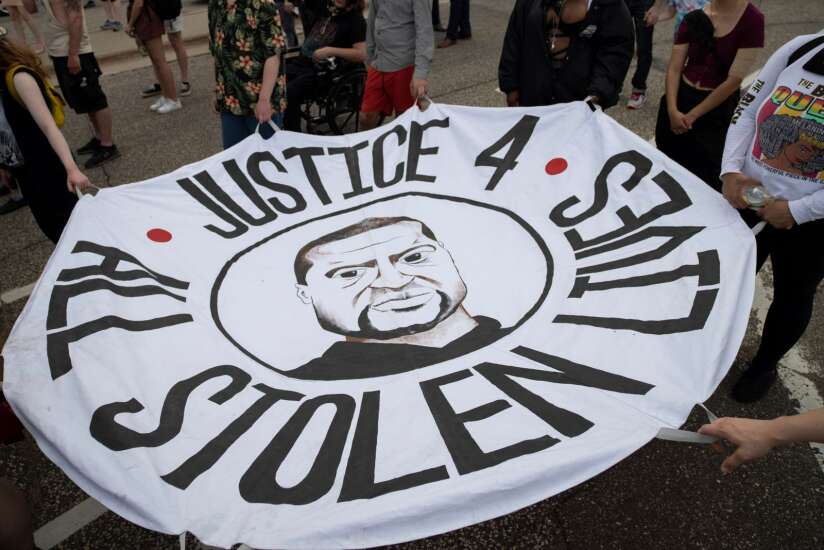 Be sure to subscribe to The Gazette Daily news podcast, or just tell your Amazon Alexa enabled device to "enable The Gazette Daily News skill" so you can get your daily briefing by simply saying "Alexa, what's the news?
If you prefer podcasts, you can also find us on iTunes and Apple Podcasts.
This is your daily news update from The Gazette for Tuesday, May 25:
One-year anniversary of George Floyd's death
A year ago today, George Floyd was killed by Minneapolis police officer Derek Chauvin, an act that sparked protests and calls for racial justice nationwide and locally.
Floyd died when Chauvin, a white officer, pressed his knees on Floyd's neck and back for more than nine minutes while he was handcuffed, face down, on a Minneapolis street. In April, a jury convicted Chauvin on murder and manslaughter charges, and he is set to be sentenced June 25.
St. Ludmila Catholic Church in Cedar Rapids will hold a remembrance service at 6:30 p.m. for Floyd and all people of color whose lives have been lost to violence and racial injustice.
The Gazette asked several leaders and activists throughout Eastern Iowa how their communities have changed in the year since Floyd's death. Read their responses at thegazette.com.
Prosecution rests in Molly Tibbetts case
The prosecution rested its case Monday as the trial for Cristhian Bahena Rivera entered its second week. Bahena Rivera is charged with first-degree murder in the 2018 slaying of 20-year-old University of Iowa student Mollie Tibbetts, who disappeared while jogging.
An Iowa Division of Criminal Investigation agent testified that a murder weapon was never found and there is no physical evidence proving Bahena Rivera killed Tibbetts — only that her body was in his car's trunk. The agent said evidence suggests Tibbetts was abducted on a road outside her hometown of Brooklyn, Iowa, after 8 p.m. on July 18, 2018, but that he does not know precisely where or when she was killed.
An FBI agent also testified Monday that data from Tibbetts' cellphone provider helped narrow her location to a rural area near where her body was found over a month after she disappeared. Her cellphone and FitBit device were never recovered. The defense is expected to begin calling witnesses Tuesday.
Reynolds signs legislation to expand broadband to all Iowans
Gov. Kim Reynolds signed a bill Monday that provides $100 million for broadband internet expansion across Iowa. The investment is being described as the "largest single, one-time expenditure on a project in Iowa history."
A large share of the $100 million will be used for grants to improve or extend broadband connectivity in rural Iowa. So-called broadband "deserts" in urban areas are also likely to benefit.
According to Iowa Communications Network CEO Dave Duncan, the goal is to connect every Iowan this year with basic broadband internet with download speeds of 25 megabits per second and upload speeds of 3 megabits per second. Within three years, the goal is to connect almost every Iowan with broadband connections of 100 megabits per second.
Jordan Bohannon attacked, UI says
University of Iowa men's basketball player Jordan Bohannon has a serious head injury after he was attacked early Sunday, the university announced Monday afternoon.
According to a news release from the sports information department, Bohannon was physically assaulted in Iowa City and is recovering after receiving medical attention.
A video of Bohannon getting struck at DC's Sports Bar in Iowa City was being shared on social media Monday.
The university said no charges had been filed but an investigation is ongoing.
Tuesday's weather: There will be isolated showers and thunderstorms throughout the morning, with heavier rain and storms expected after 2 p.m. Rain and scattered thunderstorms are expected to continue overnight. The high will be near 80 and low around 64, with winds 10 to 15 mph and gusts as high as 25 mph.
Wednesday will be sunny, but scattered showers and thunderstorms are expected throughout the rest of the week.
Want our news delivered straight to your inbox? Sign up for free today at thegazette.com/newsletters — from news, to sports, to kid's activities, Gazette newsletters have something for everyone.