Home / Sports / Iowa Prep Sports / High School Football
Twin brothers Colton and Quentin White beginning to make mark at Coe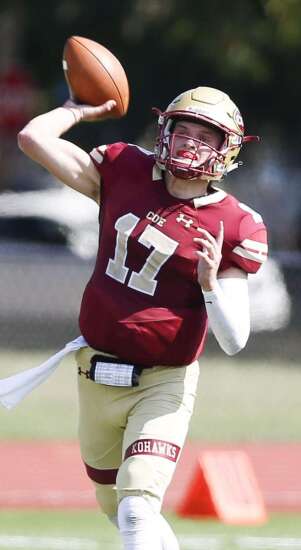 CEDAR RAPIDS — This breaking news just in: Colton and Quentin White aren't roommates this year.
It's not really breaking news, since this has been the deal since football practice began in August. The Coe College sophomores are twin brothers who always had the same bedroom growing up.
Bunk beds, the whole thing. They shared a dorm room (with bunk beds) last year, too, but have singles this year.
They admit it's a little weird.
'We're only a floor apart, though,' Colton White said, with a smile. 'We're still close together. They couldn't put us too far apart.'
Talk to any coach or teammate at Coe, and they'll tell you these guys are never far apart. Whenever you see Quentin White, you'll also see Colton White.
That's the way it always has been. The St. Louis natives call each other 'built-in best friends' who grew up playing sports together.
There were the imaginary baseball games in the backyard. The hours and hours of playing catch with a football.
Quentin was the quarterback, Colton the receiver. Just like it is now at Coe.
The brothers hooked up for their first collegiate touchdown together last week in Coe's 38-33 loss to Simpson. They plan on there being more, especially Saturday afternoon when the Kohawks play a big Iowa Conference game at Wartburg.
'It's a dream come true,' Colton White said. 'We've been doing this kind of stuff since we were, like, 5 years old and playing catch out in our backyard. Earlier this season, when he got his first start at Nebraska Wesleyan, I was so happy for him that he did so well. But I wanted to be out there, too. Now that we're both getting playing time, it's so great.'
An injury propelled Quentin White into the starting QB role two weeks ago, and he threw four touchdown passes in a 35-25 win over Nebraska Wesleyan. He threw for 300 yards and a pair of scores last week against Simpson.
One of those TDs was a 15-yarder to Colton.
'I don't discriminate on who I throw to, but I definitely find some joy in throwing to my bro,' Quentin said. 'When I stepped out on the field against Nebraska Wesleyan, it was kind of weird without Colton being on the field with me. He was on the sideline, and it turned out well because we got the 'W' and everything. But it was a little different because every single time I've stepped on the field, he's been out there with me.'
'They are on the same page. They're twins,' said Coe Coach Tyler Staker. 'They know what each other is thinking. Quentin knows where Colton is going to be, Colton kind of understands where Quentin is going to put the ball. They've been throwing to each other since they were little kids. It's a great quarterback-receiver connection that you have with those guys as twin brothers.'
Identical in appearance, though Quentin has a little longer hair going at the moment, the brothers said the plan all along was to attend the same college. They got some looks from some Division II schools and schools from the FCS non-scholarship Pioneer League.
But they found a home at Coe. Their father, Chris, actually grew up in Cedar Rapids and graduated from Prairie.
'This is perfect,' Colton said. 'We love it here, we love Coe, made the right decision. It's been amazing. The coaches are awesome, the program is awesome.'
l Comments: (319) 398-8259; jeff.johnson@thegazette.com