Home / Sports / Iowa Prep Sports / Prep Football
Quinn Schulte of Cedar Rapids Xavier is The Gazette's 2018 football player of the year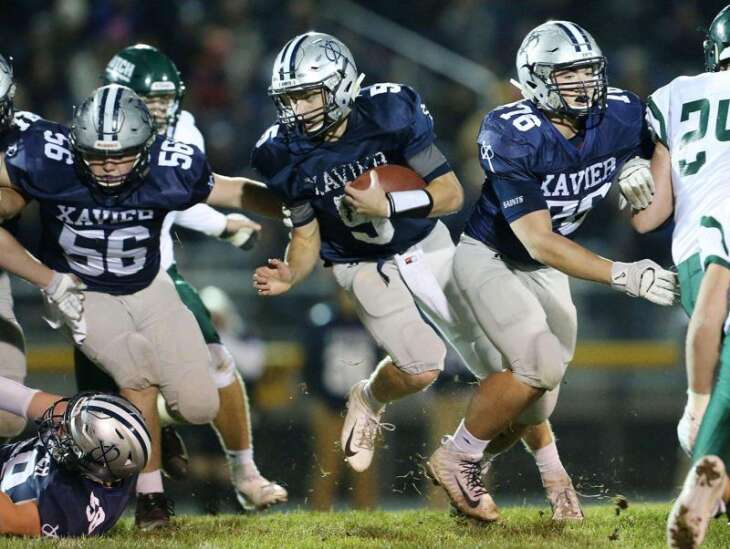 CEDAR RAPIDS — Quinn Schulte performed on Thursday and Friday evenings for all to see.
Those nights were filled with big runs, strong passes, touchdowns, some interceptions and more than a few tackles.
The thing that made him so effective in front of those prep football crowds was what the Cedar Rapids Xavier senior quarterback did when no one was around to see it. Well, maybe a few family members and teammates did.
There were offseason Sunday trips to the Saints' gym to hone his craft with his dad, Xavier head coach Duane Schulte, and older brothers, Reggie and Bryce, who started an eight-season stretch of one of the three brothers taking varsity quarterback snaps.
Don't forget the extra sprints he would sneak off to do with Xavier center Isaac Ball in preparation for games at the UNI-Dome.
Of course, he dedicated countless hours in the weight room, even on those winter and spring Sundays.
'You can't really measure it, but being a part of the program for so many years, you get to see what is needed or required,' Quinn Schulte said. 'Also, having two brothers grow up in the program I was able to see what they did for success and how they handled certain situations. Just having the experience around the program helped me and the team.'
Quinn Schulte parlayed that hard work into another perfect season, helping Xavier to a 13-0 record and second straight Class 3A state title with 2,944 total yards and 48 touchdowns. He is honored today as The Gazette's 2018 area football Player of the Year.
» Meet The Gazette's 2018 all-area football team
'I don't know how you describe or label it, but he seems to have all those (intangibles),' Duane Schulte said. 'He just has 'it.' He gets the job done. Whatever it needs to be he gets it done. I'd like to say he's unselfish when he does it, too.'
The Saints were 26-0 the last two seasons with Quinn Schulte at quarterback. As a senior, he threw for 1,839 yards and 25 touchdowns, adding 1,069 yards with 23 scores on the ground and 36 as a receiver. In all but three playoff games, Schulte didn't play full games as the Saints forced a 35-point rule running clock in the second half.
'On offense, it comes down to film study during the week,' the two-time all-stater and 2018 Iowa Print Sports Writers Association 3A all-state captain said. 'The thing about being quarterback, if we need a big run play, we have an extra blocker. If we need a pass play, we have great receivers out wide and playmakers.
'It's just the coaches, setting us up for success and playing to our strengths.'
Whenever the Saints needed a timely play to answer an opponent or help them pull away, Quinn Schulte was a catalyst. He found a way to get big gains or put a teammate in position to do something special.
'He's a great competitor," Saints senior wide receiver Kyle Moeder told The Gazette after a win against Iowa City Regina". He's a great leader in the locker room to all our guys. One of the best athletes I've ever seen and he's just very smart, knows his stuff. Couldn't ask for a better quarterback than Quinn.'
Leadership has been a focus as a team captain this season, but you won't get much rah-rah out of the four-sport athlete. He praised previous Saints captains for helping him find his niche as a leader by his actions and doing the little things right in hopes teammates would follow.
'Beau Van Berkum was a good vocal leader for us and I tried to be vocal like him,' Quinn Schulte said. 'Gabe Lux was good, leading by example and doing all the grit, and I tried to be like him.
'We tried to get the team together and see what we were capable of doing, but it had to be done by the work on the practice field.'
Quinn Schulte capped his career off with two strong performances in the UNI-Dome. He led the Saints against Lewis Central, led by Texas Christian recruit Max Duggan, in the semifinals. Quinn Schulte had 260 total yards and scored three rushing TDs in a 37-13 victory.
In the state final, Schulte powered the Saints, compiling 420 total yards. He rushed for 221 yards and two TDs, adding 199 yards and two scores rushing. The last minute may have been indicative of his impact on the Saints. Quinn Schulte closed a six-play, 82-yard drive with a 1-yard TD sneak with 30 seconds left and then intercepted a pass at the goal line on the final play to secure a 34-20 victory over Western Dubuque.
'The significance of that last pick was not lost on me, at least,' Duane Schulte said. 'I thought it was a fitting end for his football career here. He's shown he can do it on both sides of the ball.'
Quinn Schulte's overall numbers are impressive. He is Xavier's first three-year, two-way starter. As a sophomore, he played receiver, while older brother, Bryce, was a senior QB. He made the transition to under center as a junior and played defensive back all three seasons.
Quinn Schulte, who still is weighing college options, amassed 5,765 total offensive yards in his varsity career. He threw for 3,059 yards with 39 TDs, completing 67.1 percent of his passes. He rushed for 2,124 on 341 carries and 43 TDs. Schulte added 582 receiving yards with five scores.
Defensively, he finished with 88 total tackles, including 77 solo stops, and 10 interceptions.
'It's been amazing and a great ride,' said Quinn Schulte, who is also a member of the National Honors Society. 'For our seniors, too, to be able to do what we've done. It's happened because of all the hard work we put in together. We were able to buy into the program which our coaches set up for us. We were able to just get the job done.'
l Comments: (319) 368-8679; kj.pilcher@thegazette.com