Home / Sports / Iowa Prep Sports / High School Football
Mount Vernon upsets No. 2 Solon, ending a Highway 1 rivalry streak
Mustangs snap 19-game series losing streak against rival Spartans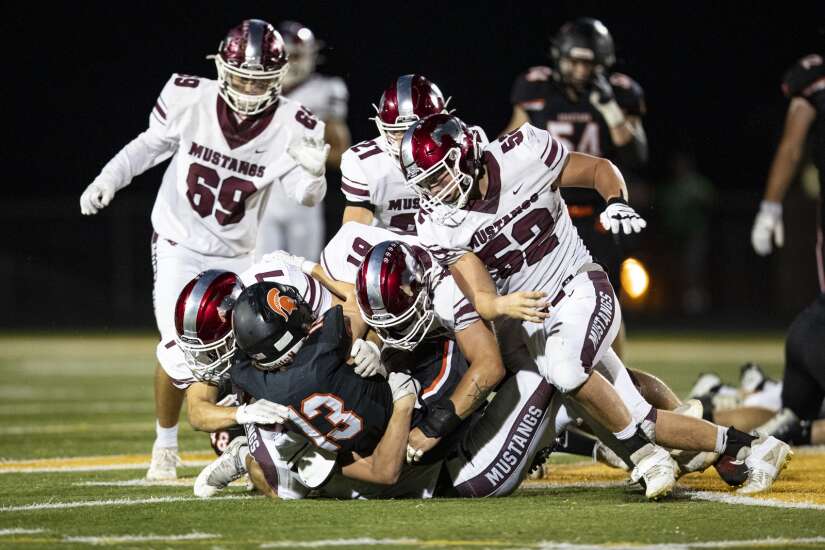 SOLON — The streak has been snapped.
For the first time in 20 meetings, Mount Vernon has control of Highway 1.
"It feels good," said Mount Vernon football coach Lance Pedersen. "We've been close before, (but) close doesn't do you any good.
"It's nice for those kids to get that win. Hopefully it's one of many for our football team."
Mount Vernon traveled to Solon and conquered the 3A No. 2 Spartans, 17-14, Friday night.
The win snapped a 19-game losing streak against Solon.
"I don't really think of the streak," said Mount Vernon receiver Brady Erickson. "I just saw this as a game. They're a good team, we're just trying to be the best we can be."
After pitching Week 1 shutouts, both defenses were as good as advertised, particularly in the first half. Solon held a 7-3 lead entering intermission.
On Solon's fourth drive, quarterback Blake Timmons found the end zone scampering in from 6 yards out. Timmons' score capped an efficient seven-play, 70-yard drive that took 1:44.
Mount Vernon answered on its next drive as Ben Crock capped a 13-play scoring drive with a 35-yard field goal.
With three seconds before half, Solon's Grant Knipper attempted a 51-yard field goal that fell just feet short of the goal post.
Both teams traded interceptions early in the third. Jensen Meeker picked off Timmons with 7:22 left. But that moment was short-lived as Sean Stahle intercepted Joey Rhomberg just three plays later.
The Mustangs finally found paydirt on their fourth drive of the third quarter as Rhomberg found Erickson on a fade in the corner of the end zone for a score. The gutsy call came on a fourth-and-7 from Solon's 10.
Mount Vernon took a 10-7 lead into the fourth.
With 7:58 left, Rhomberg found Erickson again, this time for a 33-yard completion that came on a third-and-10 from Solon's 49. Four plays later, fullback Clark Younggreen bulldozed his way in from 2 yards out, giving the Mustangs a commanding, 17-7 lead with 3:30 left.
Rhomberg completed 21 of 42 passes for 211 yards and a TD.
Erickson was his favorite target, catching 10 passes for 126 yards and a score.
"(The catch) didn't feel great at the time honestly," Erickson said with a chuckle. "But then after it felt good."
Solon responded as Timmons found Oaken Foster for an 8-yard TD with 1:59 to go to make it 17-14.
The Mustangs recovered the ensuing onside kick, ending the hopes of a Spartan comeback.
With the win, Mount Vernon narrows the gap in the all-time series, now trailing Solon, 35-30. The series began in 1962.
"We've got a lot of good weapons and a lot of good things," Pedersen said. "I'm looking forward to what's next."
Mount Vernon hosts Tipton next Friday, while Solon will travel to 2A No. 3 Williamsburg.