Home / Sports / Iowa Prep Sports / Prep Football
Iowa high school football scores: Gazette area Week 7 roundup
Get caught up on Gazette area scores, stats and more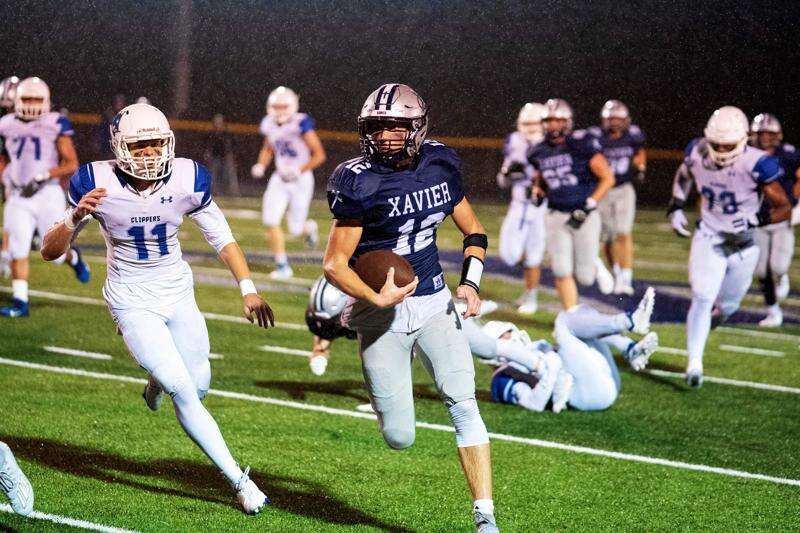 Catch up on Gazette area scores, stats and more from Week 7 of the Iowa high school football season.
Rankings: How the teams ranked in The Gazette's statewide poll fared Friday night
Win Iowa football tickets: Subscribe to our Iowa Prep Sports newsletter for a chance to win
5A No. 1 Southeast Polk 21, 5A No. 7 Cedar Rapids Prairie 20
Cedar Rapids Prairie had its shot for a marquee victory.
Southeast Polk denied it and the upset.
The Class 5A top-ranked Rams blocked a 36-yard field goal attempt with nine seconds left to secure a 21-20 victory over No. 7 Cedar Rapids Prairie in a Class 5A prep football game Friday night at John Wall Field.
"We had our shot," Prairie Coach Mark Bliss said. "Sometimes we couldn't get a break. Our kids had a chance. We played hard with them and our kids competed really well."
Read more from K.J. Pilcher: Southeast Polk blocks late field goal to upend Cedar Rapids Prairie in top-10 battle
5A No. 9 Linn-Mar 56, Ottumwa 0
It's not often Linn-Mar's Carter Henderson gets tackled on first contact from opposing defenses.
In fact, it often takes two and sometimes three waves of tacklers to bring the Lion junior to the turf.
Ottumwa witnessed that first hand on Friday night at Linn-Mar Stadium. Henderson rushed for 140 yards on nine carries, scoring three times as the No. 9 Lions (6-1) closed in on a Class 5A playoff berth with an impressive 56-0 win over the Bulldogs (1-6).
Henderson, a 6-foot, 190-pounder, scored on runs of 20, 30 and 5 yards, but his most impressive run was a non-scoring run of 63 yards where he appeared to be tackled at least three or four times by Bulldog defenders.
Read more from Mike Condon: Linn-Mar closes in on Class 5A playoffs with 56-0 win over Ottumwa
4A No. 2 Cedar Rapids Xavier 34, 4A No. 7 Clear Creek Amana 7
Ball hogs, that's what they were. Big, bad, bullying ball hogs.
And that's all meant with the utmost respect.
Class 4A second-ranked Cedar Rapids Xavier played keepaway from No. 10 Clear Creek Amana in the first half, converting three long, time-consuming drives into touchdowns. The Saints took firm control of the Class 4A District 4 football race with a 34-7 triumph Friday night at Saints Field.
"It starts with the linemen up the hill with the sled," said running back Will Hiserote, who carried the ball 27 times in the first half, when he rushed for 167 of his 188 yards. "That's how we're built."
Read more from Jeff Linder: Cedar Rapids Xavier controls the ball, to the max in top-10 win over Clear Creek Amana
Cedar Rapids Washington 43, Newton 23
The last four weeks have undoubtedly been difficult for Cedar Rapids Washington.
But Friday night at Kingston Stadium belonged to the Warriors.
Washington began its season 2-0 and was ranked as high as third in Class 4A. But the Warriors dropped four consecutive games to ranked opponents (Cedar Rapids Kennedy, Linn-Mar, Cedar Rapids Xavier and Clear Creek Amana), with the last loss coming by just a point.
"With everything the last four weeks, I couldn't be more proud of our kids, our coaches, everybody," said Washington Coach Maurice Blue. "It's satisfying."
Read more from Ryan Pleggenkuhle: Cedar Rapids Washington snaps skid, takes down Newton
Benton Community 23, 3A No. 9 Davenport Assumption 3
On a hard-hitting night where every inch was earned, Benton Community seized control of Class 3A District 4 by briefly opening things up.
The Bobcats used a little hurry-up offense to grab momentum on their way to a 23-3 victory over ninth-ranked Davenport Assumption Friday night.
The Bobcats (6-1, 3-0) staked their claim to being included in next week's rankings with a stout defensive effort and bludgeoning the Knights in the turnover battle, winning 5 to 0.
But the offensive fireworks to close the first half gave Benton the edge.
Read more from Culley Kline: Benton Community's Colin Buch bombs Assumption with arm and leg
1A No. 3 Iowa City Regina 26, West Branch 8
Iowa City Regina actually played an honest-to-goodness football game Friday night. A decent one, too.
That latter thing isn't a surprise, of course. It's Regina.
But that first thing, not a surprise, was really more a relief for the Regals.
"It has been really disappointing," said running back Levi Daniel, after his 183 yards rushing and three touchdowns helped lift Class 1A's third-ranked team past West Branch, 26-8, Friday night. "I feel really bad for the seniors. It's the last year for them. But, I mean, it happens."
Read more from Jeff Johnson: Iowa City Regina claims district title with 26-8 win over West Branch
3A No. 6 Independence 42, Charles City 0
Mitchell Johnson completed 12 of 17 passes for 172 yards and five touchdowns as the Mustangs rolled on the road.
Keegan Schmitt caught four passes for 43 yards and a TD and Bradley McDonald had three for 35 and two TDs.
Marcus Beatty rushed for 172 yards on 26 carries.
The Independence defense limited the Comets to 3 rushing yards.
A No. 6 North Linn 36, Hudson 0
Tate Haughenbury completed 15 of 24 passes for 152 yards and two touchdowns as the Lynx notched their fifth shutout of the season.
He also rushed for a TD. Lance Miller and Cael Bridgewater caught TD passes.
Cade Haughenbury rushed for 75 yards and a TD.
3A No. 3 West Delaware 41, Hampton-Dumont-CAL 3
Wyatt Voelker rushed for 183 yards and three touchdowns as the Hawks won at home, setting up a big game next week at Independence.
Voelker rushed the ball 21 times, scoring on runs of 5, 3 and 1 yards. Kyle Cole added 135 yards on 19 rushes, scoring on runs of 19 and 5 yards. Jaxson Woellert scored West Delaware's other TD on a 17-yard pass from Cole.
West Delaware totaled 481 yards of offense, 385 on the ground.
— Bill Logan, correspondent
Decorah 52, Marion 6
The Vikings spotted Marion a 6-0 lead, then scored 52 unanswered points.
Afte a 67-yard touchdown run by Kai Glade in the second play of the game, the Vikings started to roll.
The highlight for Decorah was two touchdown catches by Joe Bockman, covering 57 and 8 yards. Jacob Pipho also added scores on 20- and 67-yard passes from Keenan Tyler.
Tyler passed for 260 yards, 147 to Pipho and 108 to Bockman.
— Randy Iverson, correspondent
Springville 45, Elkader Central 6
Luke Menster scored four touchdowns, three on passes from Dylan DeMean, as the Orioles won.
He also had a TD off a blocked field goal attempt to end the half.
Bryce Ripple and Luke Jordan had rushing TDs for the Orioles, who led 45-0 at halftime.
Monticello 14, Anamosa 8
A 17-yard touchdown pass from Preston Ries to Tate Petersen with 9:10 to play was the difference as the Panthers (5-2, 3-1) rallied to win the annual Cowbell Trophy game at home.
Anamosa (1-6, 1-3) took an 8-6 lead midway through the third quarter on a 10-yard pass from Grahm Humpal to Sam Wilt, after which the same duo connected on a 2-point conversion.
For the Panthers, Ries passed for 212 yards and two touchdowns. Humpal had 137 passing yards for the Blue Raiders.
— Pete Temple, correspondent
Pleasant Valley 31, 5A No. 4 Iowa City High 14
Coming off a state semifinal appearance, there was plenty of expectations and hoopla surrounding the Pleasant Valley football team going into the season.
It had a state ranking attached to its name. It had multiple athletes attracting Division I attention. It had oodles of experience.
But after two defeats in its first three games and losing starting quarterback Barrett Lindmark to a collarbone injury, the Spartans were backed into a corner.
"We were not practicing hard, we were kind of selfish and some of us were focused on our futures," junior Rusty VanWetzinga said.
The Spartans have found themselves again and showed Friday night they are still one of the teams to beat in the eastern half of the state in Iowa Class 5A.
Led by an offense that churned out 23 first downs and 310 rushing yards and a defense that pitched a second-half shutout, PV handed fourth-ranked Iowa City High its first blemish of the season, 31-14 at Spartan Stadium.
Suddenly, 1-2 has turned into 5-2 for Coach Rusty VanWetzinga's squad.
"This shows we're not just all hype," defensive end Andrew DePaepe said. "We're trying to prove ourselves. I'm sure it is going to be all over social media how we held them to 14 (points).
"This is a statement win."
Quarterback Drew Larson passed for 168 yards and a touchdown along with a 54-yard touchdown run for the Little Hawks (6-1).
– Matt Coss, Quad City Times
Iowa City West vs. Bettendorf canceled
Iowa City West announced Friday that it has canceled Friday's sophomore and varsity games against Bettendorf due to "multiple confirmed cases of COVID-19 on the West High School football teams."
The result is a forfeit win for the Bulldogs, now 3-4. The Trojans are now 2-5.
West is scheduled to visit Cedar Rapids Prairie next week and host Pleasant Valley in the regular-season finale Oct. 22. It was ranked 25th in this week's Class 5A RPI standings (Bettendorf was 24th). The top 16 teams qualify for the playoffs.
Thursday: Waterloo West 69, Cedar Rapids Jefferson 14
Quarterback Tyree Gardner accounted for five touchdowns, three rushing and two throwing, to help Waterloo West past Cedar Rapids Jefferson, 69-14, in a prep football game Thursday night at rainy Kingston Stadium.
The Wahawks (3-4) remain in Class 5A playoff contention with the victory. Jefferson falls to 0-7.
West rushed for 354 yards in the game, getting 166 yards and three TDs from Nathan Anderson. Cavelle Fay also had a touchdown run for the Wahawks, who led 21-7 after a quarter, 35-14 at halftime and 55-14 after three quarters.
Gardner's TD passes were 10 yards to Terez Smith in the first quarter and 2 yards to Jaylund Roby in the second. Linebacker Naquevian Murphy's 55-yard fumble recovery and return accounted for West's other touchdown.
Shorthanded all season, Jefferson gave a spirited performance on its Senior Night, especially in the first half. The J-Hawks got a 1-yard TD run late in the first quarter from Kay'Zure Lewis, after running back A.J. White broke loose on an 86-yard run that took the football to the West 11. White had 115 yards rushing in the game on 15 carries.
Jefferson's other touchdown came in the second quarter and on another big-play run. Johnnie Robinson took a jet sweep and broke free down the sideline for 77 yards and the score.
Live Gazette area scoreboard