Home / Sports / Iowa Prep Sports / Prep Football
Iowa high school football scores: How the ranked teams fared in Week 4
2 top-ranked teams lose Friday night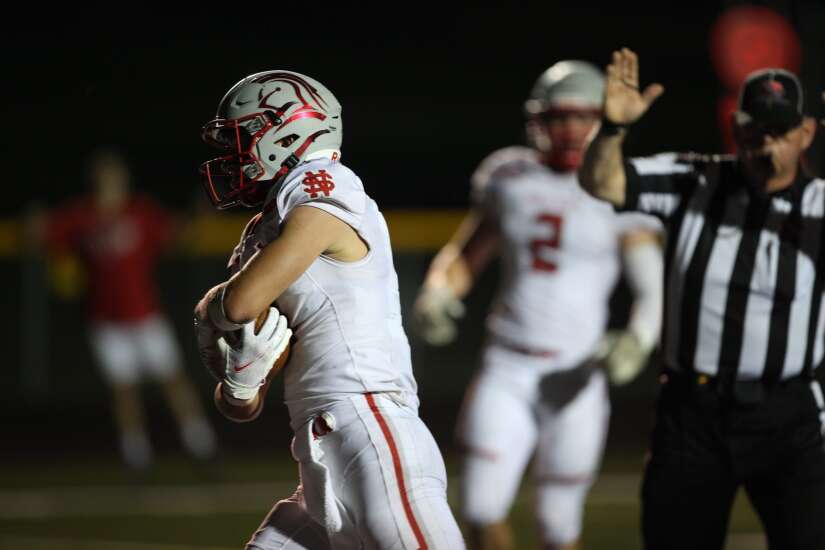 Three No. 1-ranked teams in The Gazette's Iowa high school football poll faced top-four opponents on the road in Week 4.
And two of them fell from the ranks of the unbeaten.
Class 5A No. 1 Southeast Polk took its first loss in a rematch of last year's 4A title game, with No. 3 Ankeny again beating the Rams, 21-7. In Class 2A, No. 3 Southeast Valley upended top-ranked Ida Grove OABCIG to open District 2 play, 44-22.
The other No. 1 in that group, Class 4A's North Scott, beat fourth-ranked Cedar Rapids Xavier 20-8.
Those were three of 11 top-10 matchups this week, all in the state's larger four classes. Class 4A actually had two top-four matchups this week, with second-ranked Indianola edging No. 3 Lewis Central.
Here's how the 70 teams ranked in The Gazette poll fared this week.
Class 5A
No. 1 Southeast Polk lost to No. 3 Ankeny, 21-7
No. 2 Cedar Rapids Kennedy beat Cedar Rapids Jefferson, forfeit
No. 3 Ankeny beat No. 1 Southeast Polk, 21-7
No. 3 West Des Moines Valley beat Waukee, 35-6
No. 5 Urbandale beat Des Moines Roosevelt, 30-0
No. 6 West Des Moines Dowling lost to Iowa City High, 21-17
No. 7 Cedar Falls beat No. 10 Ankeny Centennial, 28-14
No. 8 Johnston lost to Waukee Northwest, 31-0
No. 9 Cedar Rapids Prairie beat Bettendorf, 54-20
No. 10 Ankeny Centennial lost to No. 7 Cedar Falls, 28-14
Class 4A
No. 1 North Scott beat No. 4 Cedar Rapids Xavier, 20-8
No. 2 Indianola beat No. 3 Lewis Central, 14-9
No. 3 Lewis Central lost to No. 2 Indianola, 14-9
No. 4 Cedar Rapids Xavier lost to No. 1 North Scott, 20-8
No. 5 Waverly-Shell Rock lost to 3A No. 4 West Delaware, 14-6
No. 6 Bondurant-Farrar beat Pella, 28-17
No. 7 Fort Dodge beat Marshalltown, 22-21
No. 8 Cedar Rapids Washington lost to Linn-Mar, 36-7
No. 9 Winterset beat Adel ADM, 60-36
No. 10 Newton beat Saydel, 35-6
Class 3A
No. 1 Harlan beat Glenwood, 41-13
No. 2 Boyden-Hull/Rock Valley beat No. 10 Algona, 58-21
No. 3 Independence beat Vinton-Shellsburg, 20-13
No. 4 West Delaware beat 4A No. 5 Waverly-Shell Rock, 14-6
No. 5 Humboldt beat Boone, 40-12
No. 6 Solon beat No. 8 Davenport Assumption, 38-10 (Thursday)
No. 7 Nevada beat Hampton-Dumont-CAL, 38-14
No. 8 Davenport Assumption lost to No. 6 Solon, 38-10 (Thursday)
No. 8 Sergeant Bluff-Luton beat Sioux City East, 35-7
No. 10 Algona lost to No. 2 Boyden-Hull/Rock Valley, 58-21
Class 2A
No. 1 Ida Grove OABCIG lost to No. 3 Southeast Valley, 44-22
No. 2 Central Lyon/George-Little Rock lost to No. 10 West Lyon, 21-14
No. 3 Southeast Valley beat No. 1 Ida Grove OABCIG, 44-22
No. 3 Spirit Lake beat No. 8 Pocahontas Area, 52-9
No. 5 Estherville-Lincoln Central beat Clarion CGD, 52-21
No. 6 West Marshall beat Chariton, 36-7
No. 7 Waukon beat No. 9 North Fayette Valley, 48-21
No. 8 Pocahontas Area lost to No. 3 Spirit Lake, 52-9
No. 9 North Fayette Valley lost to No. 7 Waukon, 48-21
No. 10 Greene County beat Des Moines Christian, 55-0
No. 10 West Lyon beat No. 2 Central Lyon/George-Little Rock, 21-14
Class 1A
No. 1 Van Meter beat Panorama, 77-0
No. 2 Underwood beat East Sac County, 62-13
No. 3 Iowa City Regina beat Mediapolis, 34-0
No. 4 Dike-New Hartford beat South Hardin, 42-18
No. 5 MFL MarMac lost to Waterloo Columbus, 16-14
No. 5 Sigourney-Keota beat Pleasantville, 42-0
No. 7 Pella Christian beat Van Buren County, forfeit
No. 8 West Sioux beat Emmetsburg, 35-13
No. 9 Dyersville Beckman beat Cascade, 38-7
No. 10 Guthrie Center ACGC beat West Central Valley, 56-0
Class A
No. 1 West Hancock beat West Fork, 55-6
No. 2 Grundy Center beat Hudson, 35-0
No. 3 Woodbury Central beat Akron-Westfield, 41-7
No. 4 Lisbon beat Columbus Community, 40-0
No. 5 Logan-Magnolia beat Tri-Center, 26-14
No. 6 North Linn beat Clayton Ridge, 47-0
No. 7 Oakland Riverside beat Sidney, 24-0
No. 8 Hartley HMS beat Marcus MMCRU, 66-14
No. 9 North Tama beat Nashua-Plainfield, 50-22
No. 10 Mason City Newman beat Saint Ansgar, 37-21
8-Player
No. 1 Anita CAM beat East Mills, 78-7
No. 2 Audubon beat Exira-EHK, 56-7
No. 3 Montezuma beat Melcher-Dallas, 61-8
No. 4 Easton Valley beat Springville, 67-12
No. 5 Remsen St. Mary's beat Kingsley-Pierson, 57-26
No. 6 Janesville beat Rockford, 54-12
No. 7 New London lost to English Valleys, 39-34
No. 7 Newell-Fonda beat Algona Garrigan, 59-14
No. 9 Gladbrook-Reinbeck beat Tripoli, 40-22
No. 10 Lansing Kee beat Calamus-Wheatland, 68-0
No. 10 Ruthven GTRA beat North Iowa, 58-46
Comments: nathan.ford@thegazette.com