Home / Sports / Iowa Prep Sports / High School Football
Iowa high school football roundtable: Midseason MVPs, Eastern and Central Iowa divide and more questions in 4 Downs
Is Eastern Iowa closing the gap with Central Iowa in Class 5A? Who are current top performers? How to fix referee shortage?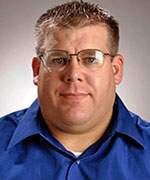 K.J. Pilcher
Jeff Linder
Nathan Ford
Jeff Johnson
Sep. 30, 2021 3:30 pm, Updated: Sep. 30, 2021 3:56 pm
The Gazette's Jeff Linder, Jeff Johnson, K.J. Pilcher and Nathan Ford answer Iowa high school football questions in this week's 4 Downs roundtable.
1st & 10: Who is your midseason MVP and why?
Linder: Has to be Eddie Burgess of Montezuma, right? Reigning area player of the year, 41 touchdowns in six games … yeah, that's an MVP resume.
Johnson: I'm going to go with North Tama senior quarterback Gabe Kopriva. He leads the state, and that includes 8-Player, in passing with 1,458 yards. He has 15 touchdown passes to just four interceptions. He also leads his team in rushing, adding eight more TDs on the ground. All this for a team that's 5-0. It's never a one-man thing in football, but the kid's doing work.
Pilcher: Independence's Marcus Beatty has been exceptional, gaining attention from college programs. He leads 11-player with 1,262 rushing yards, which is second overall. He is also third in all-purpose yardage among all classes. He accounts for 92.5% of the Mustangs' rushing yards and 93.8% of their rushing touchdowns (15 of 16). Beatty has produced about 67% of Independence's offensive yardage and 60% of offensive TDs, providing a bit more than half of the 191 points for the Class 3A sixth-ranked team.
Ford: I like to look at three factors for MVP: talent, stats and team impact. So let's go with Ben Kueter of Iowa City High, a University of Iowa commit who already has 19 tackles for loss, plus three touchdown catches, for a team that is one of the stories of the season so far.
2nd & long: Will Linn-Mar at Southeast Polk will be a reasonable gauge on whether Eastern Iowa big schools have caught up to the top ones in Central Iowa?
Linder: Regardless of outcome Friday at Pleasant Hill, Eastern Iowa schools haven't caught up. There's just too much quality depth in Central Iowa suburbia. BUT, City High's win over Dowling is a good step. If Linn-Mar can compete, that's another good sign.
Johnson: Nope. To me, the proof will be in the postseason pudding.
Pilcher: Yes and no. A competitive game could show the unbeaten teams in Eastern Iowa are right there with Central Iowa counterparts. Iowa City High did, but West Des Moines Dowling is down. The biggest measuring stick is postseason play, however, so no matter what happens between the Rams and Lions it won't mean a lot until an Eastern Iowa team wins the title.
Ford: It's another data point. No one game should be a referendum, but between City High's win over Dowling, this game, Southeast Polk's trip to Prairie next week and a couple Cedar Falls games earlier this season, we should have a decent understanding of the Class 5A dynamic entering the playoffs. So far, they look pretty close, but a lot still has to play out.
3rd & short: Which Metro head football coach would make the best commentator for TV broadcasts?
Linder: Oh, boy … JJ and KJ would be more equipped to answer this one. Would enjoy hearing Duane Schulte's perspective on X's and O's. Mo Blue would be fun. Brian White might be a mixture of both.
Johnson: Hands down, it's Cedar Rapids Washington's Mo Blue. Especially if these broadcasts allow, ahem, colorful language. Don't hate me for saying that, Mo.
Pilcher: So many thoughts here. Cedar Rapids Xavier's Duane Schulte is a fount of knowledge but a little too vanilla. Cedar Rapids Washington's Maurice Blue is on the other end of the spectrum, bringing energy and expertise but there could be more censorship beeps. I'm going to go with Cedar Rapids Prairie Coach Mark Bliss. I dig the slight drawl to his voice and his colorful down-home lines like "He's gotta little shimmy to his shake" and "God bless ya, brotha" could be entertaining. Bliss has also coached in other parts of the country giving him a wider view of the game.
Ford: Prairie's Mark Bliss seems like he could entertain viewers for hours, and his experience coaching in different states would bring another element.
4th & goal: Facebook submission from Brian Dirks: How do you suggest overcoming referee/umpire shortage that is plaguing Iowa High School sports?
Linder: First step would be a zero-tolerance policy in terms of fan behavior from schools' administrators. Second step would be financial incentive. Pay them more, and increase admission.
Johnson: To me, it's pretty simple. Pay more money. Make it worth people's times. Also wouldn't hurt to hit colleges hard for "recruits."
Pilcher: Multiple ideas really. More money is an easy and popular answer. Assign new officials to an experienced crew so they can learn from seasoned veterans. Make officiating a season or academic year part of coaching certification courses. But, retention rates have dropped. Some don't want to earn their stripes, officiating junior high, freshman or sophomore games. They want to jump right in and think they are ready for big games with ranked teams. A happy medium has to be made to start at lower levels but being able to advance swiftly based on merit.
Ford: My quick brainstorm: Better pay (the answer to most worker shortages). More power to enforce sportsmanship rules in the stands (I wonder if referees have any thoughts about the "Iowa Nice" cliché). And get creative to bring in more young people (Could there be partnerships with college sports administration programs? Tickets to state championship events for referees who work a certain number of games, including JV and junior high?).