Home / Sports / Iowa Prep Sports / Prep Football
Iowa high school football playoffs 2020: Here are the state quarterfinal matchups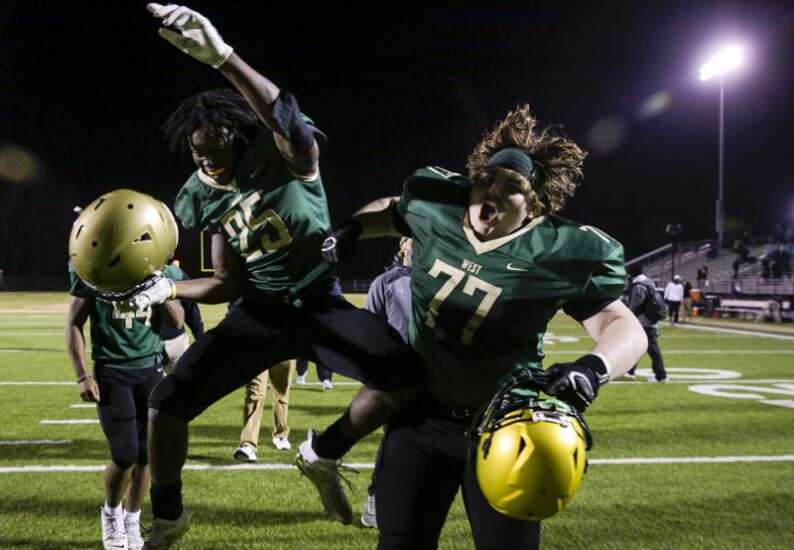 The Iowa high school football postseason field is down to 48 teams, eight in each class.
The Iowa High School Athletic Association released assignments for the Friday, Nov. 6 state quarterfinal games after the third-round games.
Three top-ranked teams will hit the road: Monroe PCM at No. 7 West Marshall in 2A, Grundy Center at No. 9 West Hancock in Class A and Don Bosco at No. 10 Janesville in 8-Player.
Here's the IHSAA criteria for hosts:
• Head-to-head competition
• District placement
• Least number of district losses
• Last alphabetical
Quarterfinal winners will advance to the semifinals at the UNI-Dome in Cedar Falls, where they will be rebracketed by the IHSAA again.
Here are the quarterfinal matchups. All games kick off at 7 p.m.
CLASS 4A
No. 5 Iowa City West (6-0) at No. 6 Pleasant Valley (9-0)
Cedar Rapids Kennedy (4-3) at No. 1 Southeast Polk (8-0)
No. 3 Ankeny (8-1) at No. 4 Waukee (7-2)
West Des Moines Valley (4-4) at No. 2 West Des Moines Dowling (7-1)
CLASS 3A
Boyden-Hull/Rock Valley (7-2) at No. 6 Webster City (9-0)
No. 7 Lewis Central (8-1) at No. 2 Harlan (9-0)
Grinnell (8-2) at No. 1 Cedar Rapids Xavier (9-0)
No. 9 West Delaware (10-1) at No. 8 North Scott (6-1)
CLASS 2A
No. 5 West Lyon (8-1) at No. 3 Central Lyon/George-Little Rock (9-0)
No. 1 Monroe PCM (9-0) at No. 7 West Marshall (8-1)
West Liberty (6-2) at No. 9 Camanche (8-1)
No. 6 Solon (7-2) at No. 4 Waukon (7-1)
CLASS 1A
No. 8 West Sioux (7-2) at No. 1 Ida Grove OABCIG (9-0)
No. 7 South Central Calhoun (8-1) at No. 6 Southeast Valley (9-0)
No. 5 Underwood (9-1) at No. 2 Van Meter (9-0)
No. 10 Waterloo Columbus (8-1) at No. 3 Sigourney-Keota (9-0)
CLASS A
Council Bluffs St. Albert (7-2) at No. 6 Logan-Magnolia (8-1)
No. 1 Grundy Center (9-0) at No. 9 West Hancock (9-1)
No. 8 Wapsie Valley (9-1) at No. 2 Iowa City Regina (8-1)
No. 5 MFL MarMac (9-1) at No. 3 Saint Ansgar (9-0)
8-PLAYER
No. 3 Audubon (8-0) at No. 2 Remsen St. Mary's (9-0)
No. 4 Anita CAM (9-0) at No. 8 Fremont-Mills (6-1)
No. 1 Don Bosco (8-0) at No. 10 Janesville (9-1)
No. 7 Easton Valley (9-1) at No. 5 Montezuma (9-0)