Home / Sports / Iowa Prep Sports / High School Football
Iowa high school football 2022: Picking the area Class 3A districts
Eastern Iowa favorites include Independence, Mount Vernon and Solon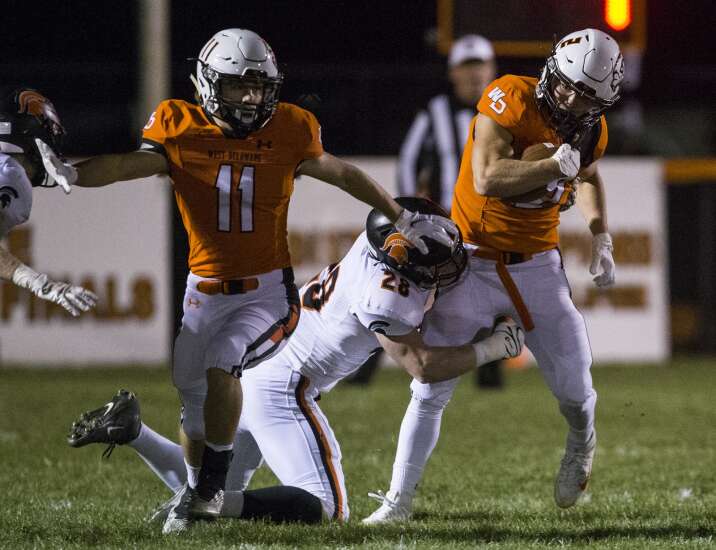 Fifth in a series diving into the area Iowa high school football districts for the 2022 season. Today, we examine Class 3A.
Thirty-six teams are assigned to 3A, with 16 advancing to the playoffs. The top two teams in each of six districts advance, plus four at-large qualifiers.
The 3A regular season will consist of nine games, with four rounds of playoffs.
A closer look at area districts:
*Note: These were assembled before Week Zero
District 3
OVERVIEW
It boils down to Week 8. That's the day that Independence travels to West Delaware for a game that, like last year, should determine the champion. Last year, the Hawks (9-2, 5-0) claimed a 25-14 verdict over the Mustangs (9-2, 4-1). Both teams advanced to the quarterfinals. The U.S. 20 rivals appear to be just about dead-even as 2022 looms. Both teams return a first-team all-state lineman — Indee's Korver Hupke and West Delaware's Luke Reth. We'll give the Mustangs an ever-so-slight edge based on the return of QB Mitch Johnson. Hampton-Dumont/CAL (5-5, 3-2) again appears to be the third-best team and will take aim at a possible at-large berth.
PROJECTIONS (*playoff qualifier)
1. *Independence
2. *West Delaware
3. *Hampton-Dumont/CAL
4. Center Point-Urbana
5. South Tama
6. Charles City
District 4
OVERVIEW
Five teams, razor-thin gap. There's precious from which to choose, from 1 to 5, and it's hard to envision any of the five running away with it. The top two teams from last season, Benton Community (8-2, 5-0) and Davenport Assumption (6-4, 4-1) lost the most to graduation. As a result, the pick here is Mount Vernon (6-3, 3-2). All three of the Mustangs' losses were by 14 points or less, so they weren't that far away. The top two tacklers from last year, Jackson Jaspers and Henry Ryan, return, as does leading receiver Tyler Panos. DeWitt Central (5-4, 2-3) and Vinton-Shellsburg (2-7, 1-4) bring back the most of anybody in the district and could bring some additional drama into the race.
PROJECTIONS (*playoff qualifier)
1. *Mount Vernon
2. *DeWitt Central
3. Davenport Assumption
4. Benton Community
5. Vinton-Shellsburg
6. Maquoketa
District 5
OVERVIEW
After beating its district brethren by an average of 46 points per game last year, it looks like Solon (11-1, 5-0) by a proverbial mile again this fall. The Spartans welcome back three all-staters from a squad that reached the semifinals: RB/DB Sean Stahle, TE/LB Brett White and QB/DB Blake Timmons. A challenging pre-district schedule awaits, highlighted by a trip to Williamsburg in Week 3. Going to go out on a major limb here and pick West Burlington-Notre Dame (0-9, 0-5) as the second playoff qualifier. The Falcons were competitive in three of their five district games, and return their roster nearly intact.
PROJECTIONS (*playoff qualifier)
1. *Solon
2. *West Burlington-Notre Dame
3. Washington
4. Grinnell
5. Keokuk
6. Fairfield
Comments: jeff.linder@thegazette.com