Home / Sports / Iowa Prep Sports / Prep Football
Iowa football Game Report: Hawkeyes 40, Nebraska Cornhuskers 10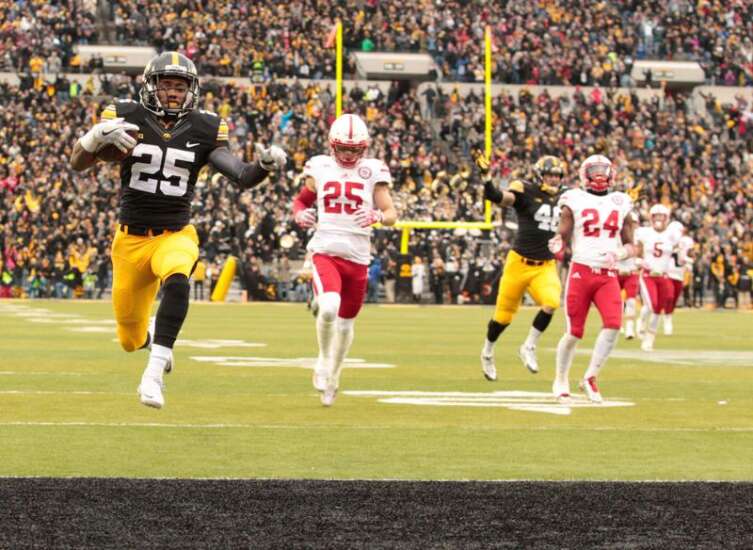 News, notes, grades and anecdotes from Iowa's 40-10 win over Nebraska in the regular-season finale Friday at Kinnick Stadium.
Play of the Game
The Setup — Iowa's first two drives against Nebraska were three-and-out and a drive that reached the 50 and then died after a sack. The pain was punctuated by a 29-yard punt that set up the Huskers.
This looked like it was going to the way everyone expected. A defensive grind where someone forces a mistake and someone pays a price.
And then running back Akrum Wadley happened.
What happened — On a second-and-5 from Iowa's 25, Iowa quarterback C.J. Beathard changed the play at the line of scrimmage.
He thinks most of his teammates picked up on that.
'It was a kind of a miscommunication deal,' Beathard said. 'That was kind of a luck play, to be honest with you. Think half the line went one way and half the line went the other way and then Akrum made a guy miss and turned it into 70 yards.'
The play looked like maybe it was kind of an outside zone to the left.
'I think on the right side, we had our guys,' guard Sean Welsh said. 'I can't speak for the left. I'm pretty sure we had it.'
They had it.
What made whatever happened up front work was Wadley's devastating jump cut. He started left, planted and jumped to the right. Linebacker Josh Banderas tried to hit the brakes and move with Wadley, but he tumbled. Safety Aaron Williams followed the play left and had absolutely no angle when Wadley leaped to the right.
Imagine a bat and the way they fly. Now imagine if a bat could carry a football.
The result — Wadley's 75-yarder gave Iowa a 7-0 lead. It also exposed how the Huskers were biting so hard against the run. It really was all Iowa's offense had going for it coming into the game.
This was the setup for Iowa's next TD, a 77-yard pass to WR Riley McCarron that came off a play action.
With RB LeShun Daniels' 56-yard run, Iowa bombed the Huskers with explosive plays. Wadley's jump cut set it all in motion.
-Marc Morehouse
Report Card
A+ — You could ask for more. But that would make you despicably greedy, and you're better than that.
-Mike Hlas
A — Hi, I'm Marc. I gave Iowa like a B-plus for the Michigan win. I cover sprotz for a living. (I'd say this is a makeup grade, but, really, probably both As, no?)
-Marc Morehouse
A — Nebraska looked a lot more like the No. 61 team in the country Friday, not No. 16.
-Jeremiah Davis
Return of the Pass Game
C.J. Beathard had 66 yards passing against Michigan. He had 80 yards passing against Illinois. It appeared, in many ways, like the last few weeks the Hawkeyes won despite the passing game, and most certainly not because of it.
On Friday against Nebraska, Beathard nearly surpassed both of his last two game totals with one throw to Riley McCarron.
Out of play-action, Beathard found his go-to wide receiver over the middle with a bullet and McCarron snared it by his fingertips. With a shimmy around the linebacker, McCarron was free and sprinting for the north end zone. Tight end George Kittle joked after the game that he didn't believe McCarron won a sprinting state championship in high school until he saw that run.
It was a 77-yard touchdown and the longest pass play of the season for the Hawkeyes.
'That was a call from the sideline; we've ran it plenty of times this year,' Beathard said. 'I did have to wait for the second window; they didn't completely bite for the run. Riley did a great job making the catch and turning it into seven points.'
The long scoring play also marked the third-longest touchdown pass of Beathard's career. He had an 85-yard touchdown pass to Tevaun Smith last season against Michigan State in the Big Ten title game and an 81-yard touchdown pass earlier in the season, also to Smith, against North Texas.
Beathard was 10 of 15 for 144 yards and three touchdowns in the Hawkeyes' 40-10 win. The three touchdowns got him to 40 for his career, making him one of five players in program history to reach that mark. Chuck Long (74), Drew Tate (61), Ricky Stanzi (56) and Matt Rodgers (41) are the other four.
-Jeremiah Davis
By The Numbers
1,013 — Regular season rushing yards for LeShun Daniels
616 — Total yardage given up by the Iowa defense in the last three games combined
136 — Minutes between touchdowns allowed by Iowa's defense, from second quarter of Michigan to third quarter of Nebraska
114 — Regular season tackles for Josey Jewell
34 — Yards Akrum Wadley finished shy of rushing for 1,000 yards in the regular season
16 — Points allowed by Iowa in final 10 quarters of the regular season
9.5 — Yards per rush for Iowa in the first half
5 — Years since Iowa last had a 1,000-yard rusher
4 — The number of players who touched the ball on offense for Iowa in the first half
4 — Games this season Iowa scored 40 or more points
2 — Plays of 50-plus yards for Iowa
2 — Touchdowns allowed by Iowa in final three games of the regular season
1 — Career multi-touchdown games for George Kittle
-Jeremiah Davis
Injury Report
Iowa's injury-plagued season saw a pair of additional casualties Friday, on top of what it already was missing on the offensive line and in the secondary.
On the first play from scrimmage, starting fullback Drake Kulick went down with a broken leg, getting rolled up on a running play. Kulick went down quickly and immediately threw his helmet off as Iowa trainers rushed onto the field. The Iowa offense and Hawkeyes fans weren't hushed for long, though, as the junior from Muscatine yelled encouragement to the Iowa offensive line, shook quarterback C.J. Beathard's hand as the cart hauled him off the field, and waved his arms to the crowd, imploring them to cheer. Kulick was replaced by redshirt freshman Brady Ross.
Kulick's injury was joined by one to Manny Rugamba. The freshman cornerback, who burst onto the scene for the Hawkeyes in place of Greg Mabin in the last two games, went down with an undisclosed upper body injury. Rugamba had one tackle before he went out, and was replaced by Josh Jackson, who had been in the nickel cornerback role before that. Jackson finished the game with two tackles.
On the pre-existing injury front, Cole Croston missed his fifth game of the season, still dealing with an ankle injury. It was reported during the game Croston is eyeing a return in Iowa's bowl game.
The Hawkeyes got offensive lineman Ike Boettger and tight end George Kittle back, both of whom played throughout Friday's win. Defensive lineman Nathan Bazata left during the game with an ankle injury, but was able to return.
-Jeremiah Davis
Up Next
Iowa finishes the regular season 8-4 overall and 6-3 in Big Ten play. The Hawkeyes await their bowl game assignment as the rest of the Big Ten finishes up its regular season on Saturday. There is a mathematical chance Iowa can win a share of the Big Ten West — and would get a trophy, according to Iowa officials — if Wisconsin loses on Saturday, but it is eliminated from a trip to Indianapolis. Wisconsin is ensured that spot.