Home / Sports / Iowa Prep Sports / High School Football
Burton a product of playing young, ready to guide experienced ISU line
N/A
Aug. 27, 2015 4:58 pm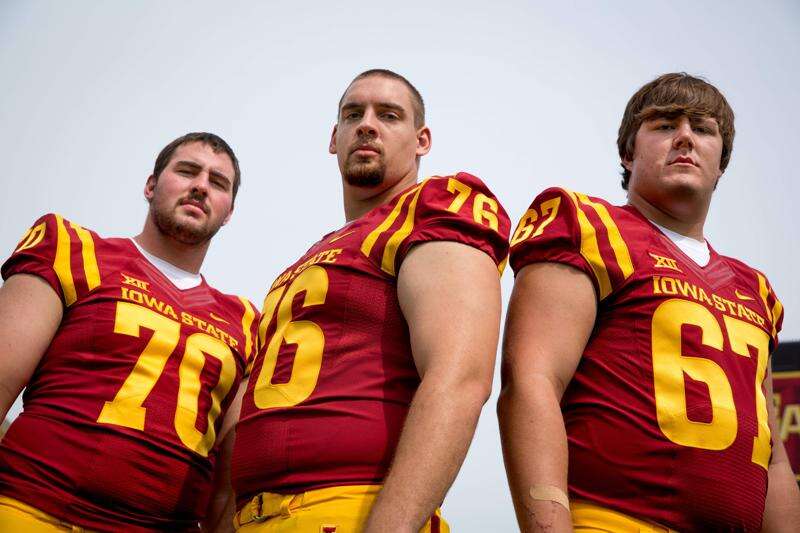 Editor's note: Sixth in an eight-part series looking at the Iowa State football team, position by position. Next: Linebackers
By Dylan Montz, correspondent
AMES — Daniel Burton takes his responsibility within the Iowa State football team seriously. He always has.
Burton walked into Jack Trice Stadium two years ago to make his first career start against Northern Iowa, and the red-shirt freshman wasn't really sure what to expect. The speed of the game is one of the first things he noticed, but not being quite ready wasn't an excuse.
The willingness of the now-red-shirt junior guard as a youngster is what has made him ready to be a staple within the Cyclones' offensive line.
'I learned a lot,' Burton said of that first game. 'But I just remember it going really fast. It wasn't exactly like practice and things were always changing. It was a little hard to go with the flow of the game and I was lagging behind a little bit. But I was definitely out there.'
Burton was one of just four players to start all 12 games last season for Iowa State and just one of two still on the roster in 2015. Even at that, he is the only one who will actually begin the season in the starting lineup while defensive lineman Mitchell Meyers receives treatment for Hodgkin's Lymphoma.
The Oklahoma City native has started 20 games in his career, including the first eight in 2013 before suffering an injury against Kansas State that sidelined him for the remainder of the year. He's had some experience across the line at guard and tackle, and has been receptive to coaching every step of the way.
'Being a fourth-year guy, he's very serious about this football team,' said ISU Coach Paul Rhoads. 'I think I've mentioned that we're getting him to take some snaps (at center). He's not playing center, but taking some snaps just in case something would happen and we have a route we could go with Patrick (Scoggins) being down.'
Injuries have been the kryptonite for the ISU offensive line the last two seasons and struck again during fall camp when Scoggins — the backup center — went down with a knee injury. But through the injuries, the offensive line has brought along young players and been given a bevy of opportunities for players to get starts.
The Cyclones' offensive linemen have combined to start 76 career games with Burton leading the way. Jamison Lalk, Brock Dagel, Jake Campos, Oni Omoile and Jacob Dunning round out the starts, which has led to more of an understanding of schemes this preseason.
'There's vast improvement,' said offensive coordinator Mark Mangino. 'We've got some veteran guys and some young guys there that we're blending together. It's not where I want it to be yet, but it's getting there. I think we're farther ahead than we were last year at this time.'
'Those guys are getting a lot of reps and they're probably thrilled that camp is done and we get to go into single days right now,' Rhoads said. 'Grades with those guys are higher than they've ever been.'
It's the goal that added depth also means a more potent rushing attack. Iowa State will have experience in the passing game with Sam Richardson, Allen Lazard, D'Vario Montgomery and Quenton Bundrage, but the young running backs certainly will lean on the experience of the offensive line to jump-start the ground game.
Although Iowa State hasn't seen any sort of consistency between a starting five in the last couple seasons, the number of experienced guys and a full year under coach Brandon Blaney has been a bonus. Burton feels technique is finally starting to catch up to the number of starts owned by the linemen.
'Some of those things, whether it's footwork or hand placement,' Burton said, 'can really raise from one level to the next.'
A CLOSER LOOK AT THE OFFENSIVE LINE
Depth chart
LT 1. Jake Campos, 6-8, 297, sophomore; 2. Jaypee Philbert Jr., 6-4, 314, sophomore; 3. Shawn Curtis, 6-5, 290, sophomore
LG 1. Oni Omoile, 6-3, 305, senior OR Wendell Taiese, 6-6, 350, senior; 3. Will Windham, 6-3, 315, red-shirt freshman
C 1. Jamison Lalk, 6-6, 304, senior; 2. Nick Severs, 6-4, 282, sophomore
RG 1. Daniel Burton, 6-6, 319, junior; 2. Oni Omoile, 6-3, 305, senior; 3. Jacob Homa, 6-4, 292, sophomore
RT 1. Brock Dagel, 6-8, 300, senior; 2. Jacob Dunning, 6-5, 300, junior; 3. Kory Kodanko, 6-5, 316, red-shirt freshman
The starters
Iowa State will be without veteran center Tom Farniok in 2015, who completed his eligibility a year ago, but Lalk filled in for the occasionally injured Farniok a year ago. The line has 76 combined starts and with Dagel — who is back after missing the last eight games with a knee injury — Burton and a more experienced young player in Campos, the Cyclones have the pieces to be improved up front if they can stay healthy.
The backups
The Cyclones lost backup center Patrick Scoggins on the fifth day of fall camp to a knee injury, but stayed healthy for the most part through camp. Philbert is stepping into his first go-around at a Division-I program, but helped lead a balanced offensive line at Coffeyville C.C.
l Comments: montzdylan@gmail.com