Home / Sports / Iowa Prep Sports / High School Football
Cedar Rapids Washington beats Oskaloosa to take step closer to playoffs
Watts McBride with a pair of TDs, stout defensive effort despite injured linebackers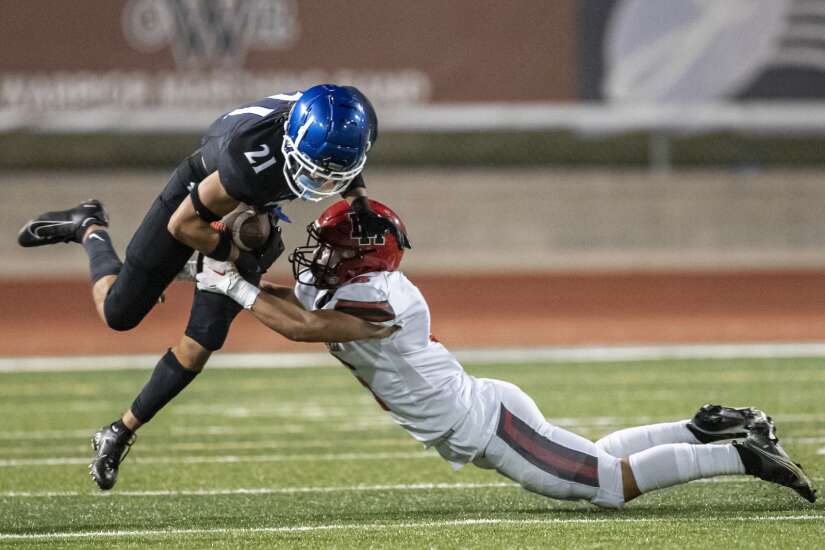 CEDAR RAPIDS — No, Cedar Rapids Washington didn't play the best of games, especially offensively, but did enough to brush past Oskaloosa, 21-6, on Senior Night at Kingston Stadium.
Washington (5-3, 3-1) stayed in second place in Class 4A District 4 with the victory. A win in next week's finale at Pella (2-6, 2-2) would give Warriors a spot in the playoffs.
"We did enough to win," Washington Coach Maurice Blue said. "Now it's on to Pella."
The Warriors played without a pair of important starting linebackers in Chase Mahoney and Caden Stock, both out with injuries. But their replacements, including a couple of virtually untested sophomores, stepped up and limited Oskaloosa (1-7) to under 200 yards offense.
That number was 197, specifically. Indians quarterback Trevor Willett chucked the football 45 times, completing 21 of those chucks for 176 yards and one interception.
The second half, in particular, was a series of screen passes to sophomore running back Dom Piersel and tight end Wyatt Grubb. That was the way Osky chose to combat Washington blitzing people on virtually every down.
"This is my final high school season, and I want to go out with something good," said Washington cornerback and sometimes receiver Miles Thompson, who was tremendous in pass coverage Friday night. "I've been playing with these guys since, like, fourth grade, and you just want to go out big.
"People have to step up. We were down two guys, and everyone just picked each other up. Stay focused, take all the negatives out of the way. Step up and be great, and that's what we did to them tonight."
This one appeared to be a rout early, as Washington scored touchdowns on its first two offensive possessions.
The Warriors fielded the opening kickoff, got a first down, then Malik Epps-Keller and Watts McBride hooked up on a 68-yard screen pass for TD. McBride took the pass, cut toward the middle and found nothing but artificial green.
Zach Novak's extra point made it 7-0 just 2:21 in.
Oskaloosa went three-and-out on its first possession, with Washington taking over in good field position at its 43 after a short Indians punt. Quarterback Stevie Cain (who rotated series with Epps-Keller in the first half) hit Jaden Harris for 25 yards to the Osky 2, with Harris fumbling to the 1 and teammate Michael Blank bailing him out by recovering at the 1.
Cain sneaked into the end zone for the score, Novak's extra point making it 14-0 with 4:09 to go in the first. But Washington was very sloppy offensively the rest of the half, committing penalties and fumbling away the football at the Oskaloosa 13 late in the second quarter.
The Warriors lost two other fumbles in the half, one when a short Osky punt hit a player blocking downfield, the other on a punt return at the Oskaloosa 29 in the final minute of the half.
"I think it's all about just sharpening up," McBride said. "Taking away the little mistakes, we show what we can do. We have flashes with big plays ... I think it's promising. I think the guys are still growing, guys are getting better."
A screen-and-shovel-pass drive got Oskaloosa (1-7) on the scoreboard midway through the third quarter, as Piersel took a Willett screen pass and ran 12 yards to the end zone. The extra point missed.
Another McBride touchdown, this one from 43 yards out over the middle late in the third gave Washington a 21-6 lead. He had 113 yards rushing on 11 carries and 76 yards on three receptions.
"I don't know if Pella won or lost tonight, but they are one of the best one- or two-win teams you will ever play," Blue said. "They've played a tough schedule. We've got some things to clean up. We made some mistakes that need to get cleaned up. We were without Stock and Mahoney tonight, but the guys who stepped did a great job tonight.
"We filled in with sophomores and juniors that hadn't play a lot, and they did a nice job."
CEDAR RAPIDS WASHINGTON 21, OSKALOOSA 6
(At Kingston Stadium)
Oskaloosa 0 0 6 0- 6 Cedar Rapids Washington 14 0 7 0-21
CRW-Watts McBride 68 pass from Malik Epps-Keller (Zach Novak kick)
CRW-Stevie Cain 1 run (Novak kick)
Osky-Dom Piersel 12 pass from Trevor Willett (kick failed)
CRW-McBride 43 run (Novak kick)
Team Statistics
First downs: Oskaloosa 10, C.R. Washington 14. Rushes-yards: Oskaloosa 20-21, C.R. Washington 34-138. Passing: Oskaloosa 21-45-1-176, C.R. Washington 12-25-0-180. Punts-Avg.: Oskaloosa 8-28.6, C.R.Washington 5-37.4. Penalties: Oskaloosa 2-10, C.R. Washington 5-40. Fumbles-Lost: Oskaloosa 1-1, C.R. Washington 6-4.
Individual Statistics
Rushing - Oskaloosa: Dom Piersel 12-16, Trevor Willett 7-2, Team 1-3; C.R. Washington: Watts McBride 11-113, Alex Taylor 16-42, Malik Epps-Keller 3-5, Stevie Cain 1-1, Team 3-(minus) 23.
Passing - Oskaloosa: Trevor Willett 21-45-1-176; C.R. Washington: Malik Epps-Keller 9-20-0-12, Stevie Cain 3-6-0-59.
Receiving - Oskaloosa: Wyatt Grubb 8-58, Dom Piersel 5-55, Waylon Bolibaugh 7-44, Maddux Ashman 1-9. C.R. Washington: Watts McBride 3-76, Michael Blank 5-61, Jaden Harris 2-37, Miles Thompson 1-6, Alex Taylor 1-0.
Comments: (319)-398-8258, jeff.johnson@thegazette.com