Home / Sports / Iowa Prep Sports / High School Football
4 Downs: Read The Gazette pros prose on Iowa high school football
Who are candidates for midseason MVP? Midseason surprise team? Which position is deepest in the Metro? Does 7 classes work?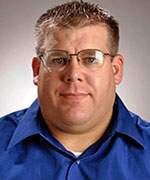 K.J. Pilcher
Jeff Johnson
Jeff Linder
Nathan Ford
Sep. 20, 2022 4:32 pm, Updated: Sep. 20, 2022 4:58 pm
The Gazette's Iowa high school football staff pose and answer questions about the current season. See how much Jeff Linder, Jeff Johnson, K.J. Pilcher and Nathan Ford can gain for 4 Downs:
1st & 10: Who is your midseason MVP?
Linder: Hard to argue with Derek Weisskopf of Williamsburg. He is (maybe) the top defensive player for (maybe) the top defensive team in the area. He has intercepted four passes, is the Raiders' top receiver and has crafted a 41.4-yard punting average.
Johnson: That's such a tough question. Christian Janis at Iowa City West has been so good: seven touchdown receptions and TDs on a punt return and interception return. Aidan McDermott at Cedar Rapids Xavier has thrown a touchdown pass, caught five of them, has returned a punt for TD and plays a key role on defense for an undefeated team. Andy Henson has 11 touchdowns rushing for undefeated West Branch and leads the Bears in tackles. Graham Beckman has nine touchdown passes, no interceptions and has rushed for three TDs for Iowa City Liberty.
Pilcher: I'm going to go with Maquoketa Valley's Lance McShane. The Wildcats struggled through a one-win season a year ago, losing their last eight games. They are 3-1 and McShane is a big reason why. He is tied for the Class A lead with 12 rushing touchdowns and is fifth in the class in rush yardage (81-719). His 8.9 yards per carry ranks among the Class A leaders. McShane is also second on the team in total tackles (24.5) and tackles for loss (8) with a team-high 18 solo stops. He returned an interception for a TD and does some kicking, punting and returning for the Wildcats.
Ford: I'll take junior all-around dynamo Preston Ries of Monticello. As a QB, he's completing 61.9 percent of his passes (60-97) for 931 yards, seven touchdowns and two interceptions. Plus, he has 545 yards and three scores on the ground. His 1,490 offensive yards ranks first among 11-player teams. Defensively, the Iowa commit already has 11 1/2 tackles for loss and six sacks. And he's averaging 38.6 yards per punt, to boot.
2nd & long: Which position has the deepest pool of talent in the Metro?
Linder: I'm going to amend this question just a bit and send some love to the three quarterbacks in the Iowa City Community School District — Liberty's Graham Beckman, City High's Drew Larson and West's Jack Wallace. That's quite a trio.
Johnson: I vote running back. Makelle Taylor at Prairie, Michael Cunningham at Xavier, Alex Mota at Marion, Carter Henderson at Linn-Mar, Watts McBride at Washington, etc., etc.
Pilcher: Linebackers have been impressive so far this season, especially along 42nd Street. Cedar Rapids Kennedy and Cedar Rapids Xavier are both 4-0 with strong defenses. Coincidence? Not likely. Ryker Stelling and Calvin White lead a strong quartet of Cougars linebackers. They have combined for 37.5 tackles and 12.5 for loss, so far. Xavier's Thomas Sundell has 32.5 tackles with 23 solo and 3.5 for loss. Josef Lemker and Michael Cunningham are also impressive. One of the best of the bunch is Washington's Chase Mahoney. He has 29.5 stops and seven for loss, but most impressively, he has returned two interceptions and a fumble for touchdowns. Don't forget Cedar Rapids Prairie's Nic Powell, Linn-Mar's Jackson Severson and Marion's Trey Franck and the talent at linebacker is deep in the Metro.
Ford: The linebackers have stood out so far, and not just Cedar Rapids Washington's Chase Mahoney scoring three defensive touchdowns. Guys like Ryker Stelling and Calvin White of Kennedy, Thomas Sundell and Michael Cunningham of Xavier and Marion's Trey Franck jump off the screen. I'm sure I'm leaving off others who will be in the conversation for postseason recognition.
3rd & short: Which team has been a "surprise" through Week 4?
Linder: Last week's loss to Clarksville notwithstanding, it's West Central. The Blue Devils (4-1) are averaging nearly 47 points per game. They have two difficult games remaining, but appear to be a good bet to make the 8-Player playoffs.
Johnson: Mount Vernon graduated two terrific players in Trenton Pitlik and Owen Brase, yet is 4-0, ranked in the top five in Class 3A and ended its long losing streak to Solon.
Pilcher: Mount Vernon has been fantastic, going unbeaten through the first four weeks. The Mustangs have wins over Center Point-Urbana, Anamosa, Tipton and broke a 19-game losing streak to rival Solon, which was ranked near the top of Class 3A at the time. It's not just the fact they're unbeaten after graduating some leaders from last year's team, but how they have done it. Mount Vernon has outscored opponents by an average of 27.3 points per game, allowing just five points a contest with two shutouts.
Ford: I think my answer after Week 1 would still be my answer now: Iowa City Liberty. After going 3-6 last year, I predicted improvement this fall, but not decisive wins over Iowa City High, Linn-Mar and Clear Creek Amana.
4th & goal: Should the IHSAA keep seven classes after this fall, eliminate a class or add one?
Linder: I haven't been a fan of the system since Day 1. Seven classes, in a state with the number of schools that Iowa has, is too many. I would go back to six: 36 in 5A, 48 in 4A, 48 in 3A, 64 in 2A, the rest of 11-player ball in 1A (get rid of A) and 8-Player class.
Johnson: I'm good with the Lucky 7.
Pilcher: This season has seen more parity than previous seasons. Is it the norm or an anomaly? I still think there is one too many classes. I understand the shifting and declining enrollments make it difficult and seven classes helps avoid grouping programs with vastly different numbers. Seven is just a bit too much. Plus, even numbers help with my OCD tendencies.
Ford: Last year I probably would have said eliminate a class (or two). I'd still be OK with that, depending on the specifics, but I'm now a fan of this seven-class setup. More tinkering can be done, but it seems like more schools are on level playing fields in their classes.