Home / Sports / Iowa Prep Sports / High School Football
4 Downs: Gazette staff tackles questions on Iowa high school football
Who has the best defense? What are the top offensive matchups? Which team could produce good reality TV?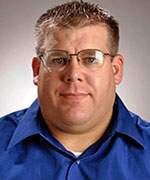 K.J. Pilcher
Jeff Johnson
Jeff Linder
Nathan Ford
Sep. 13, 2022 12:07 pm, Updated: Sep. 13, 2022 2:59 pm
The Gazette's Iowa high school football staff pose and answer questions about the current season. See how much Jeff Linder, Jeff Johnson, K.J. Pilcher and Nathan Ford can gain for 4 Downs:
1st & 10: Bigger first win of the season: Marion over Class 3A No. 7 Benton Community or Western Dubuque over 4A No. 6 Iowa City Liberty?
Linder: I would say Marion, because it seemed like the more unlikely outcome. The Wolves had suffered a couple of fairly lopsided losses, but put it to the Bobcats.
Johnson: Both were absolutely exceptional victories. Bottom line. Huge wins for both Marion and Western Dubuque. The spread in the Wolves' victory surprised me. Western Dubuque has played three ranked teams to start the season (Liberty, Cedar Rapids Xavier and North Scott). Did I actually ever answer the question here? Guess I did. Both.
Pilcher: Marion had gone almost an entire calendar year without a victory and had sputtered through the first two weeks. The Wolves nearly tripled their season points total against a Benton Community squad that whipped Grinnell and Center Point-Urbana. Matching the win total from last year, making some changes in the offense and seeing the rewards early was big for Marion under second-year head coach Michael Joyner. Also, Western Dubuque wasn't your prototypical 0-2, losing to ranked Cedar Rapids Xavier and North Scott. The Bobcats also started freshman quarterback Brett Harris for the first time. Is there anything a Harris can't do?
Ford: Both teams seem to have found answers on offense but my answer is Western Dubuque, a team I had ranked in the preseason that faced a brutal early schedule. All freshman quarterback Brett Harris did in his first career start is throw for 201 yards and two touchdowns, including the game-winner, against an opponent that beat two ranked 5A teams. I seem to remember the Bobcats achieving a thing or two with another Harris taking snaps.
2nd & long: Which defense has been the most impressive through Week 3?
Linder: We've talked quite a bit about Williamsburg's defense, which has helped stake the Raiders to a 3-0 start. I'm going to add a pair of teams that play each other this week – East Buchanan (4.67 points allowed per game) at Alburnett (4.33). First team to score two touchdowns wins?
Johnson: Going to go with Alburnett. Two shutouts and giving up just 13 points in a Week 1 win over North Linn. The Pirates have won games scoring just 16 and 14 points, so the defense's performance has been hugely important in a 3-0 start.
Pilcher: Williamsburg has been fantastic. The Raiders kept Solon, Van Meter and Iowa City Regina in check in consecutive weeks. Alburnett hasn't allowed a point in eight straight quarters and has two shutouts in a season for the first time since 2017. My final answer has to be Pleasant Valley. The Spartans allowed just 4.3 points per game against Cedar Rapids Prairie, Dubuque Hempstead and Linn-Mar. The Spartans have limited foes to 211.7 total yards a game, stuffing the rush by allowing just 77 yards per game. Honorable mention goes to Baxter, giving up 5.3 points a game in 8-Player.
Ford: I'll start with a default answer by saying Humboldt and Red Oak haven't given up a point. Six different Red Oak players have an interception as well. But add in strength of schedule and Williamsburg sticks out to me, already with nine takeaways through three noteworthy wins.
3rd & short: What matchup is likely to produce the most points?
Linder: I think the matchup Friday at Tiffin has the potential to be high-scoring. Despite last week's loss, Iowa City Liberty is explosive (and also gives up some points). Clear Creek Amana is capable of putting up some big numbers, as well.
Johnson: Gotta look 8-Player here, right? How about the Tripoli/Gladbrook-Reinbeck game? Tripoli is averaging 71 points game, Gladbrook-Reinbeck 61. So watch it finish 7-6 …
Pilcher: Iowa City High at West Des Moines Dowling has the potential to give the scoreboard operator carpal tunnel syndrome. The Little Hawks lead Class 5A with 50.3 points a game, hanging 77 on Cedar Rapids Jefferson and 55 on Ames in their two victories. Dowling averages 28.7 a game against three of the state's top programs. The Maroons allow 22.3 points per game with City High just behind at 18.3 points a contest. Expect more than last year's 38-point doozy that City High won at home.
Ford: We might have already seen it when BGM beat Iowa Valley, 78-74. But I want to predict an 11-player answer, too. It's early, but looking at teams with explosive offenses and defenses that don't rank quite as high, I could see Iowa City High and Iowa City West putting on a show next week in the Battle for the Boot.
4th & goal: What high school program would you like to see as the subject of a Reality TV Series? Think "Hard Knocks" meets "Keeping up with the Kardashians."
Linder: Call me crazy, but how about Cedar Rapids Xavier? Quite frankly, the way they run things, basic and brilliant, year after year, is interesting. And we all want to know more about how this vaunted Scout Team gets the first string so well prepared.
Johnson: Initial thought is Iowa City High. Program on the rise, world champion wrestler on the roster. Cedar Rapids Xavier would be the other, just because I really want to see if the vaunted Saints scout team really does give good looks on a weekly basis. That's an inside joke between us Gazette guys and Coach Schulte. LOL.
Pilcher: I was fortunate to be welcomed into the Iowa City Regina program when they were reaching unprecedented levels of consecutive victories about eight years ago. They had a lot of interesting elements, including the players, the coaches, the parents and the support staff. Plus, coaches Jason Dumont and Ed Hinkel have a fun and warped sense of humor. Don't forget their tradition on the field as well. Give me an all-day livestream of Regina football.
Ford: Combine tradition with a small town that cares a lot about its program, a picturesque stadium, a longtime head coach and a really good team that wants to reach previous heights and I land at West Branch. That sounds like an entertaining show.