Home / Sports / Iowa Prep Sports / High School Football
4 Downs: Gazette staff share their views on Iowa high school football
Top performers in Week 5? Are lopsided scores a trend? Top running backs? Memorable Kingston Stadium moments?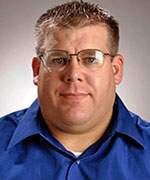 K.J. Pilcher
Jeff Johnson
Jeff Linder
Nathan Ford
Sep. 27, 2022 4:47 am, Updated: Sep. 27, 2022 9:22 am
The Gazette's Iowa high school football staff pose and answer questions about the current season. See how much Jeff Linder, Jeff Johnson, K.J. Pilcher and Nathan Ford can gain for 4 Downs:
1st & 10: What is the most impressive individual performance from Week 5?
Linder: I'll send my proverbial game ball to Joey Rhomberg of Mount Vernon, who passed for 329 yards and four touchdowns in the Mustangs' surprisingly easy 47-0 win over Benton Community.
Johnson: Quarterback Dallas Sauser of Ames set a state record with 590 yards passing in his team's 57-28 win over Sioux City North. He threw six touchdown passes. Dallas is the son of former Iowa City West head coach Brian Sauser.
Pilcher: Vinton-Shellsburg's Zach Staab had a memorable night against Maquoketa in a 41-0 homecoming victory. The junior quarterback rushed for 303 yards on 24 carries and scored four touchdowns. He averaged 12.6 yards per carry and added 40 passing yards, completing all three attempts. He had more rushing yards than Maquoketa allowed to Camanche and Clinton the previous two weeks.
Ford: I'll take Iowa City High quarterback Drew Larson, who completed nearly 70 percent of his 23 passes for 216 yards and four touchdowns and added scores via rush and reception. He totaled 293 yards of offense in a rivalry win on the road against Iowa City West.
2nd & long: Week 5 was littered with blowouts. Is there a greater divide between "haves" and have nots" or was it just an anomaly?
Linder: In terms of scoring margin, yeah, I think that's true. I think a lot of that is because of sophistication and explosiveness of offenses. Old guy here talking, but when I was in high school, if you got beat by more than three touchdowns, it was a rout. Never saw anything like 89-0 or 86-0 or whatever a lot of the 8-Player scores are now.
Johnson: I don't think it's any greater than any other year. By the way, shout out to Des Moines North, a perennial "have not" that is one victory from securing a winning season for the first time since … I gotta effort that, but I'm guessing decades. Go Polar Bears!
Pilcher: Sometimes all the mismatches land on the same week. Forty-five games resulted in shutouts. If you won 50-0, you didn't crack the top 12 largest point spreads in those shutouts. Dyersville Beckman scored a school record in points in an 89-0 win over Postville and still didn't boast the most lopsided victory. Clarke beat Shenandoah, 94-0, for that honor. Ten shutouts were decided by 51 to 63 points, which doesn't include six other games decided by 50 or more in games that weren't shutouts. I have a feeling the Week 6 matchups won't render better results. So much inequality that isn't going anywhere.
Ford: Anecdotally, it does seem like the divide keeps expanding. Like we talked about in last week's 4 Downs, I think the IHSAA has made good adjustments to the classifications to try to minimize that divide's impact and continues to seek solutions. Unfortunately there might not be a panacea here.
3rd & short: If you had to start a team with any running back in The Gazette area, who is your top pick?
Linder: I wish I could cheat and go just outside the area and steal Nolan DeLong of Durant. Alas, that's not an option, so I'll snag Michael Cunningham of Cedar Rapids Xavier. His stats don't jump off the page, but a lot of that is because of a modest number of carries. He averaged about 15 yards per carry last week against Cedar Rapids Washington.
Johnson: I'm gonna go with Marion's Alex Mota. Just because he's a Division I player (headed to Iowa), who can also catches passes and play quarterback. I love me some versatility.
Pilcher: Cedar Rapids Prairie running backs are often considered products of a system. They don't get the same respect for their production. Makelle Taylor is an excellent ball carrier, meshing strength and quickness with his 6-foot, 200-pound frame. The versatile senior has rushed for 536 yards and added 200 more receiving, averaging 147.2 offensive yards per game. He has scored 10 touchdowns and tallies 7.2 yards per touch. This is coming on the heels of 1,480 offensive yards and 16 TDs as a junior.
Ford: Can I cheat a little bit? I hope fans statewide know the name Nolan DeLong. Durant is just outside The Gazette's circulation area, but DeLong has already rushed for 1,429 yards and 17 touchdowns this season on 10.9 yards per carry. And he's no one-year wonder, racking up 1,000-plus yards in each of his first three seasons as well (his career total stands at 5,624, which ranks in the top 20 all-time). The really big tests come the next three weeks for DeLong and the seventh-ranked Wildcats, starting with No. 4 West Branch at home Friday.
4th & goal: Kingston Stadium celebrates its 70th anniversary of high school football this fall. What is your most memorable moment at the venue?
Linder: I don't have the same Kingston history as K.J. and J.J., so my pool of memories is far smaller. Honestly, more of my Kingston memories are track-based, whether it's been Washington's LaNeisha Waller, Jefferson's "Cheetah Girls" or Kennedy's seemingly endless supply of field-event and hurdling studs.
Johnson: When I was in sixth grade at Garfield Elementary School here in town, our teacher, Mr. Tiedt, took me and some other boys in my class to the Kennedy-Washington game. That'd have been in 1977. The place was packed, including tons of people sitting in the bowl bleachers that have since been removed. Don't remember the final score, but I know Washington won. Kennedy missed a late field goal that I swore was actually good but was called no good, wide right.
Pilcher: So many moments as a fan, player and writer. Personally, playing for Cedar Rapids Washington provided fond memories. Our games against Cedar Rapids Jefferson in 1991 and 1992 were classics. In 1991, we read comments about "Best in the West" from the "Collision" philosophy and handed the J-Hawks a loss. In 1992, both teams were unbeaten. The stadium was packed and raucous. In was close at halftime, before Jefferson pulled away in one of the most physical high school games I've witnessed. As a writer, one of the most special moments came when Washington's Andre Dawson rushed for 266 yards and five TDs to honor his mother, Hilda, while donning special pink socks and jersey for breast cancer awareness. He pledged to score a TD for each year she had survived the disease at that time and delivered in a 45-7 win over Jefferson.
Ford: I don't have nearly as much experience to draw from as my colleagues, but I was entertained witnessing Cedar Rapids Kennedy offensive lineman Connor Colby sprint 30-plus yards for a touchdown after a fumble popped into his hands in a playoff win over Prairie two years ago. How many linemen can say they've scored a touchdown at Kingston?