Vintage cookbook holds a letter with a chocolate cupcake recipe from World War II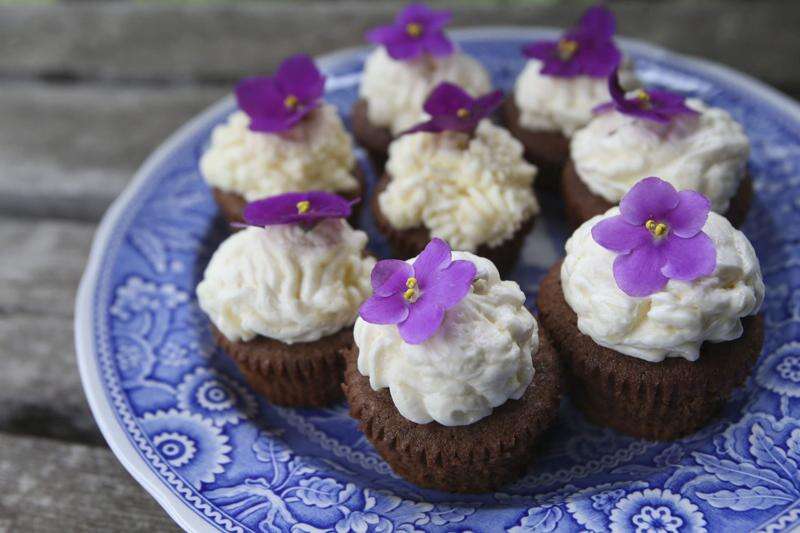 Lisa Williams, Sweet & Spicy
For more than 25 years, I've thought about the lives of two women I never met: Esther and Roselyn. I don't have their last names - only a letter that was tucked in the pages of a cookbook purchased at the Strand Bookstore in New York City in February 1993.
On a single, yellowed sheet of paper with a handwritten letter from Esther to Roselyn. No last names, no envelope with addresses. The letter was written on stationery from a wholesale grocery store in Sidney, Ohio. At the time of my visit, I was living in Columbus and it was remarkable that I traveled all the way to New York only to find a letter from Ohio in this vintage cookbook.
I've read this letter over and over through the years, imagining their lives. With no surnames, it's difficult to find an obituary. Esther seems to have been single, living at home with her parents. Esther and Roselyn were relatives or close friends, because Esther's greeting was 'Dearest Roselyn."
In the letter, Esther commented on recent family card games and visiting her 'gorgeous" nephews, adding, 'when they are small they haven't any good sense." There's a bit of gossip and an urging for Roselyn to return to Ohio in the winter. She asks Roselyn to 'be sure and keep us informed as to what you hear from Irv and Myer."
Finally, Esther provides a recipe for chocolate cupcakes that Roselyn had requested. That recipe is how the letter came to be slipped into the Woman's Home Companion Cook Book. I have imagined this was the very first cookbook owned by Roselyn, a young, single woman living and working in New York City.
The 950-page Woman's Home Companion Cook Book is a treasured piece of history among my sizable cookbook collection. First published in 1942, it documents how and what people were cooking at that time. Wartime food shortages are mentioned in the foreword and introduction. There are cake recipe variations depending on how many eggs one had on hand.
It is packed with recipes but also has directions for setting the table, arranging a buffet and how to slice a wedding cake for a large number of guests. You know, the kind of stuff everyone needs to know.
I've used this cookbook over the years and read its pages for pure enjoyment, but there's one particular recipe I never prepared - Esther's cupcakes. The letter I know practically by heart, imagining their lives, but the chocolate cupcakes were only a recipe until now. Having made them, now I know why Roselyn wanted the recipe.
With our world in a surprising war these last few months, now seemed a good time to make the cupcakes and share a piece of history from another era.
Esther's Chocolate Cupcakes
This simple, little recipe will yield lovely, delicious cupcakes that taste both buttery and chocolaty. Sometimes butter's flavor gets lost when recipes tilt toward chocolate intensity. I am guilty of adding coffee to most any chocolate recipe to heighten the chocolate notes, but I would urge you to follow the recipe as is to appreciate the balance of butter and cocoa.
Notice vanilla extract is not called for, yet it's a common ingredient in chocolate cake. I don't know if this was intentional due to shortages during that time or if it was merely an oversight. I felt no need to add vanilla.
In keeping with the vintage period - and to think about Esther and Roselyn - I have only prepared this recipe by hand using a wooden spoon and a little muscle. The cakes turned out tender and finely crumbed. The process is a reverse-creaming method, which coats the dry ingredients with fat before adding eggs and other liquids. The creaming method beats sugar and fat until it's fluffy before adding the remaining ingredients. Having mixed cakes by hand over the years, I know that both approaches produce a tender cake, but the reverse-creaming method requires less muscle.
1 3/4 cup sifted flour
1 1/4 teaspoon baking powder
1/2 teaspoon salt
1 1/2 cups sugar
6 tablespoons cocoa
2/3 cup butter, very soft
1 cup sour milk (buttermilk), room temperature
2 large eggs, room temperature
Preheat oven to 350 degrees. Place paper liners in a muffin tin.
Sift together in a large bowl flour, baking powder, salt, sugar and cocoa. Next add the softened butter and, with a wooden spoon, stir until the butter is incorporated throughout. Then stir in milk. Beat vigorously with spoon for 2 minutes by clock. Add 2 large eggs then continue beating for 2 minutes longer.
Fill each muffin 1/2 to 2/3 full with dough. Bake in moderate oven 350 to 375 degrees. Remove from oven and cool before frosting. Makes approximately 2 dozen cupcakes.
Source:
Adapted from Esther, surname unknown
Seven-Minute Frosting
There are many recipes for cooked meringue frostings, but the variation known as 'seven-minute frosting" is perhaps the easiest and most foolproof of them all. It requires no thermometer to gauge the temperature of a sugar syrup as with other boiled frostings. Instead, the ingredients are beaten with an electric mixer while gently heating in a double boiler. If you don't have a double boiler, place your bowl over a saucepan of water. Some of us may have seen our experienced grandmothers prepare seven-minute frosting over low heat with the pan set directly on the stove.
2 egg whites, room temperature
1 1/2 cups sugar
1/3 cup water
2 teaspoons light corn syrup
1/2 teaspoon cream of tartar
1 teaspoon vanilla or 1/2 teaspoon almond extract
Combine unbeaten egg whites, sugar, water and corn syrup in top of double boiler; beat just enough to blend ingredients.
Place over rapidly boiling water and beat with hand beater or electric mixer until mixture is light and fluffy and will hold its shape. (This requires about 7 minutes by hand or 3 to 4 minutes by electric mixer.) Remove from heat; add vanilla or almond extract. Continue beating until frosting is stiff enough to stand in peaks. When you remove the mixer, the peaks do not fold in on themselves.
Makes enough frosting for tops and sides of two 9-inch layers, three 8-inch layers or two dozen cupcakes.
Coffee Seven-Minute Frosting: Substitute strong coffee for water; omit flavoring
Strawberry Frosting: Make a strawberry version using freeze-dried strawberries ground to a powder in the food processor. Start with 1/4 cup strawberry powder and mix well, adding extra by tablespoons to desired taste. Sprinkle strawberry powder as a garnish.
Source:
Adapted from Woman's Home Companion Cook Book
Italian Meringue
You will need a candy or instant read thermometer for this recipe as you'll be cooking the sugar syrup to the soft ball stage, 240 degrees. If for some reason your frosting falls and never achieves the stage of firm peaks, do not despair. This has happened to me. Simply beat in 2 sticks of soft butter, one tablespoon at a time. Congratulations: You've now made Italian Meringue Buttercream, one of the most luscious things you'll ever taste.
1 cup sugar
1/2 cup water
4 egg whites, room temperature
1/2 teaspoon cream of tartar
1 teaspoon vanilla extract
In a small saucepan, combine sugar and water. Heat over high heat, brushing down inside of pan as necessary with a pastry brush dipped in water. Cook until sugar syrup registers 240 degrees on an instant read or candy thermometer.
Meanwhile, combine egg whites and cream of tartar in a sturdy metal, glass or ceramic bowl. Set mixer to medium speed and beat until soft peaks form (when lifted, the head of the mixer should form gentle peaks in the egg whites that very slowly collapse back into themselves), about 2 minutes.
With the mixer running, carefully and slowly drizzle in hot sugar syrup. Do not pour the syrup onto the beaters or else you might get burned by hot syrup flying about. Increase speed to high and whip until stiff peaks form (peaks do not collapse back into themselves) and meringue has cooled. Add vanilla extract and beat one last time until incorporated.
If the meringue doesn't reach the stiff peak stage and still seems droopy, you can proceed to my buttercream fix. When mixture is lukewarm, beat in two sticks of butter, one tablespoon at a time, adding a pinch of salt and adjusting the vanilla to taste. Proceed to frost cupcakes.
Source: Adapted from Serious Eats
Wartime Postscript
As this book goes to press our country is at war. Inevitably certain food shortages will develop. We may not be able to buy our usual amount of sugar nor the full line of canned foods to which we have become accustomed. But take it in stride. Out of the more than 2,500 recipes in this book there are hundreds that will meet your needs. ...
Above all study the chapter on nutrition and meal planning: it will show you how to plan meals by a sound easy method that will keep your family in top health. A healthy nation is the best contribution our homes can make to the war effort. Let us make it constantly, consistently and cheerfully.
Source:
Woman's Home Companion Cook Book, Collier Publishing, 1943