Three chefs level up asparagus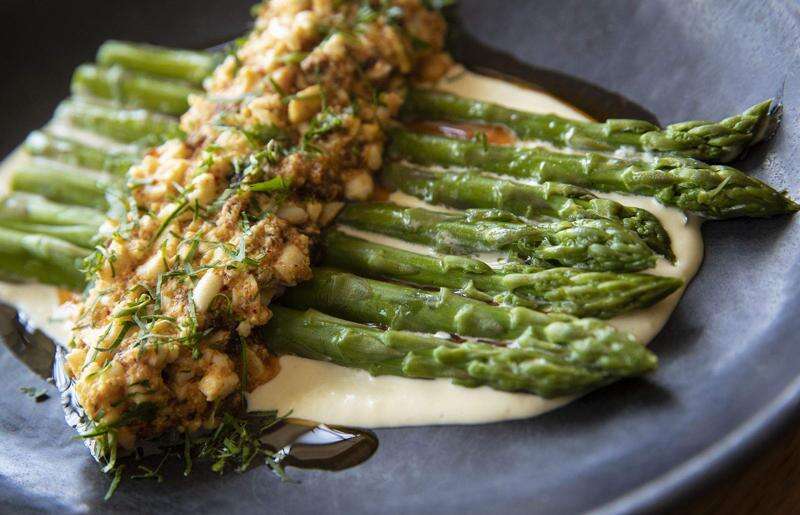 I have a binder full of clipped Culinary SOS columns. Some have faded, some are spattered with oil, all have my notes in the margins. This column taught me how to cook and gave me a taste of Los Angeles restaurants at home. I hope this revival of it will do the same for you.
We're keeping it the same at its core: Write in and ask us at cookinglatimes.com to get you the Southern California restaurant recipes you want. We'll track them down, adjust them to home kitchens in quantities, ingredients, techniques and tools, and publish the tested recipe along with your request. But we're expanding it too: Call us - SOS! - with any cooking help you need. Our answers may be through recipes, tutorials or both.
To start, here's a question from Karen Ng in Brentwood, Calif.: I see all this amazing asparagus at the farmer's market! I usually just roast it with oil, salt and pepper. It's delicious that way, but what else can I do with it?
Here are three different takes from three great chefs. Two are new menu items and one is a longtime family favorite.
Kuniko Yagi of Pikunico in the Row DTLA shares the steamed asparagus dish her mom made in Japan each spring. Ponzu-soaked grated daikon radish tops the asparagus as a condiment, as does a flurry of togarashi spice and chopped nori.
Keith Corbin of Alta Adams remembers, 'Daniel (Patterson) and I first made this asparagus and green garlic dish together when I was staging at the Coi kitchen prior to the opening of Alta Adams." While the sum of all the parts is spectacular, the chilled asparagus is also wonderful with only the green garlic mayonnaise or the vinaigrette.
Jason Mattick, chef de cuisine of Broken Spanish, gives us asparagus tostadas with a sauce that mashes up chermoula and salsa verde.