Iowa family keeps concession stand open even with fairs canceled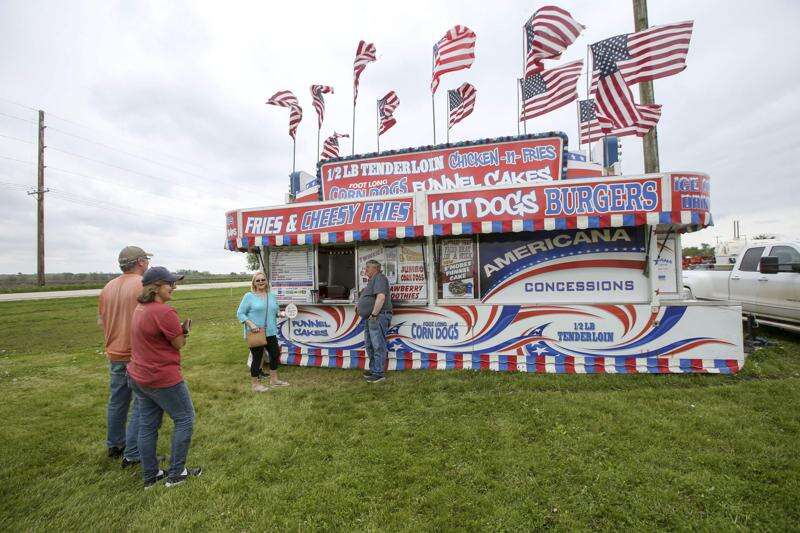 MONTICELLO - County fairs and summer festivals may be canceled, but Eastern Iowans can still get their fair food fixes thanks to one vendor that is setting up in a different location each week this summer.
Americana Concessions, with its cluster of American flags waving from the roof and bold signage, is instantly recognizable as a source for fried food on a stick, tenderloins and other Midwestern summer culinary delights. Passersby were drawn to it one afternoon last week, with a steady stream stopping by the stand where it was parked in Monticello.
'We're worried about having our fair this summer," said Ginger Eilers of Monticello. 'We're just here to support them."
Owner Renee Taylor of Anamosa said she was fully booked with summer events from May to November, before the coronavirus pandemic hit Iowa. One by one, she watched events be canceled and the income that sustains her year-round dry up.
'I've been in business 25 years and never experienced anything like this," she said. 'I didn't know what to do."
She decided to try setting up in Anamosa to see if people would show up. They did, and now she's planning to rotate to a different spot each week all summer, focusing on towns around Jones County.
'I'm seeing people that are happy," she said. 'Where else are you going to get a funnel cake and a corn dog this year? It's probably not going to happen."
Taylor runs Americana Concessions with the help of her son, Preston Taylor, who also has his own fair food stand business, Taylor Concessions. He said spending summers at the concession stand has been a lifelong pastime.
'They started taking me when I was in kindergarten. I grew up in it, standing on a step stool, pouring pop, handing out hot dogs and stuff," he said.
He said he thinks people feel nostalgic for this kind of food, while at the same time, enjoying the novelty of fried brownies on a stick or s'mores funnel cakes, the dough piled with marshmallows, graham crackers and chocolate.
'It's weird and unique, and you can't really get this at most restaurants. It gives people something different to try," he said. 'People are drawn to the trailer because they're so used to seeing trailers like this at the fair."
Peg Mere of Monticello agreed with that assessment. She said when she saw the stand, she had to stop.
'It's just a taste of summer," she said. 'I'm going to get a tenderloin. That's the Iowa sandwich."
If you go
' What:
Americana Concessions
' Where and when:
Set up in a different location each week, 11 a.m. to 6 p.m. Wednesday to Friday
' Details: Check the Taylor Concessions Facebook page, facebook.com/taylorconcessions, or call (319) 491-7176 for updates. They plan to be outside Aaron's Automotive, 100 W. 11th St., Monticello, from May 27 to 29.
Comments: (319) 398-8339; alison.gowans@thegazette.com