Craving comfort food? Try these tiny pillows of the gods — potato gnocchi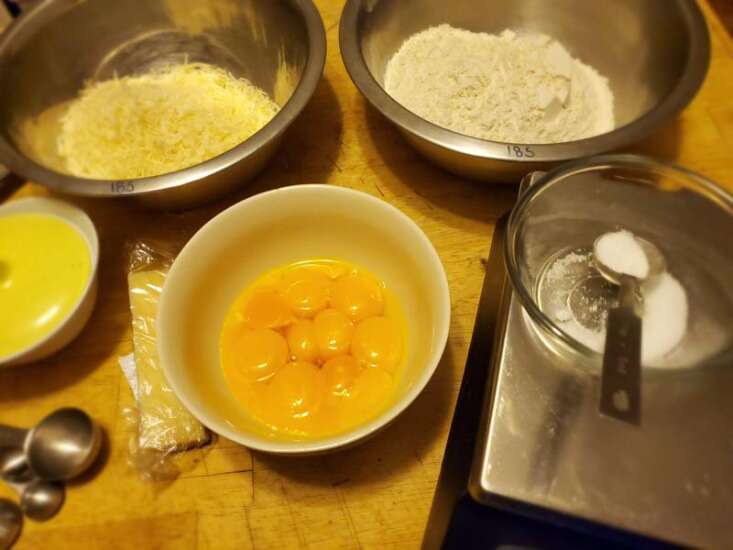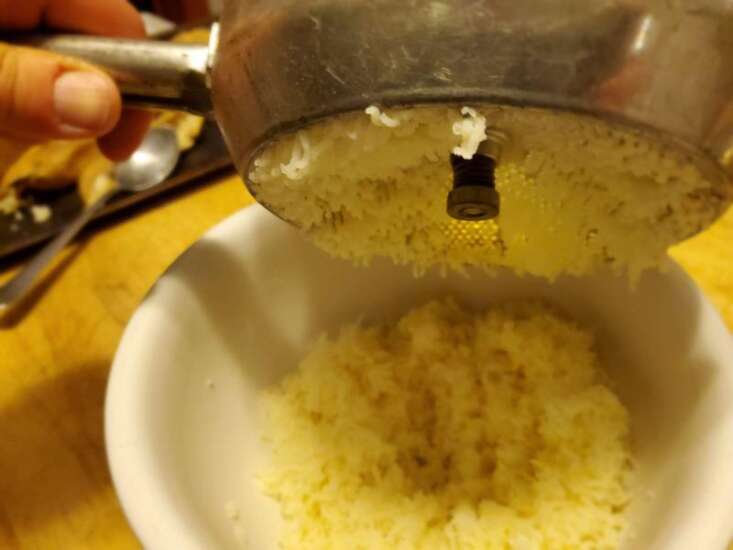 Well, the weather sure took a turn there, didn't it? The air has taken on the crisp smell of fall, harvests from the garden are blowing up out of control, and folks are starting to talk about pumpkin spice again. This is my favorite of all the seasons. I get to break out the sweaters, wools and flannels. Try to remember where I put my gloves last spring. Maybe find some money in the pocket of a heavy overcoat.
Normally, I'd be looking forward to checking out the fall colors, but we had that a little early this year. Normally, I'd be warming up to having friends over for a bonfire, but then, there's the burn ban. Oh, and the pandemic. I can at least be thankful that my chainsaw skills are much improved, so I can stockpile wood for some future that happens to include a fire pit.
So that leaves a couple of my other favorite things about fall. Rye whiskey and comfort food. I mean, the whiskey isn't going to be the same without some friends on the porch and some yarns to spin. But the urge to make comfort food is knocking at the door. I'm fixing to let it in.
My main go-to for the cold seasons is gnocchi or dumplings. The Italian potato ones, more than the French ones, although I dig those too. The potato gnocchi, from Emiliglia-Romagna in the Italian Alps, were the ones I accidently learned how to make in the 1990s. Doug Flicker, a revered Minneapolis chef, was making them almost every day at the workbench next to mine. I was a TV dinner Cedar Rapids kid who accidently got a job in a fine dining restaurant a couple days after landing in Minneapolis. I was curious and had my eyes open. I learned a lot fast.
Apparently, I learned how to make gnocchi just by working next to Doug. A year later, someone asked me to make them at a different restaurant, and I learned that I already knew how, just by being around Doug for a year and a half. Crazy how that works.
What's a gnocchi, you ask? It's a dumpling. Oh, I've had dumplings, you say. But not like this. 'Gnocchi" means 'pillow." If you make them right, they are the pillows of the gods, guaranteed to succour you into dreams of eternity. Try to muscle your way through, and you end up with hard, chewy lumps of Nooo! Southern Italians from Campagnia also make gnocchi, but that is a very different beast. Same name, different family, no relation. Let's just set that thought aside and pretend I didn't mention it.
I love dumplings, I've had a lot of dumplings and made many different styles of dumplings. Gnocchi, when they are made right, set themselves apart from any other dumpling. They are soft. Impossibly soft, they melt into your mouth when you attempt to chew them. If they are chewy at all, something horribly wrong happened, and now the gods are weeping tears of regret - maybe cursing your family for a couple generations.
If you're from Cedar Rapids and have Czech roots, you may have had Bramborove Knedlicky at some time. That's a different name for Alpine Italian Gnocchi. Bramborove equals potato. Knedlicky equals dumpling. Chechia and Italy are only separated by a few mountain passes, and a lot of culture passed back and forth between the two. Honestly, I don't know if these potato dumplings originated in Chechia or Italy. Really, it doesn't matter, they are absolutely divine. I am convinced that they are worth your attention. Consider them an 'elevated dumpling."
People like to use the word elevated these days when they're talking about good food. You can get an elevated biscuits and gravy. This apparently just means that it's made from scratch and they did a good job of it compared to the factory processed, frozen and then microwaved stuff that has become 'normal food." Always makes me think of elevator music, which was never really my jam. Sorry, not sorry to Kenny G and the rest.
So the tricks and traps, the caveat emptor: Gnocchi are very much a touch/feel kind of food. There are a few tricks that you can use to give yourself a good head start. At the end of the day though, you really need to feel the dough, and get a feel for it. The main trick is to be gentle.
This has everything to do with the fickle nature of potato starches. Just like mashing potatoes, if you get carried away and go too far they break down and become gummy. We don't want that. We don't want bubblegum dumplings. We want melts away in your mouth. Texture is everything here. No secret spice blend is going to save a gummy gnocchi.
So be gentle when you are mixing the dough together. Be gentle when you are rolling the logs out. Be gentle when you are transferring it from here to there. I'll warn you, if you are rough with it when making it, it will be rough with you when you are cooking it. It will stick. It will burn. It will fall apart. Play nice.
Bake the potatoes, don't boil them. We want the starch element from the potatoes to really shine here. That's why we use Russets instead of a sweeter potato like a Gold or Red. Russets have more starch, so that's our guy, right there. Baking them lets them steam themselves, getting a nice balance of softening into a workable texture. Boiling is going to add extra water we don't want, we'd have to add more flour, which dries them out. Some of the good stuff will leak out into the boiling water and get drained away. Let's stick with the water that's already in the potato, conservation of energy and all that.
If your first try comes out a little chewy, or a little gummy, don't give up. That means you learned something. Hold on to that mistake so it can guide you the next time. Take a breath when you are squeezing the dough together. Feel how it feels, really pay attention to it. That gives you a frame of reference for the next time.
Chef Tibbs, also known as Joshua 'Tibbs" Tibbetts, is a Cedar Rapids native who has been cooking as a professional chef for 28 years. He now is in the banquet kitchen at DoubleTree by Hilton Hotel Cedar Rapids Convention Complex.
Nocchi (Italian Potato Dumplings)
Serves 6 to 8
2 large russet potatoes (750 grams or 2 3/4 pounds)
5 egg yolks (95 grams or 3 ounces)
Parmesan cheese (45 grams or 1 1/2 ounces); Parmigiano Regiano is preferred, but any firm cheese will work
1 1/3 cups all-purpose flour (185 grams)
1/2 teaspoon salt (2.5 mL)
A pinch of nutmeg
Extra flour for dusting
Special tools needed:
A food mill or a ricer (I always see these in thrift stores!)
At the grocery, pick through the potatoes when you are buying them. It's most important to find potatoes that are all the same size, so that they all cook at the same speed in the oven. I prefer large potatoes for gnocchi, as it makes the ricing process easier.
You will need to use russet potatoes, as they have the starch needed to hold the dumplings together. Yukons, reds, whites or golds just don't have enough starch in them.
Preheat your oven to 350 degrees.
Poke some holes in each potato with a fork. Bake on a sheet pan until soft to the touch. This is roughly 90 minutes for large russet potatoes.
Measure out the rest of your ingredients into bowls and separate the egg yolks from the whites. We don't use the whites in this recipe.
Clean a nice slab of counter space (or the dinner table) to work on. I like a space that is 2 or 3 feet wide by a couple feet deep. Arrange your bowls of ingredients on one side of the work space, and the food mill or ricer and a dry dishtowel on the other side. Also have a bowl ready for the hot potatoes to get ground into, as well as a butter knife and large serving spoon.
Everything should be set up and ready to go by the time the potatoes come out of the oven. Gnocchi dough doesn't set right unless the potatoes are still hot. The hot potatoes need to melt the cheese and set the egg yolks for the dough to stay together.
When the potatoes are soft to the touch, pull them out of the oven and take them straight to the work area. Holding the hot potato with the dry towel to protect your hand, slit the potatoes lengthwise and scoop the contents into the food mill/ricer. Hold the mill over the empty bowl and turn the crank to push them through (or squeeze the handles together if using the ricer.) You may have to do this in stages if the mill gets too crowded.
Scoop the potatoes onto the workbench, and make a well in the center, like the top of a volcano. Put your cheese, egg yolks, salt, nutmeg and flour into the well in the center. Fold everything together, by lifting the edges of the potato mound from the outside edge and pressing into the wet center.
Keep folding until you have a smooth ball of dough, but stop folding the moment it comes together. Overworking the dough will make hard, gummy dumplings. We want soft little pillows, so be gentle. If it seems a little sticky after getting all mixed up, you may want to add a little more flour.
When your dough comes together, all incorporated, place the dough ball on the back of your workbench, and clear all the bowls and the food mill from the area.
Using a dough scraper or a butter knife, cut off a chunk of dough about the size of a screwdriver handle. Place it on the bench in front of you and lightly sprinkle flour over the dough log and counter surface.
Gently roll the log on your work bench forwards and back with your hands. Shape it into a long snake, about 1 inch thick.
Cut the log into 1 inch sections with the bench scraper or a butter knife. They should flatten where you cut them, giving a distinct shape of a fluffy pillow.
Transfer the gnocchi to a sheet pan that is liberally dusted with flour.
When you fill up your sheet pan, transfer it, uncovered, to the fridge or freezer. Refrigerated gnocchi should be cooked and served today, they don't keep very well. In the freezer, after the gnocchi have firmed up, they can be transferred to a ziplock bag and will keep pretty well for a month.
To prepare for a meal:
Use 1 cup of dumpling per person as an appetizer. Use 1 1/2 to 2 cups per person as an entree.
Bring water to a boil in a saucepan or stockpot. I use about a quart for each serving.
Warm up a fry pan over medium heat.
Lower the dumplings into the water. Be careful not to smoosh them, if your gnocchi were refrigerated. If using frozen dumplings, just drop them in.
Gnocchi poach very fast, in about a minute. A little longer if they are frozen.
When they float to the surface, skim them out with a slotted spoon. Let the water drain off, then fry them in the pan in a little butter or olive oil until they get some nice brown marks on them.
That's it, ready to eat.
My favorite way to eat gnocchi is as an appetizer, with just a little onion, bacon and herbs like parsley or rosemary with a little grate of parmesan on top. I really want to savor the texture and flavor, so simple accompaniment is best for me.
That said, gnocchi are also a superb vehicle for goulash, chicken dumpling soup, and they love creamy sauces and cheese.