Chew on This: Scoop Coop now open, River Museum serving up Tastes of Dubuque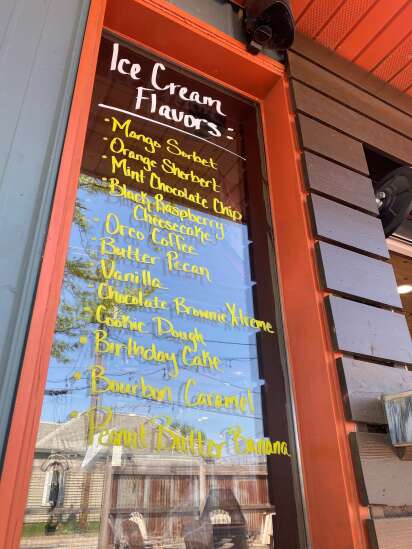 The Scoop Coop at 302 Third Ave. SW in Cedar Rapids opened May 3.
The ice cream shop, on the patio next to LP Street Food, offers a dozen flavors, including housemade and Blue Bunny and Dan and Debbie's Creamery options.
Boozy floats with alcohol available this week include the Grasshopper, Pink Squirrel, Mudslide, Banana Foster, Orange Dreamsicle, Rootbeer Float and Mango Margarita.
Taste of Dubuque returns in smaller form
Taste of Summer, a smaller format version of Taste of Dubuque, will return to the National Mississippi River Museum & Aquarium, 350 E. Third St. in Dubuque, this summer starting June 3.
The series will be held from 6 to 9 p.m. the first Thursday in June, July and August with temporary reformatting to reduce crowd sizes. Taste of Dubuque was canceled in 2020.
"We look forward to hosting the event on our campus grounds this year," said Wendy Scardino, director of marketing and communications at the aquarium, in a news release. "Each evening will feature two live bands and four to five food vendors providing an array of savory dishes and sweet desserts."
This year's Taste of Summer will be located behind the gates in the museum and aquarium's boatyard and plaza areas, where attendees can use picnic tables or bring lawn chairs and blankets to enjoy. Event capacity will be monitored throughout the evening to allow for social distancing. Masks are required, per Dubuque city mandate.
Keeping with tradition, a series of awards will be announced each evening for the top savory dish, sweet dish and fan favorite.
Taste of Summer is free to all ages. Beverage sales and freewill donations will support the river museum's conservation efforts to save endangered species.
"Museums were hit hard during the pandemic, but so, too, were restaurants and those who make a living performing," Scardino said. "Taste means a bit more this year as we look to feature so many local small businesses and performers."
Taste of Summer schedule:
June 3: Food vendors include The Crepe Iron, Adobos Mexican Grill, Sugar Ray's BBQ and Elle & Becks. Performers include Amber and Adam Beck from 6 to 7:15 p.m. and The Elizabeth Mary Band from 7:45 to 9 p.m.
July 1: Food vendors include The Food Store, Happi Hibachi, Hot Diggity Dogz and Vesperman Farms Ice Cream. Performers include The Lads from 6 to 7:15 p.m. and Joie Wails from 7:45 to 9 p.m.
Aug. 5: Food vendors will feature Magoo's Pizza, Versus, Tony Roma's and Koppes Creations with performances by Boys of Lloyd from 6 to 7:15 p.m. and The Struggle Band from 7:45 to 9 p.m.
Comments: (319) 398-8340; elijah.decious@thegazette.com