Chew on This: New gelato shop at NewBo, 'Taco God' opens restaurant
Parlor City reopens, Scott's Restaurant cuts hours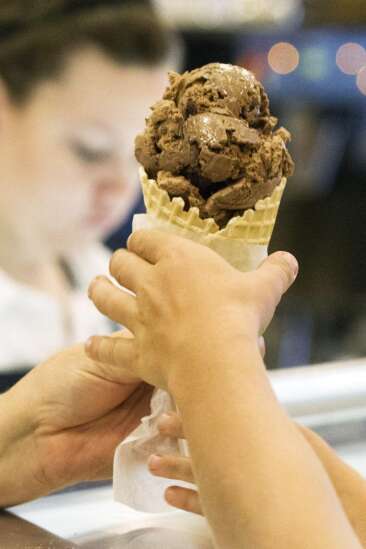 A new gelato shop opens at NewBo City Market on Thursday.
Aroma Pizza owner Carol Elliot said Luna Gelato and Ice Cream will offer nine flavors of gelato and sorbetto and eight flavors of ice cream. Italian ice and sorbetto offerings will be dairy free.
"I've always wanted to have a gelato shop, but previously Nelson's ice cream was at the market, and it just didn't make sense to have two frozen treat vendors," Elliot said. "This gave us a chance to expand and do something that goes really well with pizza."
Dan and Debbie's will be Luna's sole ice cream vendor. Gelato will come from Capanna Coffee Roaster and Gelato in North Liberty, as well as Illinois-based Lezza Spumoni and Desserts.
Gelato is made with a lower fat content and less cream, churned at a slower rate and served as a slightly higher temperature.
Parlor City Ice Cream now open
Parlor City Ice Cream's Cedar Rapids location opened for the season Wednesday.
The local shop has two locations: 1936 42nd St. NE in Cedar Rapids and 955 29th Ave. A in Marion.
The shop's hours are 11 a.m. to 9 p.m. Wednesdays through Sundays, closed Mondays and Tuesdays.
Frozen yogurt flavors vary by location. This month's menu features raspberry, lemon chiffon, pina colada, Fruity Pebbles and Orange Dreamsicle.
"Taco God" opens restaurant
Ali Mason, the man known as "Taco God," opened a permanent restaurant location on May 21 with The Hype Bar & Grill at 1810 Sixth Ave. SW, the former location of Southside Steakhouse.
The Gazette reported in February that Mason previously worked at the kitchen there to serve food through his mostly pop-up operations, but left at some point after.
Mason's signature birria tacos are fried with a dipping sauce for added flavor.
The Hype also offers sandwiches, burgers and wings. It's open 11 a.m. to 9 p.m. daily.
Scott's Family Restaurant cuts hours
Scott's Family Restaurant, 1906 Blairs Ferry Rd. NE in Cedar Rapids, is the latest in a growing list of restaurants to reduce hours amid a staff shortage.
The restaurant announced on May 24 via social media that it would be closing at 3 p.m. every day due to staffing issues. The restaurant previously closed at 10 p.m. every day. It will continue to open at 6 a.m. daily.
History on Tap
The public is invited to join the National Czech & Slovak Museum & Library at 6:30 p.m. on June 9 for History on Tap.
Local historian Mark Stoffer Hunter will present a deep dive into all things Cedar Rapids history. Craft beer from Iowa Brewing Company will be available for purchase.
RSVP for this free event at ncsml.org as seating may be limited.
Comments: (319) 398-8340; elijah.decious@thegazette.com