A Taste of Home: Marion couple's meals feature spices, nuts, curries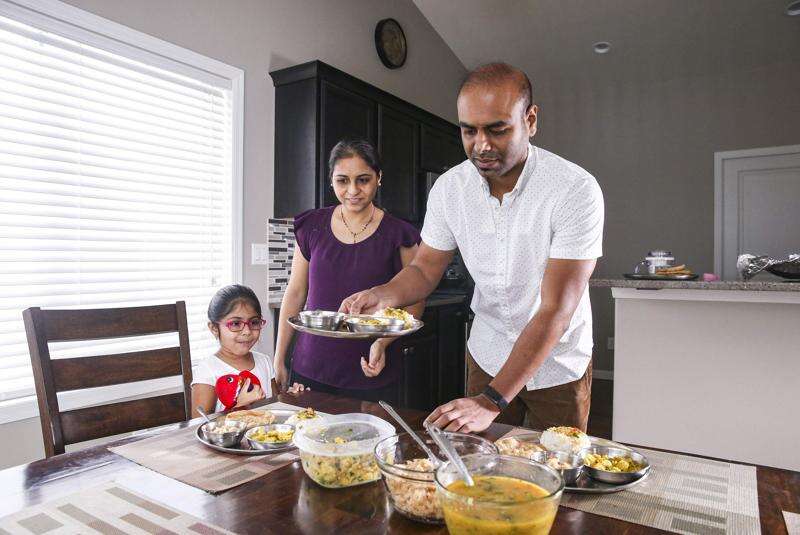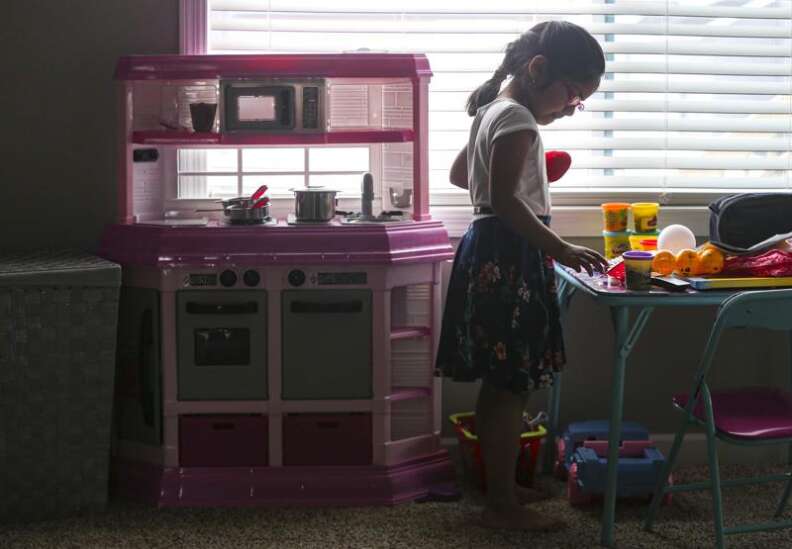 Rajiv Baviskar and his wife, Kalyani, of Marion, both grew up watching their mothers cook in the kitchen.
Now, their 4-year-old daughter, Rhea, keeps a close eye on them as they cook dishes from their native India, like curries, tandoori chicken and cabbage sabzi.
'Rhea's developing an interest in cooking," said Rajiv, 34. 'She makes small chapatis and helps chop veggies."
Chapati - an unleavened bread - is something the family makes to complement almost any meal. It took some practice, and a little help from his own mother before Rajiv was able to make it well.
'The first few times you make it, it won't be good," he said. 'I used to call my mom and ask for advice."
Rajiv, a software engineer at GoDaddy, moved to the United States in 2009, and Kalyani, 32, arrived after the couple married in 2012.
Rajiv learned how to cook while still in India, living with friends after graduating from college.
He said his roommates had skills in the kitchen, which inspired him to learn instead of just observing. Likewise, Kalyani hadn't had much hands-on experience until leaving her parents' home.
'My mom did all the cooking," Kalyani said.
Rajiv shared the recipes he knew with her after they married, and Kalyani is now a skilled cook who makes the majority of the family's meals.
American cuisine took a little getting used to for both of them.
'When I first arrived, I thought the food was bland," Rajiv said, as Kalyani nodded agreement.
Over time, the American food grew on them, and today they enjoy occasional trips to local restaurants.
'I can eat everything now, even ranch dressing," Rajiv said.
At home, the family cooks with lots of spices, like turmeric, which Rajiv said has many health benefits, and garam masala, a spice mix that often includes cumin, coriander and dried chilies.
'Most Indian dishes are based on the same spices," Rajiv said.
Curries, which the family makes with fenugreek leaves, are usually weekend specialties because they take a bit more time and care. Typical week-night meals include finely chopped spiced cabbage with rice and chapati or chicken with masala, yogurt, lemon ginger paste and butter.
Maharashtrian Poha, a breakfast dish made with rice, peanuts, onions, coconut and spices is one of Rajiv's favorites because it reminds him of being a kid.
'We sometimes stick to what we ate as a child because it's comforting," he said.
The couple recently traveled to India for Rajiv's brother's wedding, giving them a chance to enjoy some of the foods they miss, like pani puri, a deep-fried crepe that's filled with chutney, potato and chickpeas - one of Kalyani's favorites.
They also drank a lot of their favorite tea, made with milk, ginger and cinnamon.
'You can find Indian tea on every street corner," Rajiv said.
Rajiv and Kalyani are looking forward to passing cooking traditions down to their daughter, but for now, they let her gravitate toward what she likes.
'She eats everything - American and Indian food," Rajiv said. 'At the moment, Maggi noodles, which are basically Indian ramen noodles, are her favorite."
Prasadacha Sheera
(a dessert)
Ingredients:
1/2 cup rawa/sooji/semolina (granulated wheat)
1/4 cup ghee (highly clarified butter)
2 1/2 cups hot milk
1/2 cup sugar
1 ripe banana
Assorted nuts
1/4 teaspoon cardamom powder
5 to 6 tulsi leaves
Directions:
Melt 1/4 cup ghee and add rawa. Roast rawa very well on low to medium high heat for 15 to 20 minutes until it becomes a deep golden color.
Heat 1 tablespoon ghee in separate pan. Add nuts of your choice and roast until brown around the edges.
Peel banana and cut in to thin slices. Add banana slices to roasted nuts and cook banana and nuts together for one minute or until banana slices start to caramelize.
After rawa is roasted, lower heat and add hot milk. Let milk absorb into rawa. Cover and cook for 3 to 4 minutes so that rawa will turn soft.
Add sugar and mix well. Add banana mixture, cardamom powder, tulsi leaves. Mix well, cover and cook over medium heat for 4 to 5 minutes.
Serve hot.
Maharashtrian Poha
(breakfast comfort food)
Ingredients:
1 cup chopped onion
1/2 cup raw peanuts
1 teaspoon cumin seeds
2 teaspoons chopped green chili
1 teaspoon turmeric
Water, as required
2 tablespoons vegetable oil
1/2 teaspoon mustard seeds
4 curry leaves
1 pinch asafoetida spice
2 1/2 cup pressed rice (poha)
Garnish:
2 teaspoons chopped coriander leaves
4 tablespoons crushed coconut
Directions:
Wash and clean the poha in a sieve in running water and put it aside.
Heat oil in a non-stick pan over medium heat. Once the oil is hot, add the peanuts and saute for about two minutes.
Add cumin seeds, curry leaves, mustard seeds, asafoetida (heeng), green chilies and onions. Stir for a few seconds and sauté on medium heat.
Add poha, turmeric powder and salt to taste and mix well until the poha gets a yellowish color. Cook on medium heat for 3 to 4 minutes, stirring occasionally.
Serve the poha garnished evenly with crushed coconut and coriander. Optional: Squeeze a lemon wedge over dish.