Home / News / Government & Politics / Federal Government
Sen. Joni Ernst learns about Waterloo center that gets people ready for college
UNI-CUE program works with students and adults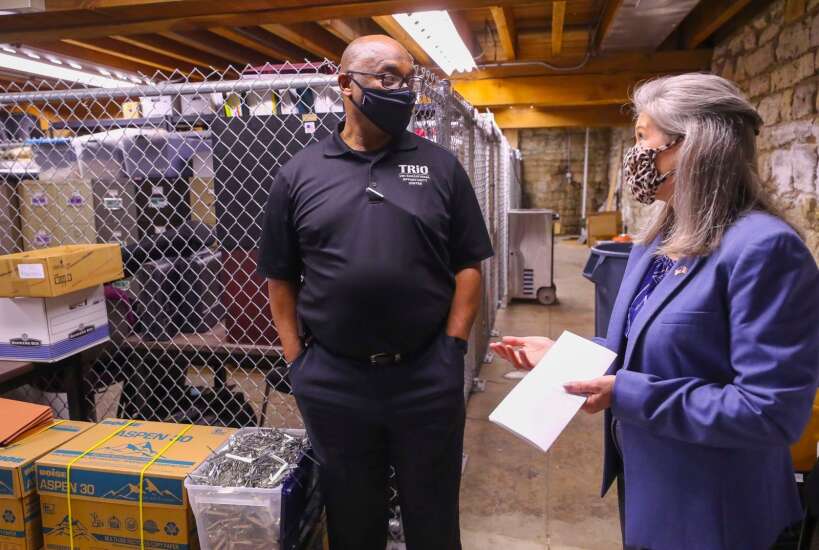 WATERLOO — U.S. Sen. Joni Ernst got an education on college access programs Thursday morning during a visit to UNI-CUE.
"I don't know what UNI would be without UNI-CUE," University of Northern Iowa President Mark Nook told Ernst during a tour of UNI's Center for Urban Education in downtown Waterloo.
The center focuses on students from low-income families who are the first generation going to college.
The center offers federally funded Trio programs that prepare high school students for postsecondary education. It also works with adults who want to start or continue their college education.
Nook praised the programs — which include Educational Talent Search, Classic Upward Bound and the Educational Opportunity Center — saying they "mean so much" for "getting people into college. I think it's one of the most important aspects of Trio."
"UNI-CUE is a very unique place," said Robert Smith, the center's executive director. "You rarely find this anywhere in the country."
The center also offers programs for students in kindergarten through 12th grade, ranging from tutoring to a leadership academy and ACT test preparation.
"I know it works. I've seen it work," Smith added. "Just a little push, just a little encouragement (and) people take off."
Ernst called the mission of UNI-CUE "extremely important" and said she was visiting the program "to be informed and educated about what's going on in our communities."
The federal government's role, she said, is "making sure we're recognizing the needs in these communities and recognizing how we can be supportive."
During her visit, the Iowa Republican met two UNI freshmen — Brianna Nash and Audrey Dillavou — who benefited from the Trio programs. Both are the first in their families to go to college.
Nash is double-majoring in psychology and biology. Dillavou is majoring in athletic training and rehabilitation with an emphasis on physical therapy. Both said they plan to go on to graduate school.
"I'm a first-generation college graduate, too," Ernst, 50, told the women. She encouraged them to consider staying in or returning to Iowa after completing their education.
"It is exceptional the opportunities they have been presented with (and) they seized upon," Ernst said after speaking with the women.
Ernst said she was concerned about the "greater divide" emerging for students who lacked broadband internet access when the pandemic shifted learning online.
"We need to make sure that we are properly educating our students so that they are not falling behind their peers," she said.
The federal government, Ernst said, has provided "great levels" of financial support for school districts as they move forward.
"Unfortunately, in the last (stimulus) plan that was passed by a very partisan divide, a lot of the money that was directed to our schools won't be spent until many years into the future," she said. "We need to invest in our schools right now and make sure those children are given every opportunity to succeed."
Infrastructure, guns
On President Joe Biden's nearly $2 trillion infrastructure proposal, she said, "What they are terming as an infrastructure bill has very little to do with what we consider infrastructure here in the state of Iowa. Only 6 percent of the bill is geared toward our roads and bridges. There is more in this bill that goes toward electric vehicles than our roads and waterways."
Ernst said she plans to take a closer look at Biden's half-dozen executive actions tightening regulations on homemade guns and providing more resources for gun-violence prevention.
"What we want to make sure is that the president is not infringing upon our constitutional rights as law-abiding citizens," she said. "I hate that he's doing this by executive order instead of working through Congress. But, again, we'll evaluate what the president is doing."