Home / Podcasts / Fact Checker Podcast
Fact Checker: Mariannette Miller-Meeks says IRS will be larger than four other federal agencies. Is she right?
Representative made claim at debate with state Rep. Christina Bohannan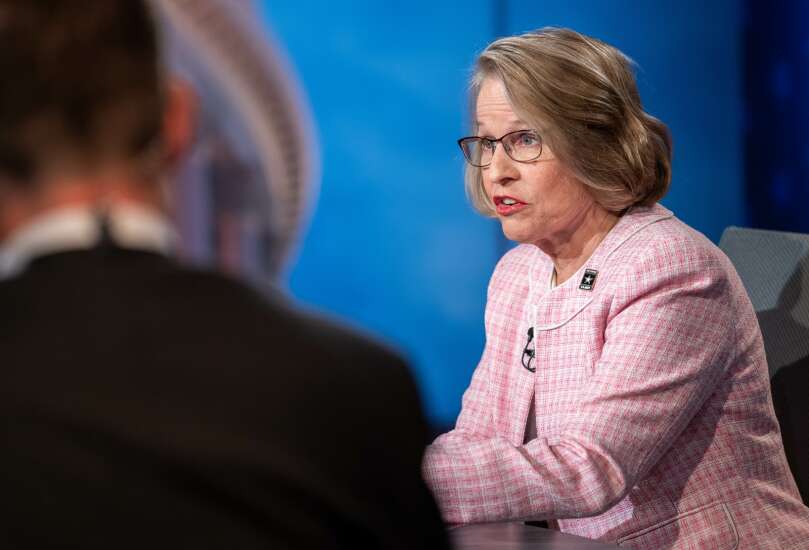 Both candidates for Iowa's 1st Congressional District got in digs at a debate last month.
State Rep. Christina Bohannan, an Iowa City Democrat, attacked her opponent, U.S. Rep. Mariannette Miller-Meeks, a Republican with residences in Ottumwa and LeClaire, while Miller-Meeks went after President Joe Biden and his Democratic administration.
"But the Inflation Reduction Act had 87,000 new IRS agents, it increased the budget of the IRS by six times, it doubled the size of the IRS and has more employees than … will have more employees than the State Department, the Pentagon, Customs and Border Protection and the FBI combined," Miller-Meeks said during the debate held Sept. 27 at the Iowa PBS studios.
Miller-Meeks was referring to legislation signed Aug. 16 by Biden that would provide $80 billion over the course of 10 years to the IRS.
When the Fact Checker asked Eric Woolson, Miller-Meeks' spokesperson, for sourcing, he pointed to a statement from U.S. Sen. Suzanne Collins, a Maine Republican, and an article in the Washington Free Beacon, a right-leaning news outlet.
Both the Beacon and Collins cite the 87,000 number, but don't provide links to where they got it. The act does not include that number in sections that describe the funding.
Republicans say the cash infusion will mean more audits — and they're right. That's how the IRS plans to try to recover some of the estimated $600 billion in unpaid taxes each year, according to a 2021 U.S. Treasury report.
The legislation seeks to correct more than a decade of declining funding for the IRS, which resulted in an audit rate of less than .00004 percent. One of the needs is specialized auditors to handle high-income earners and complex and multinational organizations, the report states.
Table 3 of the Treasury report says the IRS would add 86,852 full-time employees between 2022 and 2031 as part of the $80 billion infusion. But not all those will be "IRS agents." Some new employees will work in customer service, information technology and other support functions, the act states.
Miller-Meeks says the $80 billion boost would increase the IRS budget six fold.
The IRS budget for fiscal 2021 was $13.7 billion (roughly the same as it was in 2012). If you add $8 billion a year — which may not be accurate, as the Inflation Reduction Act money does not specify that the money be spent equally in each of the 10 years — that would increase the IRS's annual budget to $21.7 billion. That's a rise of about 60 percent, not six times.
The IRS has 78,661 employees, so the Inflation Reduction Act would more than double that, as Miller-Meeks said.
Her final claim is the IRS — once fully funded in 2031 — would have "will have more employees than the State Department, the Pentagon, Customs and Border Protection and the FBI combined."
Below are the employee numbers for each agency, according to their official websites:
Pentagon: 24,000 military and civilian employees, plus 3,000 nondefense support personnel
FBI: 37,000 employees
State Department: 13,000 members of the Foreign Service, 11,000 Civil Service employees and 45,000 staff at more than 270 diplomatic missions worldwide
Customs and Border Patrol: 64,272 employees, including 19,536 Border Patrol agents
Total: 194,272.
Woolson said Miller-Meeks meant just Border Patrol agents in her tally, but even when just including that lower number from Customs and Border Patrol, the number of employees at the four agencies would be 149,536.
Conclusion
In the debate against Bohannan, Miller-Meeks repeated statements she'd heard from other elected officials and a news outlet, relying on them to get the numbers right. That didn't go so well.
She's right the Inflation Reduction Act could add nearly 87,000 IRS employees over 10 years, doubling the size of the agency.
She's wrong about the $80 billion cash infusion increasing the IRS budget six fold. It's way off to say the IRS would become larger in 10 years than four other federal agencies combined are today.
The overall claim is half-true, which means it gets a C.
Criteria
The Fact Checker team checks statements made by an Iowa political candidate or officeholder or a national candidate/officeholder about Iowa, or in advocacy ads that appear in our market.
Claims must be independently verifiable. We give statements grades from A to F based on accuracy and context.
If you spot a claim you think needs checking, email us at factchecker@thegazette.com.
Members of the Fact Checker team are Elijah Decious, Erin Jordan and Marissa Payne. This Fact Checker was researched and written by Erin Jordan.